Carl English is a professional basketball player you may not have heard of. Coming from a small town in Newfoundland and dealing with tragedy at a young age, Carl's development as a person and basketball player is a great story. Like most other serious ballers, Carl played NCAA Division-I ball and tried his luck at the NBA. When he didn't make the Indiana Pacers in 2003 or the Seattle Supersonics in 2004, he jumped from the D-League to Euroleague Basketball. In Croatia last season, in Spain this season, and over the past few years on the Canadian national team, Carl has developed his game to become a premier international player. I had the luxury of interviewing him recently, and we spoke about life as an international player, the Canadian national team, and Carl's chances of fulfilling the NBA dream.
Blake: Let's start at the beginning. I've heard a story that while living with your aunt and uncle in Patrick's Cove, Newfoundland, you developed your game by shooting jump shots on the side of the highway. Is this a true story? How hard was it to stay involved in basketball in such a small community?
Carl: That's a true story, yes. We didn't have a basketball court or anything in town and we only had one practice a week in the high school gym because the coach wasn't from the area. So I built a hoop on the side of the road and we'd play there and just move for traffic.
And it wasn't hard to stay involved, I just had a love and passion for it. I never got tired of it or bored, it was always something for me to do. Everywhere is different but it just comes down to your dedication and basketball is what I wanted to do.

Blake: How often do you get to go back to Newfoundland? Do you ever get to re-visit the Toronto area?
Carl: I go back to Newfoundland every summer. I do a lot of training in Toronto because there are summer camps there and the national team workouts are there. I bounce back and forth for most of the summer.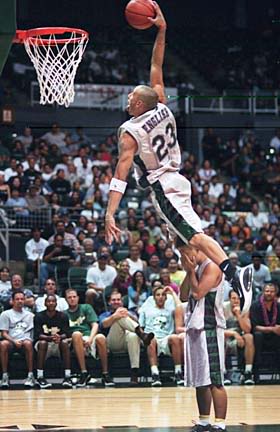 Blake: It seems unusual for a Canadian kid from a small community to pick up basketball. What were your basketball influences growing up? When did you first consider professional basketball as a career?
Carl: I guess my brothers were the biggest influence, because I used to play with them and got good at it. I always had dreams of the NBA, and it's like with everything else, if you have success you want to do it more. So when I got good, I got more dedicated and kept working at it to make my dreams a reality.
Blake: Obviously, you had to move to a bigger basketball market to get noticed. How difficult was it to move from small-town Newfoundland to Oakville to play for St. Thomas Aquinas?
Carl: It was really tough because you leave behind everything. I had to leave my girlfriend (who is now my wife), my family, everything. I had to meet all new friends in my senior year of high school. But I wanted to get a scholarship and that was the best way to do it.
Blake: Why did you choose to attend Hawaii?
Carl: I was basically going to go to a prep school first. I had some offers, Syracuse wanted to put me in a prep school, but I played really well in a summer tournament and won the MVP. Hawaii had been recruiting me hard, and I liked the people and the situation so I decided to take that.
Blake: As a freshman, you got limited playing time until later in the season, and it was in the WAC tournament that year that you really showed you could ball. What kept you dedicated when the playing time wasn't there?
Carl: Actually, I redshirted my first year because of an ankle injury, so my 2nd year was my true freshman year. I felt I was good enough to play, so I played hard and practiced hard. I was looking at what to do but we had some injuries and the coach gave me a chance. I had kept working hard in practice, and I played well when I got the chance. When I finally got the minutes, we ended up winning the WAC and I got tournament MVP, so it was worth the wait and hard work.
Blake: You really broke out the next year, posting 15.5-5.1-3.3 (points-rebounds-assists) and being named second-team all-WAC. In your junior year you excelled, posting 19.6-5.4-2.4, finishing second in the WAC in scoring and being named first-team all-WAC. With top-10 all-time everything at Hawaii and one of the best three-point shooting percentages in the country, you looked like a very sound draft choice. Where did you expect to go and how disappointed were you on draft day?
Carl: I was expected to go anywhere from 21 to 35, according to draft boards and mock drafts. The lowest I was on a board was 37. At the beginning, I didn't hire an agent. I played really well at a Chicago pre-draft camp and was told I was one of the top five players there, and I think I proved I was good enough to do the things people had doubted I could do. I had graduated already, so I felt it was time to enter. Obviously, it was pretty frustrating not to get drafted and looking back you'd do things differently, so it was frustrating.
Blake: Canadian basketball fans had very high hopes for you coming out of college. How would you describe your relationship with Canadian fans?
Carl: They've been great, they've always been very supportive of me since the beginning, since my college days and the NBDL and NBA tryouts. They've always been supportive and it's been great. I'm not sure they get to follow me as much now since I'm in Europe, playing for three teams in three years at an elite level. Hopefully this will be the year, and I'll do some NBA things this summer. If I've been doing it at the highest European level, why can't I do it in the NBA? I just need someone to take a chance on me.
Blake: You were pretty successful in 2004-05 with the Florida Flame of the NBDL. How does the D-League compare to European basketball?
Carl: It doesn't really change at all, for basketball. The D-League offers you the closest thing to the NBA now, but you don't make much money and the travel is bad, but it's the closest way to get to the NBA. I was on a road trip and my agent called me and said someone was looking at me, and they would make a decision in the next hour or two. So I was waiting at practice and at the hotel. It turns out they needed a big man, but it's really the closest thing. You'll take the $20,000 because the NBA is just a call away. In Europe, you make a lot more money but you can't get out of your contract, so you've written off the NBA for that season.
Blake: You were an All-Star for Zadar in Croatia last year (you even won All-Star Game MVP in the Adriatic League), posting over 20 points per game and winning the Croatian Cup. How tough was it to leave that success for the Spanish League and what made you do it?
Carl: The Adriatic League was extremely competitive with some high-level European teams, and that's why I went there for the year, for the competition. I won the league MVP and the all-star MVP so it was a pretty good year.
The Spanish League is a tough league to get into, though. If you don't have a passport, it's tough, because each team can only have two Americans, and I'm playing as an American. I'm the only American 2-guard in the league without a passport. For most people, this is the elite league. It's extremely competitive and there is a lot of NBA presence, so I thought it was the best decision to come here.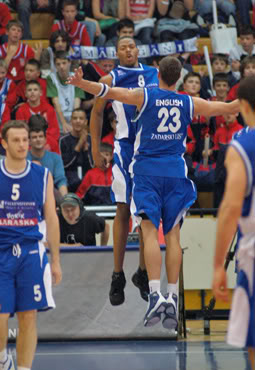 Blake: Your team is out of the ULEB Cup, but you still have ACB play and playoffs. Where do you head afterwards? Are you coming home for a rest, or setting your sights on this summer's Olympic qualifying tournament?
Carl: Last year I immediately went to NBA workouts, and it will be along those lines this year, too, depending on the options I have. I'll do that if there's a legitimate opportunity. I'll leave here and head back to Canada for a bit, and in the middle of June we start training for the national team. There's a lot of NBA stuff before then. I'd love to take a rest because three years takes a toll on your body, but I've got to keep at it.
Blake: Canada's team for this summer's event in Athens is one of the best we've been able to put on the floor in some time. With Joel Anthony, Denham Brown, Levon Kendall, Juan Mendez, yourself and Sam Dalembert (if he plays) all having played at a high level, this might be the most talent Canada has had in some time. Catching Slovenia in the draw is tough, but how do you see the team doing in July? Is one of the three qualifying spots in reach?
Carl: Yeah, it's in reach. The biggest thing is we have to play as a unit. We have a lot more experience than in previous years, a lot of guys playing at a high level all around. The biggest thing is, we have to have confidence. Going in we have a good draw but every team has players and we have to play our best basketball. There are five or six games over seven days so you have to be sharp all the time. You can't look back afterwards, so there can't be lapses. There's not a lot of time to prepare, so we have to come in physically ready. If guys come in ready to go and the attitude is right, I definitely think we can accomplish that goal.
Blake: The coaching change from Jay Triano to Leo Rautins turned some heads, especially when Triano was almost immediately asked to coach the U.S. B-team. How has Leo done so far and what effect has this change had on the program as a whole?
Carl: First of all, Jay is a great coach. He was doing a lot of things well and taking us in the right direction. With Jay being offered the job with Team U.S.A., it just goes to show he's done a great job, for them to want his knowledge of the international game. He knows it inside and out. I'm not sure what happened exactly, so I don't want to get into it.
Leo's doing a great job now, too. The biggest and hardest thing is getting funding for the program. We've never had any games in Canada, and we always go abroad to play. We've got to get the support and fan base down, and we can have success. The biggest thing now is we have to win, and Leo is doing the right things and taking us in the right direction.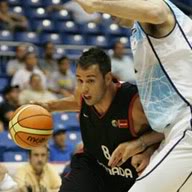 Blake: As one of the few players on the team with serious international experience and having performed well at the international level, do you see yourself as one of the leaders on the squad? What do you see as your role on the team?
Carl: I know I'm one of the leaders. A lot of the young guys look up to me. At the same time, I play at an extremely high level over here, and I'm one of those guys that leads by example. I play with a lot of emotion and the biggest thing is to lead in practice. We have to translate hard practice into games and just be ready for it.
Blake: You have been very successful this year for Kalise Gran Canaria, posting 15.9-4.1-2.4 and shooting over 40% from long range, facing tougher competition. Your team has also performed strongly in league play. Additionally, you look to have bulked up since your Hawaii days and have performed very well for the national team. Obviously, you've come a long way. All of this leads me to the question on the minds of a lot of Canadian fans: with your European success and improving game, do you have your sights set on the NBA anytime soon?
Carl: I'm a lot smarter and a lot better now. The NBA has been my goal since Day 1 and I still believe I can attain that goal. Every day I play over here and every practice, that's the goal in my mind. I don't understand, because I've performed at every level I've played at, and they're taking guys who have done less than I have at this level. I know I can perform, it just takes the right team to take a chance on me, so hopefully it will happen sooner rather than later, hopefully this year.
Blake: Thanks so much for your time Carl, and best of luck moving forward.
Carl: No problem buddy, thanks for having me.
You can follow Carl English more by checking out the Kalise Gran Canaria website, the Basketball Canada website, and by following the national team this summer as they attempt to qualify for the Olympics.
9 Responses to "Interview with Carl English"
Leave a Reply