I watched The Natural for the first time this week. Please don't question why it took one of the world's biggest sports movie fans until he was 22 to see one of the best sports movies ever made. Anyway, I enjoyed it. If you can suspend your disbelief (and it's a movie, so you better be able to) it's thoroughly enjoyable and tells a great story.
Ignore the senseless plot set-up, the evil businessmen, the over-dramatic home-run distances, etc, and you have a very good sports movie. The reason I think it's so compelling is that there's nothing spectacular about the main character, Roy Hobbs. Unlike other sports movies, he has nothing exceptionally unique about him, he's not lovable unconditionally, he's not on extremely high moral ground, and he doesn't possess any superhuman ability, really.
Roy Hobbs is simply a phenomenal baseball player. To give you an idea of the film, the plot description is as follows:
An unknown middle-aged batter named Roy Hobbs with a mysterious past appears out of nowhere to take a losing 1930s baseball team to the top of the league in this magical sports fantasy. With the aid of a bat cut from a lightning struck tree, Hobbs lives the fame he should have had earlier when, as a rising pitcher, he is inexplicably shot by a young woman.
Obviously, you would have to watch the movie to get a better idea of the plot and character intricacies, but even reading that paragraph you can see why my mind continued to drift to one image while watching The Natural, why one thought pressed against my forehead for two hours.
Josh Hamilton is the real-life Roy Hobbs.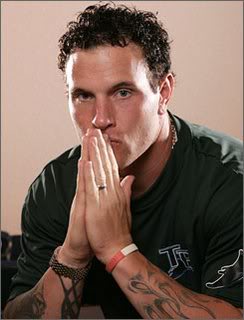 Obviously their stories are vastly different in specifics – Hobbs was shot down by a serial killer and recovered, Hamilton was weighed down with addiction and fought back. There are a few problems with the comparison, I can admit – Hobbs played just one year, debuted about 10 years later in life, and could also pitch. However, their stories, in terms of power, playing style, message, and inspiration, are eerily similar.
As a prospect, Josh Hamilton was widely expected to be one of the greatest players of all time. He was selected 1st overall in the 1999 draft by the Tampa Bay Rays, but after two years a drug addiction derailed his promising career. Likewise, Hobbs had been picked up by the Chicago Cubs as a youngster, but was gunned down by his mistress-to-be upon arriving in Chicago. You know how the rest of Hamilton's story goes – it has been well documented by sportswriters and motivational speakers alike. For Hobbs' story, just watch the movie.
The similarities don't end simply at the beginning of their stories, though. Late in life, Hobbs makes it back to the Majors with the New York Knights, but toils away on the bench for some time. Similarly, Hamilton returned to baseball in 2006, but was kept in the minors (though not for any malicious intent). Hamilton was then selected by Cincinnati, via the Chicago Cubs, in the Rule 5 draft. After a phenomenal rookie season in 2007 (similar to Hobbs' box-score-destroying stint in semi-pro ball), Hamilton was dealt to the Texas Rangers for Edinson Volquez, and the story really got rolling.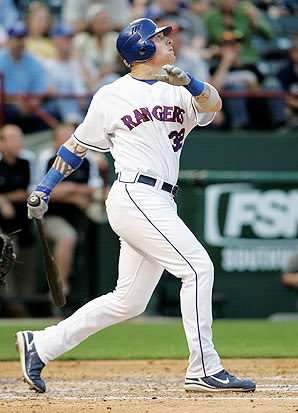 In the first half of 2008, Hamilton murdered the baseball, producing a .919 OPS in the season's first half and swatting 21 homers with 95 RBI in 93 games before the All-Star Break. It was during All-Star Weekend that Hamilton had his Roy Hobbs moment – maybe it was the scene where Hobbs begins to rake in batting practice to earn playing time, or maybe it was his out-of-the-stadium home run scene, or maybe even his four home run game. Regardless, the Home Run Derby, where Hamilton mashed a Derby-record 35 bombs while the world (finally) took notice was his moment. It has, thus far, been Hamilton's defining scene.
Perhaps it is best compared to Hobbs' final at-bat, when suffering from a stomach ailment he fouls a pitch into the lap of an evil reporter, and then hits a light-exploding home run to win the Knights the pennant. After all, this is Hobbs' defining moment, when he proves himself the "best there is, the best there was, and the best there ever will be," solidifies himself on moral high ground, shoves it in the face of his opposing characters, and wins the pennant for his club.
The Home Run Derby was Hamilton's true Major League arrival.
The key difference is that for Hobbs, it was his last moment in baseball, in all likelihood. Hamilton's has come with enough time remaining for him to create a far greater legacy than a single season or single event. I hesitate to call Hamilton "The Big Natural" because of what a Google search returns, but his career thus far has paralleled The Natural in a phenomenal way.
As Hamilton enters his third Major League season after a somewhat disappointing second half of 2008, the possibilities seem as limitless as they were when he was selected first overall in 1999. He is still young at 27, has unheralded power and stroke, and is now free from all of his personal demons. 2009 could be The Year of the Natural, the year the movie celebrates its 25th anniversary.
Leave a Reply