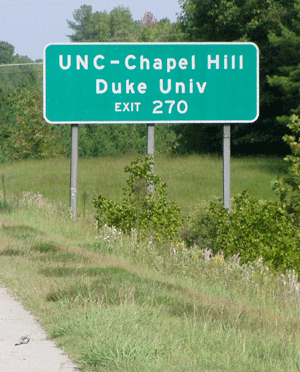 The Rivalry of Tobacco Road has given us some of basketball's greatest icons and memorable moments. Even though the battles between the Heels and Blue Devils have provided endless entertainment, it is human nature to look back and wonder about 'what might have been' almost as much as 'what was.' How altered might the game's landscape have been if certain events had unfolded different, and just which of those hypothetical possibilities would have been most important? In anticipation for the next chapter of the Blue Blood Feud, let us do just that, with a look at the Ten Greatest What If's. (For more on my perspective on UNC-Duke, please check out previous articles here and here.)

10. Shav Randolph Chooses UNC Over Duke: Hard as it may be to believe now, Randolph was once considered the best high school player in the country, having been named Associated Press North Carolina Player of the Year twice and a starter in the McDonald's All-American Game. A recruiting war broke out over Shav as he averaged 30 points and 14 rebounds as a Senior. While he had family ties to both NC State and UNC, it is thought that the decision came down to Florida, Duke and Carolina. A well-known legend states that then-UNC coach Matt Doherty sent Randolph a picture of Michael Jordan himself wearing a shirt that read "Shav Country" to charm him. Luckily for UNC fans, this persuasion failed and he instead went on to become one of the biggest flops in college history, remaining a rich source of jeer for Heel fans towards the Cameron Crazies.
9. JJ Redick and Rashad McCants Host Def Poetry Jam: This is highly ridiculous but supposing the infamous poetic stylings of Redick and McCants were read one after another for all the world to finally determine which was the more pathetically atrocious. Who would have reigned supreme as the tragic kind of non-deliberate humor? A sample of both lyricists' work:
Redick: Ten minutes pass without a notice
Nine times in my life I've felt hopeless
Eight friends I've lost on purpose
Seven broken bones my skeleton felt were worthless
Six days of work, but only one day of worship
Five ways I feel pain, but that's only on the surface
Four corners of the earth, all touched by God's churches
Three sisters have influenced my poetic verses
Two years that I completely lost focus
One brother for which I wrote this
Ten minutes pass without a notice
McCants: Even though I emerge unseen in the dark I still create a shadow in the brightest of days. Sun rays on Sundays create my image. I'm a visionary message from the planet of perfection. The details don't come in emails. There is no signal. No chemical, not digital. Just visual.
Wow….just….wow…
8: Shaun Livingston Attends Duke, J.R. Smith Attends UNC: The Co-MVPs of the 2004 McDonald's All-American game were scheduled to join the great lineage of celebrated talent involved in this eternal showdown but elected instead to enter the NBA Draft a year before the age limit was to be enforced (Livingston was selected 4th overall, Smith 18th). Neither blossomed into the All-Pros they were projected to become and one cannot help but wonder wistfully what might have been had they attended college and received better instruction and meaningful playing time if only for one season. Both were remarkable athletic talents (Smith still is) that would have almost certainly made their presence known immediately of the national stage while impacting the ongoing narrative of college's greatest feud.
7. Matt Doherty Follows Through and Attacks Andre Buckner: When the Devils and Heels met on March 9, 2003, North Carolina was unranked and had the look of a program in disarray. While head coach Matt Doherty had succeeded in bringing in the best recruiting class in the nation that year, the Heels did not qualify for the NCAA tournament for the second straight year. The lone bright spot was this game against Duke, who was #10 at the time. UNC won 82-79, but what made the game notable was that Doherty and Duke assistant coach Chris Collins got physical with one another after UNC guard Raymond Felton was injured by Dahntay Jones. Subsequently, Duke forward Andre Buckner bumped Doherty, who responded in a rage and nearly retaliated by striking Buckner. Needless to say, such an action would have stained the UNC program forever…and been incredibly satisfying.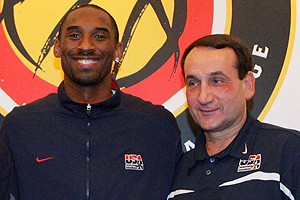 6. Coach K Leaves Duke for the Lakers: Not enough people truly realize how close this game to happening, but this was nearly a reality. After the Lakers lost to the Pistons in five games in the 2004 NBA Finals, Phil Jackson retired and the roster was blown up that summer. Given the keys to the franchise, Kobe Bryant essentially became the team's President and GM, or at least behaved like it. He nearly succeeded in a coupe that would have brought Duke's "Coach of Life" to Los Angeles. Instead, Krzyzewski saved the Duke program by balking at the 11th hour and returning to Durham to shoot more AmEx commercials.
5. Elton Brand and Corey Maggette Return for Another Year: Had Brand, Maggette and (often-forgotten) guard William Avery returned to Cameron Indoor for the 1999-2000 season, there would have been no need for a single game to be played: the NCAA would simply have been forced to hand Duke the National Championship immediately and pronounce them as conquerors. The 1998 Duke squad was already one of the most talented rosters in recent NCAA history. Adding another year of development and increased playing time for the freakishly athletic Maggette, paired along with Brand's continued staggering dominance inside, would surely have secured the Blue Devils another banner for the Cameron rafters. Instead, Brand (who had already won a consensus National Player of the Year in '98) was drafted first overall and Maggette was picked 13th, making up two of the four Blue Devils to be taken in the first round after their shocking loss to UConn in the National Finals.
4. Jerry Stackhouse and Rasheed Wallace Return for Another Year: If we assume that Brand and Maggette returning would have won Duke another championship, it is reasonable to think that a similar decision several years earlier by Jerry Stackhouse and Rasheed Wallace would have allowed the 1995-96 Tar Heels to become one of history's greatest teams. The previous year, under Dean Smith's guidance, the pair had lead Carolina to the Final Four as sophomores and a place alone in the national spotlight. Stackhouse was named National Player of the Year, while Wallace was an All-American and still leads the ACC in career field goal percentage. Add to that the fact that UNC had young Antawn Jamison and Vince Carter off the bench and its difficult to see this theoretical team losing a game. Ultimately, they would both declare for the Draft, with Stackhouse being selected third and Wallace fourth, as UNC fans everywhere wondered what could have been.
3. Jay Williams Never Gets On a Motorcycle: This is not a cheap shot to Duke fans (…okay maybe it is a little) but imagine if Williams had never injured himself and had continued is ascension to NBA Superstar in Chicago…just how great might he have become? As a UNC supporter, there was no other player that frightened me more and no other Dukie in whom I saw the potential to one day become a legendary pro. That was the promise Williams held: he was aimed to, once and for all, shut up all the critics that pointed to the lack of successful professional players Coach K ever produced. There is no way to know how his career would have turned out, though it is not unreasonable to project that he would have been a All-Star numerous times over and had Hall-of-Fame potential. He was as quick and athletic as Derrick Rose is today, but with a stronger body and better ups, almost like a smaller version of D-Wade. His accident robbed Duke supporters of ever having a transcendent alumnus and therefore allowed UNC fans to continue to hold 'Alumni's NBA Success' as a trump card in any argument.
2. Roy Williams Never Leaves Kansas: As already mentioned, UNC was in shambles in the early part of this decade and the program looked to be headed for sustained irrelevance, as the glory days of Dean Smith faded further into the past. Matt Doherty, despite his passion and his track record as a great recruiter, had used his awful in-game management skills to turn the program into a laughing stock. Enter Old Roy, the savior of Tar Heel nation. Williams rode in on a Carolina Blue steed and launched a new golden age in Chapel Hill when he took over in 2003. Since then the Heels have won a national title, made another Final Four, won the ACC Conference Tournament twice, and secured some of the country's best recruiting classes. Had Williams not left Kansas (as he elected to do in 2000 when offered the job by one of his mentors, the departing Bill Guthridge) it is safe to say that Carolina would never have returned to prominence in the manner it has.
1. Kobe Elects to Go to Duke Instead of the NBA Out of High School: Given my well-documented adoration for the Mamba, I can state with confidence that this would have completely reshaped my life as a sports fan and hoop enthusiast. No other imaginary scenario, involving any player, team, or coach, would have changed my perspective and understanding so utterly and completely. A proposed inventory of what Kobe's time at Duke would have brought: 2 seasons, 2 national championships (including an undefeated season), 2 National Player of the Year awards, 2 ACC championships, 2 national scoring titles, and a 6-0 record against Carolina. The disgusting thing about that fabricated resume is that, as gaudy and exaggerated as that it might seem at first glance, it would have been entirely possible…if not probable. Only the imaginary development of LeBron at Ohio State even compares to this. The Heels fan in me is thankful every day that this never came to fruition.
3 Responses to "What If's and What Should Never Be: UNC-Duke"
stu Says:
February 11th, 2009 at 5:19 PM

I remember my buddy (Duke fan) telling me that Livingston didn't hire an agent for the draft and that he could potentially be drafted and still play at Duke for a year. I was never more horrified in my life.

Paulus and Psycho T play their last UNC/Duke game at Cameron Indoor tonight, sad times.

Trev Says:
February 11th, 2009 at 5:26 PM

Good times though that T might end up 4-0 kifetime at Cameron. Good times indeed.

Blake Murphy Says:
February 11th, 2009 at 8:29 PM

Should be a very solid game. It's nice that for the first time in recent memory, this game isn't for ACC supremacy (with any certainty).
Leave a Reply