Posted by Blake Murphy on March 6, 2008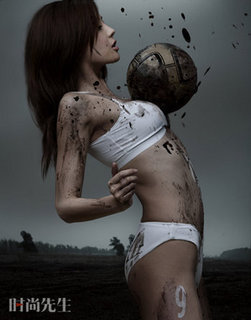 This article has been submitted by the debuting Michael Cascone. Italians do love their soccer.
In the exhausting UEFA Champions League journey, the Round of 16 represents the finish line somewhere on the horizon. After emerging successfully from numerous rounds of qualifying and a pressure-filled group stage, the European club teams remaining in the competition were set in a number of elite matchups.
For those of you who don't fully understand the Champions League system (and even if you do, you know that it's ridiculously intricate), club teams are selected from their respective national leagues based on last year's record. Each domestic league sends a certain amount of top teams through to the group stage automatically, while many more are sent to compete in qualifying rounds for the remaining group stage spots. While this ensures that the best teams will compete, it is an exhaustive process that takes away from a club team's national schedule. Kind of like that friend who always wants to get sauced…and you fail your midterm.
The Round of 16 is a two leg (home and away) series in which the team with the higher aggregate score moves on. In the Round of 16, the stakes are raised and many teams get to face their first true challenge. Perhaps the most intriguing round, this year's 16 featured traditional powerhouses as well as surprise performers, giving everyone someone to cheer for. Here's a little review of the action you may have missed so far (given the shoddy TV coverage, there's a good chance you did…unless you were in Cuba over reading week, in which case it was fantastic):

Liverpool (English Premier League) 2 - Internazionale Milan (Italian Serie A) 0 (after one leg)
Liverpool currently lead the Nerazzurri 2-0 (not zero but nil, soccer fans) aggregate after the first leg as Inter's international woes continue. The side is leading the Italian Serie A by a wide margin this season, and has been virtually unstoppable in league games. Serie A wins have not translated into international success in previous years, and this year seems to be the same. An uninspired performance against Liverpool means that the Nerazzurri are on pace for an early exit from the Champions League. Terrible first leg games by stars Ibrahimovic and Stankovic left a taste in the mouths of Inter fans reminiscent of stale bruscetta and under-sauced spaghetti.
Liverpool's 2-0 win at home was a statement for Coach Rafa Benitez and an embattled squad that has been under fire for a poor Premier League performance. Overshadowed by league rivals Chelsea and Arsenal, look for Liverpool to put in a strong effort. They have a history of international success and managed to make it to the finals last year.
Cone's Key to the Match: Italian national Marco Materrazzi's early dismissal left 10-man Inter on the defensive and they never recovered. Big props to Liverpool for turning around an ugly season, but they still need to finish the job next week….
Prediction: Inter will continue to live in AC's shadow and will not overcome the aggregate deficit at San Siro. Check out TSN or Sportsnet next Tuesday for the game.
Arsenal (English Premier League) 2 - AC Milian (Italian Serie A) 0
Inter's cross-town rivals and former Champions League winners were stunned in the second leg by Premiership leaders Arsenal. This heavyweight bout featured a scoreless draw in the first leg, and a stunning 2-0 Arsenal victory in the second leg. The Arsenal win marks the first time in history (yeah, that's right, like forever) that an English side has beaten AC Milan at San Siro. Needless to say, Milan fans are crushed, but their boys put up a good fight against a tough opponent.
Despite some horrible officiating, the Gunners were able to create a ton of chances, and finally scored the decisive goal late in the second half (84'). The victory was deserved, and the Rossoneri put up a generally lackluster effort that lacked enthusiasm. Looks like it'll be a tough Champions League offseason for Milan residents.
Cone's Key to the Match: Gunners striker Emmanuel Adebayor. Milan played a very solid defensive game under pressure, but the lone forward managed to open up space time and time again. His persistence in the area forced Milan to play a defensive game, and they relied on the long ball to create offensive chances. Aside from a few long runs out of Kaka (who is dirty-sick, by the way), Milan looked outmatched offensively, thanks in large part to Adebayor's efforts.
Keep your eyes on Arsenal. In my opinion, they have the technical ability as well as the talent to make a serious run at the title. The only question mark: experience.
FC Barcelona (Spanish Premiera) 4 – Celtic FC (Scottish Premier League) 2
Celtic, the annual Scottish qualifiers, fell to Barcelona in both games, losing the matchup by a 4-2 aggregate. Despite a spirited effort in the opening leg at home, Celtic was completely overmatched on both sides of the ball as Ronaldinho et al. dominated. Give Celtic credit for jumping out to a lead in the first game though, and they did put up a fight, but the talented Argentinean Lionel Messi ran rampant over the Celtic defense en route to a 3-2 Barca victory. I love to see a good show in front of home fans and Celtic certainly was able to do that.
Barcelona was able to control play in the second leg and cruise to a 1-0 win. Possession says it all for this one: 65%-35% in favor of Barca.
Cone's Key to the Match: Celtic never stood a chance. My key to this match is the entire Barca roster. Thierry Henry, Ronaldinho, Lionel Messi, Samuel Eto'o, Xavi, Deco, and my personal favorite Gianluca Zambrotta. Its going to be tough for any team to beat that group. I have my fingers crossed for a Barca-Arsenal matchup.
Manchester United (English Premier League) 2 – Olympique Lyonnais (Ligue 1) 1
After a first-leg draw, Ronaldo managed to put the nail in Lyon's coffin with a strike just before halftime. Both teams played fairly defensively throughout the series, making it less exciting then you would think. Wayne Rooney disappointed Man U fans with an uninspired effort in both legs. Look for him to step it up in the Final 8 or Manchester will be in trouble. Fact: Manchester United has now tied a Champions League record by winning 10 straight games at Old Trafford. Playoff consistency the Ottawa Senators would kill for.
Cone's Key to the Match: The Manchester United coach, Sir Alex Ferguson, has actually been knighted. I mean, really? They even still do that? That's like Canada knighting Pat Burns for a couple of sick years with the Leafs. My conclusion: England needs to give it up or Canada needs to do something about its lack of coach-knighting.
Fenerbahce SK (Turkish Super Lig) 5 - Sevilla FC (Portuguese Primiera Division) 5
Tuesday action finished with some of the most compelling and exciting soccer I've witnessed. Upstart Turkish team Fenerbahce managed to defeat heavily favored Sevilla in penalty kicks to become the first Turkish team to advance to the Round of 8 in Champions League history. While I will not lie to you and pretend to know anything about this Turkish team, they looked fantastic.
They beat Sevilla 3-2 in the first game in front of an extremely rowdy home crowd. Seriously, they're nuts…among the worst soccer hooligans in the world, look it up. Their hooligan supporter group is called Kill For You. Wow.
After trailing by two goals and on the brink of elimination, the Turks were able to turn around the momentum of the second match with a high energy style of play. They won the aggregate on penalties after two key back-to-back stops by goaltender Volkan Demirel. Striker Deivid helped turn the Sevilla tide with two goals, which was impressive considering early Sevilla dominance.
Cone's Key to the Match: Playing the classic underdog role, the key to the match is Fenerbahce's scrappy enthusiasm in both legs. Coming from behind to win in penalties? Classic. Also, props to the crazy fan base, that's gotta be a tough environment to play in. They've become my new favorite Turkish team, which is saying a lot (move aside, Gençlerbirliği OFTAŞ!).
Also, Sevilla's home jerseys are sick. Different colors on each side of the collar. Party and business.
Overall, the day's matches were enchanting and captivating. Stay tuned on Wednesday for three more second-legs, including my personal favorite team, AS Roma.
This article has been submitted by the debuting Michael Cascone. Italians do love their soccer.