Blake Murphy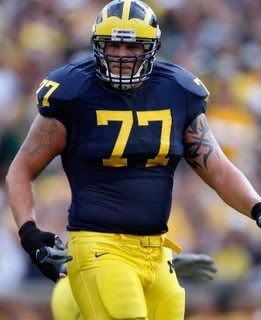 This article has been submitted by Alex Snyder. Matt Douglas should have a follow-up Mock later today.
A lot of changes from my earlier mock up shows how the combine can change a lot of things. The one thing that is certain is the Dolphins are drafting OT Jake Long with the first pick. After that, the top-10 is anyone's guess; here's mine:
1) Dolphins - OT Jake Long , Michigan
As stated, the Dolphins will take J-Long at #1 and have already made him the highest paid O-lineman in NFL (5 yr, 57.75M). Huge investment from the Fish, but I think it's a good one. He was the safest pick among the top-5 besides maybe Dorsey, but he's going to be a really solid T for a long time and there aint nothing wrong with that. Parcells loves to run off the right tackle and Long will likely be their RT. This team will again struggle massively, however, if they don't get a QB.
More after the jump!