This article is a collaboration from Blake Murphy and Stu Wilkinson.
Jerseys are a way of life for a lot of major sports fans. While it is unfortunate that jerseys are sometimes viewed as a dirty or lesser form of clothing, the real sports fan (and classy dresser) knows that a strong jersey collection can make or break a wardrobe. This is no more true than for Stu and myself, who both carefully toe the line of 'hobosexual' when in school mode but can also dial it up with some pimpin' pimpin' suits when the business-side is occasioned for. With both Stu and myself holding quite a jersey collection already, the idea of a fantasy jersey draft between Alex, Stu and I had been kicked around for some time. Since the site opened, actually. So six months later, here it is, sans one participant – the fantasy jersey draft. It was simple really…name the jerseys you'd want from each category and post a picture. Done. Enjoy. Buy me these for Christmas.

NHL
Stu (Sidney Crosby, Pittsburgh Penguins Winter Classic): If I'm starting a jersey collection from scratch, this is the first thing I get. I know that I will never, ever, sour on Sidney Crosby. Not only did he transform the Pens into a Stanley Cup contender ridiculously quickly, Crosby pretty much kept the team in Pittsburgh. The Kid would have to stab my dog in the face multiple, and I stress the word multiple, times in order to leave my good graces. The ridiculously good looking Winter Classic jersey is just the icing on the metaphorical Sidney Crosby cake of excellence.

Blake (Eric Lindros, Quebec Nordiques): Not only was Lindros my favorite player growing up, this ironic jersey would fit perfectly with some of my other 'jersey curse' pieces. Lindros, after shunning the Nordiques on draft day, ended up suffering an injury-plagued career full of 'what should have beens,' and it is my eventual purchase of this jersey that retroactively caused his demise.

Stu (Theoren Fleury, Calgary Flames): Theo Fleury was probably my favorite player when I was growing up in Cowtown, and I have to represent for my old hometown. Also, one rule of thumb I follow is that anytime one of my favorite hockey players is also a drug-addicted maniac, I want their jersey. If Martin St. Louis is this generation's Theo Fleury, this generation has been cheated out of half of the crazy/skilled little guy equation. I'll leave which part of the equation that is to the readers. If you have trouble figuring it out, feel free to ask for help in the comments section.

Blake (Adam Wood, St. George Dukes): My boy Adam is, after all, in the Hockey Hall of Fame as the OHA's Junior-D 2007-08 Player of the Year.
NBA

Stu (Shawn Kemp, Seattle SuperSonics): I firmly believe that Shawn Kemp is one of the greatest dunkers of all time, yet he gets no respect. People talk up old school guys like Doctor J and Dominique "The Human NHL Skills Competition Judge" Wilkins, but Kemp rarely gets any props, probably because of his awful reputation. With this non-existent jersey, I will represent for my boy, and all of his boys. Take that, haters.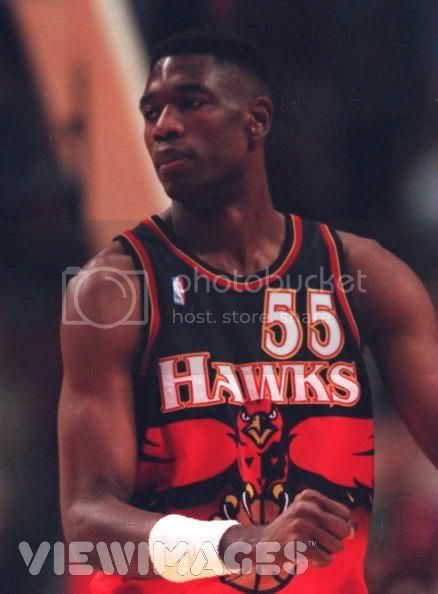 Blake (Dikembe Mutombo, Atlanta Hawks): The man who put The ODC on the map deserves a place in my jersey collection, especially considering I've adopted the Finger Wag as my own in our constant pool basketball battles.

Stu (Dan Majerle, Phoenix Suns): Thunder Dan – sick dunker, sick three point shooter, sick half court shot maker. Plus he's one of the most unreal NBA Jam players I've ever seen, right up there with Scott Skiles, Mark Price, and the aforementioned Shawn Kemp.

Blake (Caron Butler, Washington Wizards Alternate): There are a few jerseys that fit better here (especially a Toronto Raptors Euro-Live Spanish Edition Jose Calderon), but I didn't accept Stu's rule that we're starting from scratch – I already have a lot of basketball jerseys, and this one is next. Tough Juice is the man and my favorite non-Raptor.
MLB

Stu (Barry Bonds, Pittsburgh Pirates): I'm not the biggest fan of baseball jerseys, but this was a pretty obvious pick. I would receive a hilarious amount of verbal taunts from Pirates fans still bitter about management choosing Andy Van Slyke over the all-time home run king. Also, I could get a game-worn Bonds jersey from his time with the Pirates and it would fit my somewhat wiry frame (heckling fans once called me Skeletor during my high school basketball career) like a glove.

Blake (Jackie Robinson, Brooklyn Dodgers): As a stout baseball historian and supporter of all things hood, owning the very first African-American-worn baseball jersey would be huge for me. In fact, I honor Jackie presently by wearing #42 in Slo-Pitch and Intramural Basketball.

Stu (Rickey Henderson, Oakland Athletics): "I like playing for Oakland, they have a very colorful uniform" – Rickey Henderson

Blake (Ken Griffey Jr., Seattle Mariners): My favorite player of all time, in his rightful jersey. Enough said.
NFL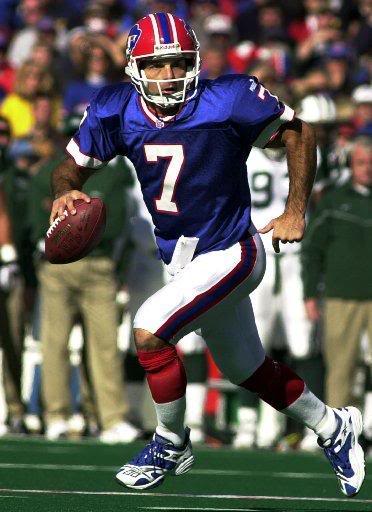 Stu (Doug Flutie, Buffalo Bills): I already have a Flutie jersey, but since this draft is about building a collection from scratch, I had to make sure that I retained the Most Valuable Jersey in my collection. Flutie's been my boy since he was on the Calgary Stampeders (even though I booed him in favor of Jeff Garcia once), and when he ended up actually playing for the Bills I was very, very psyched. Also, Rob Johnson is the antichrist.

Blake (Bill Romanowski, Oakland Raiders): The baddest S.O.B. and maybe the craziest to ever step on the gridiron, the unintentional comedy and intentional bad-assness of this jersey makes it a must-have in my collection. The Raiders (over 49ers or Broncos or Eagles) is for added effect.

Stu (Jerome Bettis, Pittsburgh Steelers): I have to represent for the greatest team in the history of the NFL, the Pittsburgh Football Steelers. Bettis, despite his poorly timed case of Fumbleitis in the RCA Dome during the Steelers' Super Bowl XL run, is my favorite Steeler of all time. Whether he was dancing after breaking off a career-long thirty yard run or making hilarious comments in post-game interviews, Bettis was always entertaining the masses. He's also probably the only player in history to put up three touchdowns on one yard rushing.

Blake (Ocho Cinco, Cincinnati Bengals): I already have the Chad Johnson jersey, but whether this addition be an entirely new jersey or just a detachable name plate, the Ocho Cinco option is important to me. That is, of course, until Chad leaves the league because he's gone absolutely insane in 2009.
Media

Stu (Bluth Company Softball): "Nobody embarrasses our family without my help." - George Oscar "Gob" Bluth

Blake (Willie Beamen, Miami Sharks): A realistic portrayal of the modern athlete, the best player on the Pacino-led Sharks is an out-of-nowhere success story that no doubt sold millions in jerseys. Consider me a hypothetical customer.

Stu (Charlie Conway, The Mighty Ducks): Conway was the emotional leader of the Ducks in the first two parts of the trilogy, leading the team to both a Minnesota Pee-Wee Championship and a gold medal at the Junior Goodwill Games. He was the first player on the team to accept Coach Gordon Bombay's offer of new Ducks jerseys, and the only player to master the intricate Bombay "triple deke." Those rock solid credentials, coupled with a very good looking jersey, gets Charlie a spot in my fantasy jersey collection.

Blake (Crash Davis, Durham Bulls): The best baseball character ever (sorry, Wild Thing Vaughn), Costner's Davis was everything I picture myself as, in baseball terms. The uber-knowledgable career minor league home run record holder is a fantastic game caller and teacher, baseball philosopher, and lover. Oh yeah.

Stu (Derek McConnell, Playmakers): For the kids reading this, Derek McConnell is probably the best role model you could ever have. Get your parents to buy you the first (and only) season of Playmakers on DVD. Don't go to school until you've seen all the episodes. McConnell's antics include getting an assistant coach to pick hot women out of the crowd for him to meet at halftime, not showing up after promising to take a woman he impregnated to her abortion appointment, and attempting to get an openly gay player injured by constantly throwing him lobs over the middle ("Carson Palmering" him, if you will). McConnell's character ended up doing more dirt than the team's crackhead running back (played by the same actor that portrayed Smart Guy's older brother's friend, Moe), and that's saying a lot.

Blake (Jesus Shuttlesworth, Big State): We never got to see the Big State jerseys in He Got Game, but I'd imagine they're glamorous, especially with the two lines of text necessary to fit Ray Allen's nom de plume on it. Shuttlesworth was LeBron James before LeBron was, but with a greater drive and no business-related hang ups.
College

Stu (Michael Jordan, UNC): The sweetest team in the college game, the sweetest player of all time, this is a no-brainer.

Blake (Byron Leftwich, Marshall): I almost took Maurice Jones-Drew, UCLA, because it's not very often a sweet player jumps from your favorite college team to your favorite NFL team. That said, Leftwich has a special place in my heart for being my first NFL jersey and for almost costing me all sports legitimacy with my friends as I sang his praises for years before he was jettisoned from Jacksonville. At Marshall, he was the focal point of one of the greatest highlights ever, as his O-line carried him from snap to snap to play on a broken ankle.

Stu (Larry Fitzgerald, Pittsburgh Panthers): Fitzy was pretty much the most amazing player I've ever seen when he was on Pitt. He should have won the Heisman as a sophomore (Jason White of Oklahoma beat him out). Let me hit you with some of Fitzy's numbers from his Heisman year: 87 catches, 1,595 yards, 22 TD's. For a comparison, Randy Moss at Marshall had marginally better numbers at Marshall. AT MARSHALL. Fitzy did his work in the Big East, which at the time featured the traitors in Miami, Boston College, and Virginia Tech. In conclusion, he was an excellent catcher of the football.

Blake (Kobe Bryant, Lower Merion High School): I know it's technically high school, but with a huge collection and no Kobe jersey, I had to cop something Mamba. Especially since he's about to lead his team from down 3-1 to win the NBA Championship. I think.
This article has been a collaboration between Stu Wilkinson and Blake Murphy.
11 Responses to "Fantasy Jersey Draft"
Leave a Reply