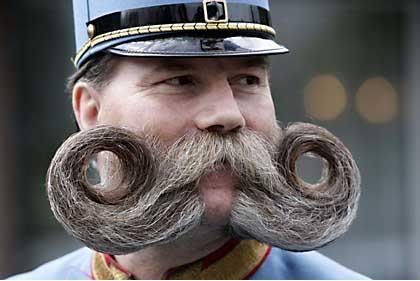 This article has been submitted by Fu-Manchu wearer Alex Jackson.
"I grew the mustache because a coach in college said I couldn't grow one."
-Mark Spitz
This article was inspired by the Newsradio episode "President" (Season 3- 1).
Here we are again, the month of March. The third month in the Gregorian calendar; the anniversary of the death of Julius Casesar at the hands of his former friend Marcus Brutus; and a time when winter becomes spring. In recent years, however, March has become more than just 31 days on a calendar, it has become a cultural movement among males, aged 16 to 40. In fact, by some it is even recognized as a "Temporary Cultural Movement for the Benefit of Charity;" that's right, March is now known for its mustaches.
From the official website of Mustache March:
"Mustaches have always been politically-charged. They've been banned by kings, forbidden by employers and used as a form of protest. The popularity of mustaches has ebbed and waned throughout the ages, and in America today we find ourselves at a low point of mustache-acceptance. What better way to start a cultural movement than to embrace an unpopular social practice in attempt to raise money for charity? The Follicle Freedom Foundation was born of this idea.

Our goal is threefold. Revive a once-glorious grooming practice, humiliate ourselves in the process, and raise some cash for a worthy cause."
In honor of this great "cultural revolution," TheOnDeckCircle.net is proud to present some of Sport's Greatest Mustaches.

Any sports list that involves mustaches must include two names: Keith Hernandez and Rollie Fingers. In a 2007 contest conducted by the American Mustache Institute of St. Louis, Hernandez, a write–in candidate, beat out Fingers, 31.7 percent to 23.9, with nearly 20,000 votes cast in a contest for the "Best Sport Mustache of All Time."

Keith Hernandez enjoyed a major league career that spanned 16 years as a first baseman with St. Louis Cardinals, New York Mets, and Cleveland Indians from 1974 to 1990. During his career he was a five time All-Star, an eleven-time Gold Glove winner, and even won the 1979 National League MVP award. Many mustache purists feel that Hernandez gained an extra, unfair boost in the contest because of the notoriety gained he gained by allegedly spitting at Kramer and Newman on Seinfeld and hocking Just For Men hair coloring (a mustache-universe faux pas).

Rollie Fingers, on the other hand, is a Hall of Fame relief pitcher who many believe should be in the pantheon of mustaches. Over the course of 17 seasons Fingers pitched with the Oakland Athletics, San Diego Padres and Milwaukee Brewers, compiling a 114-118 record, with 341 saves and a 2.90 ERA. In a quote to the AMI, Fingers explained how his trademark handlebars first came about:
"I'm obviously very proud of my mustache. I actually first grew it while pitching for the Oakland A's in 1972. Reggie Jackson came to spring training intent on playing with a mustache, which at the time was unheard of in baseball. Our owner, Charlie Finley, wasn't thrilled about it. So he paid us $300 each to grow a mustache with hopes that if Reggie didn't feel like such an individual, he'd shave it off. Well, it all caught on, it grew on Finley, and next thing you know – we're having mustache days at the ballpark." In fact mustaches were so prevalent among those early 1970s A's teams that they were known as the 'Mustache Gang.'"
But baseball isn't the only sport to produce world renowned mustaches. Hockey, a sport better known for its mullets and lack of teeth, has produced its fair share of mustaches, however none is as famous as Hockey Hall of Famer Lanny McDonald's. McDonald compiled 500 goals and 1006 points over a 17 year NHL career with the Toronto Maple Leafs, Colorado Rockies and Calgary Flames. McDonald explained the origins of his 'stache to the National Post, "While I was driving back from Toronto after my first year [in the NHL], I grew a beard and moustache. I left most of it on for the whole summer. The Maple Leafs didn't allow you to grow a complete beard, so I shaved off the beard and kept the moustache. I have never shaved it off since."
Of course it would be easy to just list players from the 70s and 80s, when the mustache had legitimacy, but what about today's young whipper snappers?

Even though his major league future may be in doubt, Salvatore Frank Fasano should be a first ballot mustache hall of famer. Though neither his career .219 batting average nor his 412 career games over a 10 year span will impress many, his facial hair is what legends are made of. Sal, when allowed, has rocked the Fu Manchu to much fanfare; in 2006 when Fasano was acquired by the New York Yankees, he had to alter his looked because of the team's prohibition of long hair and facial hair below the lip.

Before moving to Idaho and competing on the handball circuit, Jake Plummer was an inconsistent NFL Quarterback who sported a legendary 'stache during the 2005 NFL season. His 'stache was such a cult hit, that when it disappeared, over 7,000 people, plants and animals signed an online petition encouraging Plummer to grow it back. And it worked, for a while! Did it help his performance on the field? Not really, as his team, the Denver Broncos would draft Jay Cutler in the first round a short time later which effectively spelt the end of Plummer's career. At least he can say he had a great mustache.

Discussions about the modern mustache must include former Gonzaga star, and current Charlotte Bobcat, Adam Morrison. What can you say about him that hasn't already been said? Here's Adam, in his own words, for NBA Live 07.
Others receiving serious consideration:
Hulk Hogan
2008 British Columbia Lions
Dave Wannstedt
Let's hear it, who are your favorite sporting mustaches?
This article has been submitted by Fu-Manchu wearer Alex Jackson.
2 Responses to "Sports' Greatest Mustaches"
stu Says:
March 7th, 2008 at 5:17 pm

Man, Lanny McDonald was unreal, but I could nver vote against Rollie Fingers. Great name, better mustache.

Blake Murphy Says:
March 7th, 2008 at 5:53 pm

Some of my favorites not listed:

George Parros - the poster boy for contemporary mustaches
Darrick Martin - not excessive, but consistent and ugly
Dennis Eckersly - Fingers Jr., basically, given his role and team
Dick Butkus - linebacker, high school basketball coach, mustache afficianado
Al Hrabosky - just click it
Leave a Reply