Posted by Blake Murphy on March 29, 2008
This article has been submitted by Jack Forsayeth. Expect his AL East Preview and overall preview sometime early this week.
You know the drill by now, bottom up!
Kansas City Royals
It blows my mind that a team can be this bad for this long and that will not change this year. There has been one bright spot in their lineup and that is newly acquired outfielder Jose Guillen, who is not even that good. He will get you 20+ homeruns but will struggle getting RBIs in this lineup. He would not even be a top-2 player on 95% of other teams. After that they have young players Alex Gordon, who struggles to get on base, and Mark Teahan, who has trouble hitting for power. Teahan is probably better known as the guy Billy Beane scouted in Moneyball rather than for his efforts at the plate. Gordon could have a semi-breakout year…maybe. It is rather embarrassing that these are the two best young hitters on a team that has consistently had top-5 draft picks for what seems like a decade. No one else is really worth mentioning.

The rotation gets a little better because they have a pretty solid top three that are all under 30 in Gil Meche, Brian Bannister, and Zack Grienke. All of these guys should get about 10-12 wins and ERAs under 4. None of them would be aces on most teams but all would be solid 3rd starters on any team in the bigs. The other two spots are still open for the taking. Kyle Davies and Jorge De La Rosa seem to be the favorites right now but those spots will likely be done by committee throughout the season with some help from veteran Brett Tomko and young stud Luke Hochevar. The bullpen is actually not bad and will probably get a lot of opportunities. They have a strong set-up in Jimmy Gobble and a rising star closer in Joakim Soria, who is probably the best player on this whole team.
They probably won't reach 70 wins for the fifth straight year and will struggle against other power lineups in the division.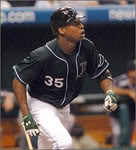 Minnesota Twins
Losing the best pitcher in baseball really hurts, and so does losing your franchise centre fielder, but not enough to be as bad as the Royals. The Twins never had a great lineup, even in their recent playoff runs, and that will certainly not change. They will have to excel again at playing smallball and great defense. They have some good bats in the lineup like Canadian superstar and former MVP Justin Morneau. He may have a tough year without the insurance of Torii Hunter and is likely to see fewer good pitches. Joe Mauer may not be the natural everyone thought he would be but he is still damn good. He will still hit .300 with 10+ and 75+ RBIs which is solid out of the catcher spot. Someone needs to emerge in the clean-up role this season in order for this team to score runs. It may be Morneau with Mauer hitting third but Twins fans hope that wonder-child Delmon Young will step up to the plate. This would allow for a great heart of the order with Mauer hitting second followed by Morneau, Young, and the consistent Michael Cuddyer. Outside of those guys this team will struggle towards the bottom of the order with Mike Lamb, Adam Everett, Brendan Harris, and Jason Kubel. Carlos Gomez will likely lead-off because he has great speed, but you have to get on base to steal and that could be an issue for him.
Their rotation obviously took a hit losing Santana but Francisco Liriano is back. Yes, the guy that went 12-3 with a 2.16 ERA and 144 Ks in 121 innings in 2006, in his first full season, before getting injured. Twins fans hope he will return to form. Combine him with other young pitchers Scott Baker, Boof Bonser, and Kevin Slowey and this rotation may have a bright future. Rounding out the rotation will be savvy veteran Livan Hernandez who can still pitch at a high level for any team. The Twins have always had one of the best bullpens and will again. Starting off with dynamite closer Joe Nathan, set-up man Juan Rincon, and strong middle reliever Reyes, Neshek, Guerrier, and Crain give them one of the deepest pens in baseball.
Twins have a way of winning games because of their defense and bullpen. They always win more games than they should and I'm going to write them down for 73-75 this year which is respectable given they lost their best and third best player.
Chicago White Sox
The White Sox are a solid team that has the bad fortune of being in the AL Central, although it is not the AL East. Their lineup has a lot of power and will hit a lot of homeruns but it is missing a player who can hit .300. I love the additions of Nick Swisher and Orlando Cabrera because it gives the Sox another legitimate heart hitter to get a ton of RBIs and a guy to set the table for the homeruns that Konerko, Thome, Dye and now Swisher will bring. The only question mark is the status of Joe Crede at third base because they are pretty high on Josh Fields taking over full-time. There have been trade rumors as well as thoughts about moving him to left-field, where likely lead-off man Jeremy Owens currently stands. Either way, Crede or Fields will both get some at-bats and have decent production in the seven-spot. Rounding out the order will be hated, but decent, catcher AJ Pierzynski and Juan Uribe. (As a side note, I always love bringing up the AJ Pierzynski trade because it was one of the worst ever. The Twins traded him to the Giants for Boof Bonser, Francisco Liriano, and Joe Nathan. That is why the Twins always do better than they should, because of great scouting, and also why the Giants now suck.)
The rotation is a little iffy. Despite his struggles, I still think Buehrle is as solid as they come and Javier Vazquez showed he can be an ace on most teams last year. Hopefully that will keep up. I don't think Jose Contreras has anything left and is a well below average 3. The 4 and 5 look to be John Danks and Gavin Floyd. Who? Exactly. These guys struggled last year and I see that happening again. I do like the bullpen with Bobby Jenks closing and Octavio Dotel and Scott Linebrink helping out.
They will fight with the Twins all year for this spot but I give the edge to the White Sox because of the experience and power in the middle of their lineup. The rotations are close to a wash but I still like the Buehrle and Vasquez combo to stay strong. 76-79 wins and hold off the Twins.
Cleveland Indians
I am a big Indians fan but I think the Tigers are just too good this year. This will be the best race throughout the season and both, yes both, will make the playoffs. This lineup starts with Grady Sizemore who is the best leadoff hitter in baseball. He represents all that is good in baseball and can do everything at the plate and in the field. Did I mention I like him? In the heart of the order they have the best catcher in Victor Martinez followed by Travis Hafner and then Ryan Garko. The bottom of the order is not as impressive and will feature a lot of shifting and platoons except for Jhonny Peralta who will consistently play short. Casey Blake will see time at LF and 3B, Andy Marte will play third on occasion, and Franklin Gutierrez, David Dellucci, and Jason Michaels will shift around in the field. They are all decent options and nice complements to the rest of the lineup. I also look for Asdrubal Cabrera to have a breakout year at second and also bat 2nd behind the Great Grady.
The rotation has a lot of question marks. CC Sabathia has been known to have injury problems but I think he will stay strong and compete for the Cy again. Don't worry Tribe, he is that good. A lot of people have been hating Fausto Carmona for some reason that I have yet to figure out. He was the 3rd best pitcher in the AL last year and finished with 19 wins (2nd in the majors), a 3.06 ERA (4th amongst MLB starters), and added an impressive postseason run. He may not strike people out and may have had a worse second half, although he was 6-2 with a 2.82 ERA in his last 10 starts, but I do look for him to repeat with maybe a slightly higher ERA. Outside of Arizona, and arguably Seattle, this IS the best 1-2 in the bigs. After that, they have two grinders in Paul Byrd and Jake Westbrook who will get a lot of groundballs and win games. They are not sexy pitchers with a ton of Ks or a low ERA but they can simply get 'er done. Their 5th starter is the biggest question mark of them all. Cliff Lee blew up last year after a great '05 and reasonable '06. If he can bounce back and win them 10-12 games with a 4ish ERA, then watch out for this rotation. Their bullpen is damn good, too. Joe Borowski will give you a heart attack but will get the save also. He has the best set-up duo around in a couple Rafaels (Betancourt and Perez) that help him out and guarantee a lot of wins.
Look for the Indians to go mid-90s again and steal the wildcard from the Yanks.
Detroit Tigers
A very tough choice but I can't ignore the Tigers anymore. The have the best lineup top to bottom in the MLB. There are no holes in this lineup. I am a strong believer that a strong leadoff hitter is needed to have a productive lineup and the Tigers and Indians prove that. The Tigers have Curtis Granderson, who batted over .300 who had an unheard-of 20, 20, 20 season. That is triples, homeruns, and steals. That is what I want out my leadoff man. It doesn't get much worse after him. Next is .332 hitter Edgar Renteria, .363 and MVP runner-up Magglio Ordonez (who also had 28 HRs and 139 RBIs), .320 Miguel Cabrera (who hit 34 and 119), .296 Carlos Guillen, .341 Placido Polanco, .265 Gary Sheffield, .281 Ivan Rodriguez, and then Jacque Jones at .285. Pretty good when your worst hitters are legends in Pudge and Sheff and your top six average .326. Granderson will miss a couple games at the start but I wouldn't worry, Brandon Inge will do okay.
The rotation may not be as good as the Indians but it's not bad. Justin Verlander is great and he will be again. Look for him to lead the AL in Ws. They will need Kenny Rogers to return to 2006 form to make this rotation legit because it is lacking a great #2. Jeremy Bonderman, Nate Robertson, and Dontrelle Willis are solid as a 3, 4, 5. Dontrelle will be interesting to watch this year now that he is on a contender again. I doubt we will see 22 Wins and a 2.63 ERA like 2005 but a 4ish ERA and 15 W is not out of the question. The place where this team will really struggle is the bullpen. They really have no good options with Zumaya and Rodney out. This factor may stop them from winning the AL, division, or getting in the playoffs. Todd Jones is an okay closer but will blow more than most and everyone else is unproven.
Despite the bullpen I still think that the rest of the team is good enough and there will be enough blowouts to make the bullpen irrelevant. They will win mid-90s and probably only 1 or 2 more than the Tribe.
This article has been submitted by Jack Forsayeth. Expect his AL East Preview and overall preview sometime early this week.