Posted by Blake Murphy on March 13, 2008
This article has been submitted by GMIL highlight Michael Cascone You can find part one here.

Last Wednesday, the Champions League Round of 16 continued with a few surprises and some fantastic soccer. Here's Part 2 of your Champions League lesson…
AS Roma (Italian Serie A) 4 – Real Madrid (Spanish Primiera) 2
In a well fought matchup, Roma overcame Spanish opponents Real Madrid with 2-1 wins at home and away. I won't lie and tell you that I'm not biased towards the Roma side, but they deserved to win both games. They outhustled Real in the first match and were rewarded with the victory.

Roma was also able to overcome some nightmares from last year in the second match. After leading Manchester United by a goal last season, they were overconfident and got dismantled and embarrassed at Old Trafford, 7-1. That was far from the case this year, and Roma came out playing energetic and sharp defensively. Although both sides created a number of chances, Roma played a strong midfield game and was able to finish with two goals. Also, some good old fashioned Italian diving secured them a number of free kicks.
Cone's Key to the Match: I would like to think that my personal fan support at the QP proved to be the deciding factor in the match (I rang the bell really loudly every time Roma got a scoring chance, annoying all Real fans in the pub). However, I would have to say that the nail in Real's coffin was Pepe's red card in the 71st minute. His second yellow card of the game meant that he was out for the match, and the 10 man Real Madrid struggled to keep Roma off the board. Despite allowing Real to control the ball, and actually score once, Roma forwards (Totti: a personal favorite) were able to run down the depleted defense and clinch the win with a second away goal.
Look for Roma to run the table; come to the QP to see me dance around in a Totti jersey.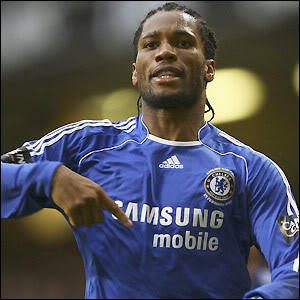 Chelsea (English Premiership) 3 – Olympiakos FC (Super League Greece) 0
No surprises here. After a first leg draw in which Chelsea missed a number of scoring opportunities, they put away the annual Greek champions with an uncontested 3-0 home win. Blues captain John Terry was quoted as saying, "We're up against a team who are no mugs," but they proved just the opposite (fantastic command of limey slang). After a Ballack strike in the 5th minute, Chelsea put it on cruise control. Despite a few chances late in the match, Olympiakos was completely outplayed.
After league rivals Arsenal were able to tune up in tight matches against AC Milan, Chelsea will have to step up their game against fiercer competition in the next round. They also actually have the issue of too many sick players. Playmaking forwards Didier Drogba and Salomon Kalou keep Michael Essien on the bench, and a surplus of quality midfielders gives the team depth, but could lead to playing time issues later as the games get more important.
Cone's Key to the Match: Chelsea's consistent play. They were sluggish in the away leg, but came away untouched after an easy second leg win. For more exciting soccer reviews, read up on Chelsea's FA Cup loss to Tier II side Barnsley (who already beat Liverpool). Guaranteed feel good, underdog story of the year; take that, Colorado Rockies.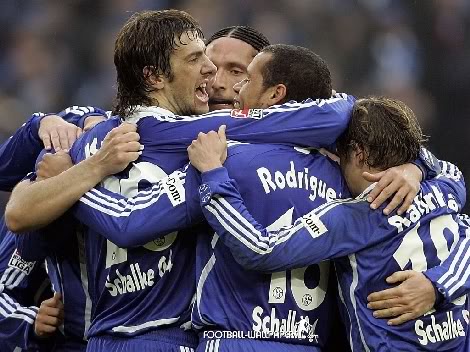 FC Porto (Portuguese Premiera Division) 1 – FC Shalke 04 (German Bundesliga) 1
In a thriller, Portuguese giants Porto fell to German underdogs Schalke 4-1 in penalties, after initially tying the aggregate score 1-1. Schalke was able to surprise Porto in the first leg, winning 1-0 at home. In the second leg, Porto dominated ball control (59% possession) and created way more chances, pouring on offensive pressure all game. However, they were only able to manage a single goal, very late in the match. An 82nd minute red card proved very costly for Porto, and they were unable to win in overtime and ultimately fell in penalties.
This game was a huge shock. The win marks Schalke's first time to the quarterfinals. More surprising: they've actually lost their last four Bundesliga games against much, much weaker opposition.
Cone's Key to the Match: Schalke tender Manuel Neuer. After a number of dirty saves throughout the match, he stopped two straight penalty shots to put Schalke through. Anytime there's a penalty kick win, you have to give props to the goalie.
It'll be interesting to see how Schalke holds up in the next round. I predict them getting blown-out by a powerhouse, but we'll see.
Liverpool v. Inter Update
Although I gave a little review on this matchup already, the second leg is to be played on March 11th. Check out my previous article for a little taster before the match if you plan on watching it. Inter is injury-riddled and down two goals. As much as I like to see the Italian teams get through, they have little chance.
Note: Yup, Blake waited to long to put this up. Liverpool won said second leg 1-0, giving them a 3-0 aggregate victory.
There's plenty more Champions League soccer to be played, enjoy it.
This article has been submitted by GMIL highlight Michael Cascone.