Posted by Blake Murphy on February 15, 2008
I know you know that this is NBA All-Star Weekend. And I know you know I know you know, especially since I just told you. For me personally, this is in the top five weekends of the calendar year, a perfect blend of basketball, the homies (because I'm always home for reading week), entertainment and David Stern-approved shennanigans.
As much as I love the NBA All-Star Weekend, I feel there could be some serious improvements. So, taking the whole weekend day by day, here are the events, what to expect, and the tweaks I'd make to create the ultimate basketball fan's weekend.

Friday
Today's events: Celebrity game, 7PM, Untelevised in Canada; Rookies vs. Sophomore game, 9PM, The Score; D-League Dream Factory Friday Night, 9PM, Online Only
I love that the celebrity game is televised (not for us in Cananda, and I'd rather watch the Converse Media Game, but still). It always has the potential to be a really entertaining game. What change would I make? Well, I'd get people with actual basketball ability to play. We can't have Snoop Dogg, Nelly, Master P, Terrell Owens, and others playing? No, we get people like John Stamos, the guy from Scrubs (What do you mean? Wait, one of them is black? Which one?), and Jamie Kennedy. I'm not sure if any of these people are actually in the game, but there's a good chance they're too A-list to be allowed to play. So, I'd love to see them let more rappers and other athletes play to step up the star- and basketball-quality of the game.
The Rookie vs. Sophomore game is pretty much awesome. It's sweet that they play college rules and take the game half-serious…until the second half, when the glorified dunk contest-three point contest combination commences. It's still an entertaining game and a great time, so I don't think I'd even make a change here. One thing I thought of was changing it to Rookies vs. D-League All-Stars, but the NBA stakes too much reputation that way, and the D-League is limited to nine All-Stars, so that doesn't work for anyone.
The D-League Dream Factory is new to me, but as I understand it it's their own version of the NBA's Saturday night stuff, with a 3-point competition, the dunk contest (which, I'd imagine, will rival the NBA's, and I'm picking Brent Petway to take it), something called Hot Shot With a Fan, and then H-O-R-S-E, which is the sickest idea ever. To see if, logistically, it would work for the NBA (time, excitement, etc), the D-Legaue is trying it out as a test run. The details are vague right now, but I'm certainly excited, though I have a bad gut feeling it won't work. I'm definately going to be trying to stream this event for Rookie/Sophomore commercials and dull points.
Saturday
Today's events: D-League All-Star game, 3PM, Untelevised in Canada; NBA All-Star Saturday Night, 8PM, TSN
I really wish the D-League would get better television coverage. I understand, they are the minor league and nobody but me cares, but there is something to be said for good basketball involving players on the fringe of the NBA and therefore games where every play matters to every player. That goes doubly for the All-Star game, because not only is it recognition that they're the closest to the NBA, but it's also great mainstream and scouting coverage for them. I will lay money that, if you can see it, this is a more exciting basketball game than the NBA version. Big shout out to Boom Tho in this game, too, check for him (Rod Benson) and ex-Raptor scrub Andre Barrett.
The NBA All-Star Saturday Night event is a showcase of the best and the worst of the NBA. On the good side, we get the exciting dunk contest and captivating three point shootout, plus the growing-in-popularity point guard skills competition. Players actually care about these events, especially this year, and work hard (see: NBA takes over YouTube) to perform well. On the negative side, we get to see everything that is wrong with the NBA. Dunk contestants have to get NBA approval to really raise the bar on entertainment, nobody gives a shit about the team shooting competition and it's just there for Stern to continue to force the WNBA on us, and the whole event is riddled with commercials and over-the-top commentating.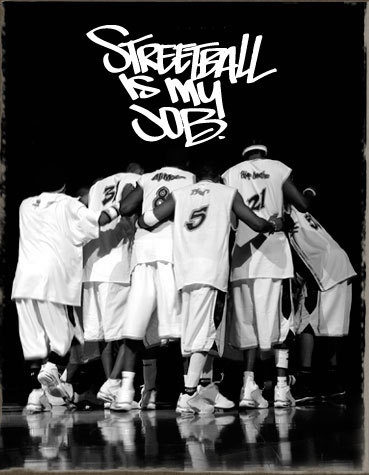 I have so many ideas for this night my head is spinning. Foremost, get rid of that stupid team shooting game that nobody (players included) cares about. Replace it with an idea I've been pushing for a long time—a 3-on-3 to 7 tournament. How sick would this be? Players have until Date X to enter a team of three, and the first eight teams to register are allowed in. During other events, you play the first round of the one-loss elimination tournament (untelevised), 3 NBA players vs. 3 NBA players, two-pointers count for one, threes count for two, up to 7, in half-court basketball, straight street rules, son. Then, you televise the 'final four,' the two semi-final game and the finals. The games would be short and crazy entertaining, and it'd be awesome to see some of the themes players come up with. Could you imagine a Brooklyn vs. Compton or Uconn vs. UNC game and other theme teams like that? How about an And-1-ish team of Rafer Alston, Jason Williams, and Jamario Moon? This description is underdeveloped, but I actually do have a legitimate way to build and promote this in a fun manner, and maybe I'll discuss it another time in more detail. Why can't it happen? Well, David Stern likes to ignore that 70% of the league comes from urban areas where streetball is king, and a 3-on-3 tournament is likely too hip-hop for the NBA.
As for the other events, I can't think of changes for the PG Skills event, mostly because it's newer and I don't care that much. The 3-ball competition is great as is, though I may consider expanding to 8 players (just so more players get showcased), cutting it to 4, and finally, two for the finals. TO save on time and commercials, I'd also have two players shoot at once for the first two rounds, using a video-game-esque split screen. For the dunk contest, they need to take the leash off of it and let the dunkers do whatever they want/whatever they can. Expanding the field to 8 is a must since this is the single most important event in the NBA season for building future superstars (there is no better forum for a player to become popular among ball fans). 8 players wouldn't take too long, either, since you could make the first round a single dunk (that also ensures you get great dunks early), with the top 4 moving on to the standard dunk contest format. I like keeping the field to players in their first three years (again, building stars), and I'd even consider keeping one of the 8 spots open for the winner of the D-League's dunk contest the night before, again building marketing synergies and a reputation for the NBDL. By the way, my other three players thrown in this year would be Nick Young, Monta Ellis, and Ryan Hollins (plus the D-League winner). I have goosebumps and an errection just writing about the dunk contest, so you know I'm amped and would probably watch it no matter how they ran it.
Yup, the All-Star Saturday Night could be a lot better and even more fun, but there is nothing wrong with having the best All-Star event of any sport anywhere.
Sunday
Actual events: All-Star Game, 8Pm, The Score
This is the premier event in sports All-Star games, well beyond baseball, hockey, or the Pro Bowl. It is a good game 2 out of every 3 times and is always entertaining. The only thing its lacking this year is Shaq's hilarious presence, but I'm sure he'll be in the house. I could nitpitck this event (the players don't try, they don't actually want to play, fans shouldn't vote the starters, too many players are injured, etc) but I won't because it's my favorite night of the regular season. I'm too much of a basketball fan to pick apart everything about the best part of February, and I hope everyone realizes all of these suggestions come from a desire to make my favorite weekend even better, not me being a hater.
Gambling
What, you thought this was done? Nope, just wanted to let everyone know I'm repping Raptors red with my wallet, laying a dollar on Bosh to win All-Star MVP (20-1 odds), two bucks on Jamario winning the dunk contest (3-1 odds), and two bucks on Jason Kapono to shoot the lights out (7-2 odds, a surer bet than anything Stu could give you).
Enjoy the weekend basketball fans, but while you do, think of how dirty a 3-on-3 tourney would be (assuming nobody got shot over it…I'm looking at you Stack Jack).