Posted by Blake Murphy on March 4, 2008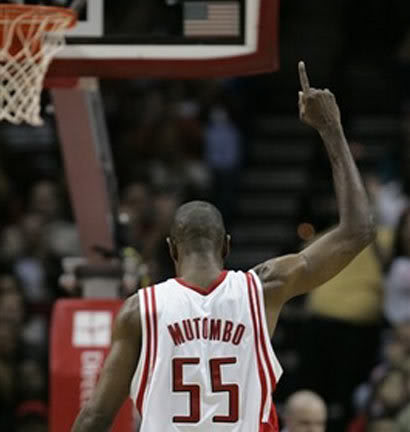 Throughout the annals of sports history, many a gesture have become entrenched in the memories of sports fans. From Babe Ruth allegedly calling his left field home run shot to Terrell Owens spiking a football at the Dallas Cowboy 50-yard line to Vince Carter signalling 'it's over' after his winning dunk in the 2000 dunk contest to Teemu Selanne shooting his airborne glove with his stick, there are certain images that will live on forever. With the invention of YouTube, this has never been more true.
But there is one such gesture that has become bigger than sports itself, one single movement that strikes fear into opponents, joy into the hearts of fans, and lust into the loins of those who put highlight packages together. This elementary but genius taunt has been adopted by people of all sport, profession, gender, age, and race.
This transcendent move is none other than the Finger Wag made famous by one Dikembe Mutombo.

The Beginning
At just age 4 in the summer of 1970 in the sweltering heat of a Zairian summer, Dikembe first wagged his finger, a day that will go down as the day sports taunting was invented. He wasn't sure what he was doing at the time, unaware that this move would become his trademark and forever change sports. He was just mimicking his mother, who was scorning him for playfully hitting one of his brothers. Dikembe would continue this throughout his childhood, laughing gleefully whenever he was punished with this gesture from his mother.
As he aged, Mutombo grew bigger and stronger than his peers, so much so that his father forced him to move from martial arts and soccer to the sport of basketball. While Deke found it to be too physical, he obliged, and soon found a new outlet for his finger wagging. It was on April 7 of 1980 that the Finger Wag was first used in an organized basketball game. As a smaller teenager went for an easy lay-up, Dikembe swatted the ball clear off the court. The Finger Wag that ensued was intimidating not just because of Deke's size and scowl, but because every child on the court knew that there would no longer be easy baskets in the country of Zaire.
Mutombo, the son of very religious and education-appreciative parents, went on to play for the Zaire national team while achieving good grades at the Institute Boboto. U.S. embassy official Herman Hennig, seeing Deke's great potential, put Dikembe in touch with legendary Georgetown University coach John Thompson, and in 1988 Dikembe was enrolled as a member of the Hoyas.
The Finger Wag Comes to America
In the very first game of the 1988 college season, Dikembe debuted the Finger Wag, sending a lay-up attempt into the second row behind the basket. This would become common place, as Mutombo averaged 2.27 blocks per game as a freshman. The Finger Wag was instantly feared and respected, and the Georgetown faithful even created Rejection Row below the basket, where students would wait for swatted shots.
But it was in his very first Big East game that the Finger Wag made the leap from humorous to devastating, from cute to downright ugly. In that game, Mutombo blocked a school record 12 shots and set a personal best with 9 Finger Wags. The records would not stop there, as Mutombo would post 6.0 blocks per 40 minutes average throughout his college tenure. He is third all-time on the Georgetown blocks list with 350 (behind Patrick Ewing and Alonzo Mourning) but first in NCAA history with 278 Finger Wags, a record nobody has come close to.
Mutombo would lead Georgetown to the Elite 8 as a freshman and average decent numbers throughout his college career. Legend has it that he once scored a 77 on a Linguistics test (his major), slammed the paper down on his desk and wagged his mighty finger at the professor, who soon admitted to the grade being a miscalculation. Dikembe never received a grade below 90 again.
Dikembe utilized the Wag off the court as well. During his freshman season, the infamous Sex Mutombo incident went down. What incident? Mutombo allegedly entered a Georgetown bar and when people turned to look at him he yelled, "Who wants to sex Mutombo?" What most don't know about this story is that as ladies approached him during the night, Deke gave a stern Finger Wag to any hefty girl who approached, stating "No fat chicks sex Mutombo."
A few years after, unsure if he could make the jump to the NBA, it took a visit and a Finger Wag from the originator, his mother, to fill her son with the confidence and esteem necessary to test the NBA waters.
Draft Day
After three years of college, Dikembe abandoned his plans to become a congressman and instead entered the 1991 NBA Entry Draft. When the Charlotte Hornets selected UNLV product Larry Johnson first overall, Deke sat idly by. When selected with the fourth pick by the Denver Nuggets, Dikembe walked by the Hornets' table and gave a stern glare. As he put on his Nuggets hat, he glared into the crowd and wagged a large pointer finger in the air, putting the league on notice that the most feared gesture in all of Africa was officially ready to take over the United States.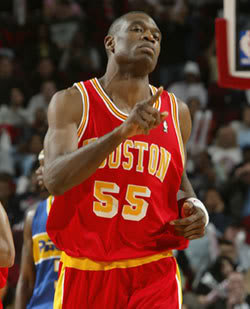 The Finger Wag Makes the Big Time
In November of 1991, Dikembe made his NBA debut with the Nuggets, swatting a hook shot attempt just 14 seconds after stepping onto the floor. Being a rookie, Mutombo reserved himself and calmly played on. It was not until February of that year when, after an appearance at the All-Star game as an unprecedented rookie, Dikembe unleashed the gesture to unassuming NBA players and fans alike. In a game against the Charlotte Hornets, the team who had passed on him in the draft at #1, he swatted the man he was passed up for, Larry Johnson, on a dunk attempt, pinning the ball against the backboard. As the Denver fans roared, Mutombo took a step towards Johnson and the Hornet bench, wagging his finger.
It was that day that the NBA changed. When the clip aired on recap shows everywhere, the league seemed split in half. Dikembe had polarized the league and its pundits, half loving the charisma involved with such a move and the other half despising the showmanship. The fans loved it though, and Dikembe was unapologetic. In the coming games, superstars like Chris Mullin, Joe Dumars, Mitch Richmond, Jeff Hornacek, Karl Malone and yes, even the mighty Michael Jordan all felt the wrath of the Finger Wag.
In the seasons that followed, fans began to recognize the gesture and erupt in its presence. Other players stayed away from the paint for fear of being the Wag's next victim. And still, analysts everywhere argued about its effect (to no avail). The Finger Wag was changing the game.
Other players tried to replicate its success. Dana Barros tried wagging three fingers after a three point field goal. Mark Price tried kissing the ball on his free throw attempts. Charles Oakley started choking his shot block victims. Even the usually reserved John Stockton tried tossing an actual dime at the scorer's table after every assist. None of these caught on, and most hurt the credibility and performance of those trying to emulate it.
In Mutombo's third season, he set a playoff record with 31 blocks in a five game playoff series against the Seattle Super Sonics. He would win Defensive Player of the Year for the first time that season, though the photo of him holding the award with one hand while wagging his finger with the other has since been lost.
In 1996 Mutombo left Denver for the Atlanta Hawks, where he would become a true superstar. Now a serious rebounding threat with some offensive game, Mutombo changed the Hawks fortunes dramatically, winning two more Defensive Player of the Year awards and setting his still-career high record of 242 Finger Wags (on 269 blocks) in 1999-2000.
His career continued much the same from there on. He made stops in Philadelphia, New Jersey, and New York in the next few years. It was in New York that many wrote Dikembe off as over the hill. He averaged just 5.6 points and 6.7 rebounds per game and his blocks fell to a career low (for a full season) 1.9 a game. Even his Finger Wagging was down, as he posted a career low 1.1 per game.
But in the summer of 2004, the Houston Rockets took a chance, signing the former max-contract player to a much more humble deal to back up emerging superstar Yao Ming. Mutombo spent three years there performing admirably as a defensive stopper off of the bench, averaging over a block per game across those seasons. The Finger Wagging seemed on the decline, though, perhaps because of arthritis in his long and aging fingers. Or so we thought.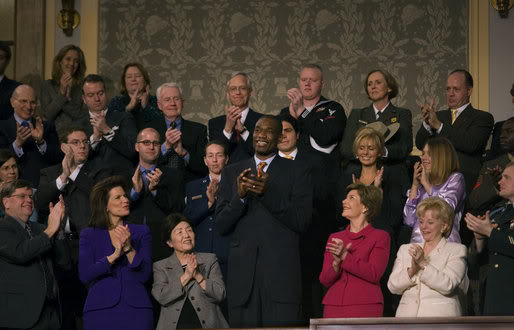 On December 23 last season, Yao Ming went down with an injury, catapulting Dikembe back into a starting role with the Rockets. In 32 games as a starter, Deke averaged 1.5 blocks per game, his highest total since his New York days. More importantly, the Finger Wag returned in full force on Boxing Day, when he destroyed a Jamal Tinsley lay-up into the 6th row at Conseco Fieldhouse in Indiana. For the rest of Yao's time off, Mutombo terrorized players entering the paint and showed the world he was not finished.
This season, Mutombo had played just 14 games until Yao Ming went down (again) last week. He had blocked just four shots and scored just one basket in those 14 games. But on a fateful February night against the Washington Wizards, Mutombo blocked 4 shots in 23 minutes as a starter. Three nights later, he blocked 4 again, this time in 17 minutes against the Memphis Grizzlies. After the game, Dikembe was asked if his career was over and this was one last moment in the sun. His response?
A Finger Wag and a smile.
Revolutionizing Sport
The Finger Wag has not died. It has not even aged with Dikembe. It is still as feared and devastating as ever. In fact, it's highly likely that it will outlive its originator by a great margin. Back in his home country, now the Democratic Republic of Congo, a small child is likely practicing his shot block timing and footwork and, of course, his Finger Wag.
Don't believe me that the Finger Wag has revolutionized sports? Consider that before 1990, no taunting highlight had ever made Sportscentre. Consider that prior to Deke's first playoff run, Dennis Rodman was relatively normal. Consider that Chad Johnson credits Mutombo with opening the door for showboaters across the sports universe. Consider that the Finger Wag is a more recognizable symbol than the Golden Arches, the Coca Cola symbol, and Santa Claus combined. Consider that other players eagerly await the opportunity to do it to him in return (from Shaq to Jordan to Mo Evans..?). Consider that fans mimic it wildly (proof). Consider that if you can manage to dunk on Dikembe, it's a huge deal (real talk). Consider that Primoz Brezec ripped it off the other night after being fouled on a missed lay-up.
Mutombo's Legacy
Dikembe Mutombo has done a great deal in his life. He speaks five languages. He has a degree. He has three children of his own and has adopted four others. He won the 2001 NBA Humanitarian Award and founded the Dikembe Mutombo Foundation. He is third all-time on the NBA blocks list with 3242 (2.8 per game), is a 4-time Defensive Player of the Year, an 8-time All Star, and is the #1 active player in both rebounds and blocks.
Deke might be remembered for some of this, sure, especially his humanitarian efforts. But when he is some day entered into the Hall of Fame, his plaque will undoubtedly have an engraved pointer finger extended, striking fear into each and every visitor who dares walk by.
If I could leave you with anything here, it would, of course, be a Finger Wag. I can't, so revel in this instead, the glory that is Mount Mutombo.
If you liked this article, you may also like this Eric Hinske piece or Sam's Unorthodox Sports Awards.