Posted by Blake Murphy on March 17, 2008
This article has been submitted by Ian Cass.
Sydney Crosby and Alexander Ovechkin will be the face of the NHL for years to come. These guys are serious game breakers. But I'm not here to talk about them. Even though they deserve every lick of praise they get, they certainly get enough of it in the hockey world. On the other hand, there are too many NHL players who don't get the credit they deserve. In a game that is often too fixated on numbers, there are a lot of impact players out there who go relatively unnoticed. Even though I don't like the term "underrated" because it leaves too much open for interpretation, I'm going to throw it out there regardless. These guys are underrated, and it is about time that they started getting a piece of the limelight.
I'm limiting the list to six since I could go on all day with this. You may disagree with some of my selections so please, feel free to let me know and also add players to the list! I'm just getting it started.

1. Marc Savard
Why does nobody talk about Marc Savard? Since the 2005-2006 season, only Joe Thornton has racked up more assists. Currently, Savard sits atop the the NHL in the category. Just to put it in better perspective, here are some of the guys that are looking up at him: Thrornton, Datsyuk, Malkin, Spezza, Lecavalier, Richards, Lidstrom, and St. Louis. How many times have you heard the name Marc Savard used in the same breath as these guys? I'd say never. Just because Savard doesn't put the puck in the net with the same efficiency, it doesn't make him any less valuable. He is currently tied for 11th in league scoring with Mats Sundin. That's ahead of St. Louis, Gaborik, Stall, Getzlaf, Crosby (Ok, that's a stretch), the Sedin twins, Richards, and Briere to name a few notables. When it came time for Gretzky and boys to make up the Olympic team, not once did anyone give Savard a moment's thought. He is one of the best playmaking forwards in the game today. He is also one of the only reasons that the underdog Boston Bruins seem to have a firm grasp on a playoff spot. Give Savard some credit - it's long overdue.

2. Duncan Keith
Duncan Keith is a great defenseman on a weak Blackhawks team (weak for now, but look out in a few years). Sure, he got some well-deserved credit earlier this year when he was named to his first all-star team, but he is another example of a relatively unknown player who deserves to be talked about with the best young defensemen in the game. It took people a while to realize how incredible a player Brian Campbell is and it's only a matter of time before Keith is in the same category. Like Campbell, at just under six feet he's fairly small as far as top defensemen go. In the new NHL, though, fast and mobile defenseman who can move the puck and skate with the top opposing forwards are crucial to a team's success. If I haven't convinced you, here's is where it starts to get good. Keith is currently plus 27. That is sixth in the NHL! I have always said that plus minus is the most telling stat for a defenseman, especially on a weak team, but usually you can only compare plus minuses with teammates. On a team that is third from the bottom in the Western Conference, he trails only Lidstrom, Datsyuk, Heatley, Zetterberg and Iginla in the category. You have to go all the way down to number 22 to find the next best plus minus for a player on a non-playoff team (who happens to be equally underrated teammate Patrick Sharp). When this young Chicago team starts to light it up in a few years, look for Keith to make a name for himself among the best defensemen in the game.
3. Ryan Malone
On a team with Sydney Crosby, Evgeni Malkin, and Marian Hossa, it is easy to see why some of the other players may fly under the radar. When Crosby went down, Malkin was given almost all of the credit for keeping the Pens in serious contention in the East. Malkin was incredible during that streak, but there was a guy at his side the entire way that never got any recognition: Ryan Malone. He played some seriously good hockey while Crosby was out of the lineup. He's scored 24 goals and has averaged a point a game since Sid went down in mid January. If the Pens make a serious playoff run, Malone will be a big part of it.

4. Jay Pandolfo
Defensive forwards are the most commonly underrated players. They aren't always fun to watch, but they become prized deep into the playoffs. Pandolfo is one of the best examples of a player who never gets enough credit. Him and longtime line-mate John Madden are the definition of the Selke Trophy. Madden won the award back in 2001 but Pandolfo, who has only received one lame nomination for the award, has never been given the credit he deserves. He is one of the best penalty killers in the game, consistently shuts down the best forwards in the NHL, and played all 82 games for the Devils in three consecutive seasons from 2004-2007. Give the guy the Selke. It might as well be his name.
5. Jason Pominville
Since the Sabres began a semi-rebuilding process, Pominville (along with teammate Derek Roy, who could easily be on this list), has done all he can to keep the Sabers in the playoff race. I bet you didn't know that Jason Pominville is the captain of the Sabres. He has 22 goals and 65 points, putting him in a tie for 28th in league scoring with Daniel Sedin and Brendan Morrow. He plays in all situations and is clearly shaping up to be a great leader in this league.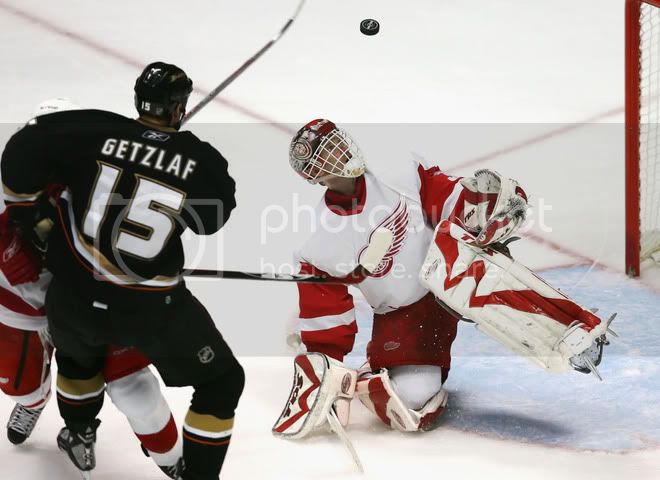 6. Ryan Getzlaf
This is the reason I don't like the term underrated. Getzlaf is very highly rated. But he's on the list because I don't think he gets the credit he deserves. Getzlaf is flat out one of the best players in the league, no questions asked. He is the best forward and the leading scorer on the best team in the NHL. He is a big physical body, a great skater, he scores, he passes, he plays defense, he kills penalties, he plays the power play, and he's only getting better. He made a big impact during Canada's victory in the 2005 World Juniors, he's already won a cup, and he's going to win more. More of everything. Crosby, Ovechkin, Malkin, Getzlaf. He's right there with the best young players in the game. This guy is a star.
Here are some honourable mentions:
Patrick Sharp
Derek Roy
Joe Pavelski (or the entire Sharks' second line)
Jere Lehtinen
Tomas Plekanec
Mark Streit
Antoine Vermette
Ray Whitney
This article has been submitted by Ian Cass.