Posted by Blake Murphy on March 18, 2008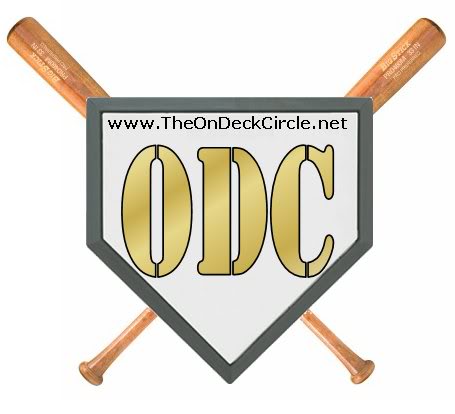 On Sunday night, we held our ODC Writer's League draft for fantasy baseball. With 15 teams and 24-man rosters, it was an intense two and a half hours filled with a lot of laughs, a lot of chatter, and of course, a lot of chirping. There were some steals and some dud picks, some good strategies and some teams best suited for MVP 2001 on your Sony PlayStation game console. I am filling in for the most part for Erik today (Fantasy Tip Tuesday), though he has provided me with his input on the teams.
With all of that said, I present to you the first (and perhaps only) installment of the ODC Writer's League Power Rankings. The rankings are accompanied by comments from both Erik and I and, since this is a weekly tips column, a fantasy lesson you can draw from each person's draft. If I could guess anything about the league, It would be that the league will look a lot like last year with a clear top tier, middle tier, and lower tier.

1. Shalamar – Erik Arnold
Erik's Thoughts:Of course I'm going to say my team is good, but it really is. I thought I was able to load up on bats early and still find TONS of pitching depth. The pitchers on my roster are unknowns now, but talk to me in October. Shields, Snell and Wainwright will be legitimate fantasy aces by season's end. Just like Mickey Free in Shalamar, these are the new Cats in town.
Blake's Thoughts: In the case of a tie, give the nod to the defending champ. Erik was well prepared and had a plan, though his pitching staff is a little thin. He didn't want to be ranked number one but his track record is legit.
Lesson Learned: There are diminishing returns when you do 500 mock drafts and 37 real ones.
2. Wheat-Belly Lovers - Samuel Cassady
Erik's Thoughts: Sam and I battled for many months last season and I predict a repeat in 2008. He'll need to find some power because if Pena doesn't repeat (which I don't think he will), the next best power bat is Jim Thome. Like some other teams, a little light on saves.
Blake's Thoughts: His team has monstrous upside potential (both Uptons, Ankiel, Longoria, Liriano) but with that comes a high-risk team. Had some really good value picks and would be #1 if not for Big E.
Lesson Learned: Risk is not a strategy unto itself.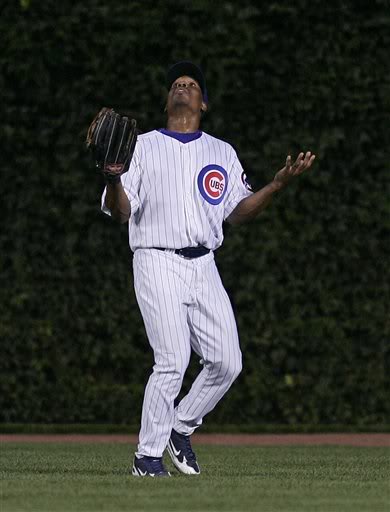 3. The Wheelhouse – Michael Cascone
Erik's Thoughts: Too much risk on this team for me. Needs breakouts from Encarnacion, Young, Hill and will need durability from Delgado, Sheffield, Helton. Nice core of pitchers, SP and RP.
Blake's Thoughts: Unbelievable rotation and a lot of speed, but he'll need a few breakout power years to seriously compete. Depth is a bit of a concern with some injury prone hitters.
Lesson Learned: Everyone who drafts him hates Jacque Jones by May 1.
4. McGlovin – Blake Murphy
Erik's Thoughts: Sitting next to Blake, I found out quickly that he was a little upset with his draft. I beg to differ… there are only a couple of picks that I really disagreed with and I think he'll have a balanced team. We all know he'll be the most active owner too so there will be plenty of opportunities to improve his team.
Blake's Thoughts: Upon further review, I love my team. I reached for Kemp a little too early and Homer Bailey is going to AAA, but otherwise I'm in good shape. Similar to last year in that I'll be looking to trade speed for power at the halfway point.
Lesson Learned: They're not sleepers if you draft them too early.
5. Jackpot – Jack Forsayeth
Erik's Thoughts: This is a very strong team that I feel will compete. Risk and age on the pitching side, but that lineup is N.I.C.E.
Blake's Thoughts: Pissed me off all draft by stealing players from my queue, including Josh Hamilton and The Kouz. Hurting for SB badly and has a risky back-end of the rotation but should be a player.
Lesson Learned: Don't punt categories, trust Blake on this (see: 2007 AVG).
6. Driving Tony LaRussa
Erik's Thoughts: I like this team. A solid lineup power-wise, but a little light on speed. Only other concern is Chris Young-Adam Dunn-Troy Glaus which spells batting average danger. A lack of saves can be overcome in-season.
Blake's Thoughts: Great team name and a good draft. His pitching staff is extremely young so they can't all pan out, and his average is questionable outside of his top guys. Should dominate in HR and R though.
Lesson Learned: Stability needs to provide a foundation for high-risk high-reward players.

7. Gimme a Hill yea – Alex Pennycook
Erik's Thoughts:Don't listen to Blake, I actually think this team is good enough to compete. If you actually manage it semi-regularly you can turn it into a winner. At least you won $10 in loonie blackjack while we drafted. That's money in the bank.
Blake's Thoughts: Disappointing showing for PCook, though the team name I gave him is great. His closers have upside (sizzle but no steak, yet) and he has a lot of guys who are inconsistent year-to-year. If his team plays to full potential, they'll be good, not great.
Lesson Learned: Drafting for an absentee drafter and scouring the board to help someone else find Buccos is probably not strong time management.
8. No Glove No Love! – Deven Hiscock
Erik's Thoughts: This is where Blake and I disagree. I love this team and would happily inherit 90% of the offense (minus Rowand). Carpenter and Schmidt picks were a waste but CC, Billingsley, Francis and Bonderman are "enough" to get you started. Scour the wire for saves and speed. An active manager could easily turn this team into a champ. Pitchers are a dime a dozen, you have the line-up to compete.
Blake's Thoughts: Disappointing and NL heavy. He has some ERA concerns as his top pitchers all have playing time concerns (Schmidt, Carpenter, Tavarez). Players aren't flashy but should be well balanced. Note to Erik: You like every team, I have to chirp someone.
Lesson Learned: Find out if you're in a Mixed League or not.
9. Misremembering Roger – Trevor Smith
Erik's Thoughts: Not at all a bad team given it was auto-drafted. We kept an eye on his pre-rankings and made sure it was balanced. As with anyone who took Pujols this year, the whole season is in his hands.
Blake's Thoughts: Not bad for an absentee draft, he has awesome HR but only two .300 hitters (who both have injury concerns – Pujols and Vlad). Also lacks SB but the team as a whole will be good if nobody drops off.
Lesson Learned: Show up for the draft unless you want a high-risk core.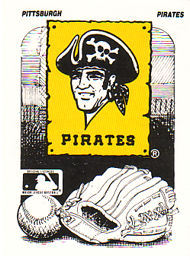 10. Adam Hydzu – Stu Wilkinson
Erik's Thoughts:Hey, even good players on bad teams can produce fantasy numbers. A horrible team still wins 60 games and scores 4 run a game – someone on that team needs to get those stats.
Blake's Thoughts: He was robbed for several Pitt players but still managed to nab six of them, plus Junior Griffey. Has absolutely nothing resembling pitching depth but has good power and if the Pirates are a World Series team, Stu could find himself in the money.
Lesson Learned: Homerism kills.
11. Long Balls – Brandon Farber
Erik's Thoughts: A-Rod, I-Rod and K-Rod. He had a plan and stuck to it. Aside from a few picks (Baldelli) I think it's a solid team. Anything that starts with A-rod is going to look pretty nice.
Blake's Thoughts: Some weird picks and the 3-Rod trio is funny. He's weak with saves but has a good rotation and a lot of upside on offense. Could be a HR-for-SB trading partner for me.
Lesson Learned: Outside of the box strategies may not be the most efficient.
12. TEAM TARZI – Habib Tarzi
Erik's Thoughts: Solid effort for first dip into fantasy sports nerdism. Although… Kaz + Bartlett + Taveras = 3 Judy's on one team. A Judy is a player who gets steals and NOTHING else. That's some valuable roster space with no power.
Blake's Thoughts: Not bad for someone 100% new to fantasy sports. Homerism showed through a bit and has some ERA concerns but offense is well balanced and he has closer depth.
Lesson Learned: Sometimes the less you know, the more you know.
13. The Good News Bears – Alex Snyder
Erik's Thoughts: I have a $10 bet on Eric Gagne having a higher value at year's end than Heath Bell. Barring a season-ending injury in April, it's money in the bank because Heath Bell will NOT get any saves. Saves are the gold standard for relievers in fantasy baseball. All other Middle Relievers are guys that should be picked up day-to-day. That aside, a nice balanced line-up but a lot of risk on the pitching side - Ryan, Harden, Prior.
Blake's Thoughts: Uhh, Heath Bell? In the 11th round? You've gotta be kidding, right? The worst pick of the draft goes to the team with the worst name. Has great offensive balance but wasted roster spots with middle relievers. A lot of middle relievers.
Lesson Learned: You lose chirping rights when you draft Heath Bell.
14. Uter – Kevin Smith
Erik's Thoughts:Starting with the best pitcher in baseball (Santana) is great, but I don't know who is going to hit home runs for this team. FYI, Jack Cust and Khalil Greene were the HR leaders of this team last season, yikes!
Blake's Thoughts: Had to leave the draft early and paid for it. Drafted Lackey and will pay for it. He's shallow on the mound and has some aging players but has good offensive balance.
Lesson Learned: Google all players before drafting.

15. nWo – Dave Power
Erik's Thoughts: Not going to lie, this team will struggle. Salty, Cameron, Lo Duca, Zito, there is just too much dead weight. Kazmir and Sheets are risks, but combined with Verlander and Wang could be a SOLID group.
Blake's Thoughts: I have another acronym for Dave…wtf? Good HR-SB potential but has few closers, brutal average, and poor depth. Will make a good trade partner for me.
Lesson Learned: Watch baseball.
Be sure to check the sidebar on the right when the season begins for updated standings, and be sure to pay attention for a whole lot of chirping, probably even within articles.