Posted by Blake Murphy on March 19, 2008
This article is part three of a six-part look at Major League Baseball's divisions, as prepared by Jack Forsayeth.
Going back to the NL and moving on to the largest division in the MLB with six teams. Gone are the days when St. Louis was a perennial contender so that opens the division up for some other fast-approaching teams. I'm going to start from the bottom again.
Pittsburgh Pirates
It will likely be another rough year for the Pirates. They still have Jason Bay but he doesn't want to be there, Freddie Sanchez will get on base, and Xavier Nady is average. The rest of their lineup is all pretty young but have yet to prove themselves. They may have a decent future if some of these guys turn into stars but that won't happen this year. Bay needs to return to 2006 form in order for them to have any chance at graduating from the basement.

Their rotation is actually not that bad. Ian Snell and Tom Gorzelanny are studs. They are two of the best young pitchers with ERAs under 4.00 but their win column is not that impressive because of poor offensive production. Gorzelanny somehow managed a 14-10 winning record on this team. Other youngsters Zach Duke and Paul Maholm are too inconsistent right now to be solid contributors to this team. The rotation is rounded out by veteran Matt Morris who is on his third team in three years but is a decent guy to have around. The bullpen resembles the rest of the team with nobody really standing out other than closer Matt Capps. This guy can flat out pitch and if he was on a real team could get a lot of saves. He is only 24 and had a 2.28 ERA in 2007.
They may crack 70 wins this year but don't look for them to contend for the division or Wildcard. I feel bad for this team but I do think they will be good in about three years. Hang in there, Pirates fans.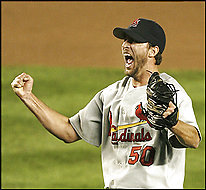 St. Louis Cardinals
This may surprise some people but I don't think they will have a good season. I love Pujols but his injury may keep this team from seriously competing in this division anymore. Outside of him, this team is lacking in most categories and Tony La Russa may have lost some of his touch. This team won games because they were clutch, had grit, and had Pujols. All three of those things may no longer exist. They lost their heart in Eckstein and Rolen and replaced them with a falling Troy Glaus and underachiever Cesar Izturis. Rick Ankiel showed some promise at the end of last year but he is as inconsistent as they come, no matter what position he is playing. I like Chris Duncan but he is not suitable for the heart of the order yet.
Adam Wainwright is a great pitcher, probably not ace quality yet, but could have a breakout year, but the rotation doesn't look like much past that. Looper had a poor year last year and has been moved around from closer to bullpen to starter his whole career. He never really had 'it' in any position. Joel Pineiro pitched pretty well when he came over from Boston and could be the #2 they were looking for if he keeps that up. To finish it off, Matt Clement didn't even pitch last year and Anthony Reyes may be the worst pitcher that got 20 starts last year with a 6.04 ERA and a 2-14 record. Their bullpen is okay because Isringhausen is as consistent as they come but he is not getting any younger.
They will wins 72-75 games and could be higher than that if Pujols becomes Phat Albert again or much lower if he gets injured.

Cincinnati Reds
This may be the team to watch this year. Junior seems to be hitting homeruns again and Adam Dunn is still hitting 40 a year. Put that together with all-star second baseman Brandon Phillips and a couple of good young pitchers, and the Reds could work their way up in this division. They are still not good enough to compete for the division title but could give the leaders a scare. Outside of the big three they are really young and really good. Canadian boy Joey Votto, Baseball America's top prospect Jay Bruce, 3B Edwin Encarnacion, and SS Jeff Keppinger provide one of the best young core groups of hitters in the majors. Keppinger and Bruce may not start the season on the Reds but I assure you they will finish it.
This whole division needs some pitching help and the Reds are no different. Aaron Harang is a strike-out specialist and may be the best in the division. Bronson Arroyo is okay but not a major league 2nd. Matt Belisle is not great, and Josh Fogg and Jeremy Affeldt have shown signs of greatness but never kept it up. Former top-10 pick Homer Bailey will likely work his way into the rotation and they hope he will be the next great. Francisco Cordero will really help the bullpen and the middle relief will be okay with Dan Weathers and Mike Stanton
I really like where this team is going and they will probably have a few more good draft picks before they really start to compete in a couple of years. They will get 76-78 wins this year but just wait.

Houston Astros
Great lineup but they will really miss their heart and soul, and one of my favorite players of all-time, in Craig Biggio. Their lineup is still pretty good though with Lance Berkman and Carlos Lee leading the way, both with over 30 HRs and 100 RBI. Ty Wigginton and Hunter Pence were both great surprises this year. I expect similar production from Wigginton and huge numbers from an ever-improving Pence. The additions of Kaz Matsui and Miguel Tejada up the middle will help improve the lineup along with youngsters Michael Bourn in CF and JR Towles at catcher.
Their rotation is again, not great. Having Brandon Backe back in a full-time role will definitely help, and Roy Oswalt is as good as they come. Wandy Rodriguez is okay as a 3rd starter but Woody Williams and Chris Sampson won't cut it if they want to make the playoffs. Jose Valverde will help their bullpen that has lacked since Lidge lost his touch in order to ensure that Oswalt games are won.
I expect them to push 80 wins and possibly compete for the division title or Wildcard if the Brewers or Cubs struggle. There is a possibility, Astros fans.

Chicago Cubs
Cubs fans may be disappointed with this choice after the win last year but I don't think they are good enough to repeat. They have a fantastic heart of the order with Soriano, Aramis Ramirez, and Derrek Lee (maybe Fukudome as well) but the rest of the order is average at best with Mark DeRosa, Ryan Theriot, and the speedy Felix Pie. Pie will steal bases but only if he can get on base (.215 average last year) and may lose his job due to rumors of trades for Ryan Freel or Coco Crisp. Theriot or DeRosa could be in a similar mix with rumors about Brian Roberts. A player to watch, outside of the 30 year-old Japanese batting champ Fukudome, could be young catcher Geovany Soto. I think he will be a top-5 catcher in the league this year and could be a glue guy to this lineup.
The rotation's success lies primarily in the consistency of Carlos Zambrano. His ERA and HRs allowed have been climbing for the past 4 years and his strikeouts have been declining. Many believe that this trend will continue and he will not be ace-quality for very long. That being said, his numbers are by no means average at 18 wins, 3.95 ERA, 177 SO, and he will definitely eat up some valuable innings. I expect another similar year from Zambrano. The rest of the rotation includes unpredictable lefty Ted Lilly, young guy Rich Hill, Jason Marquis, and converted closer Ryan Dempster. Dempster has been thrown around the league and throughout the bullpen and rotation. Another move will take him time to adjust and if he doesn't succeed he may be back in the closer role which is currently up for grabs. I think Hill will have a breakout year. The bullpen has some depth but no stud closer. Kerry Wood, Carlos Marmol, and Bob Howry will all be given shots at the job and the other two will set-up. A pretty good threesome if one of them can step-up. I think Wood will.
I expect them to win 85-87 games and seriously challenge for the Wildcard. I actually believe they will get it mostly due to a lack of depth in this division and some poor pitching that this lineup will take advantage of.

Milwaukee Brewers
I LOVE the Brew Crew and I think they will win this division if Ben Sheets stays healthy, and what an if that is. They are young, they've got power, they've got speed, and they have heart. It all starts with Prince Fielder. The guy is a locker-room leader that knocked in 50 HRs and 119 RBI and he's fat. Just great, and oh yeah, he's only 23. He may not have even been the best surprise for the Brewers last year. Ryan Braun won Rookie of the Year with one of the best performances ever by a rookie with .324, 34, 97, and 15 SB in only 113 games. Those two combined with Corey Hart, JJ Hardy, and Rickie Weeks compose a great top 5 in the order. They are all 25 or under and poised for better years, if possible. They also have wily veterans Jason Kendall and Mike Cameron along with the versatile Bill Hall to close out the order.
Their rotation is also pretty young. Ben Sheets is great and it's a shame that he keeps getting injured. He is not even 30 yet and if he stays healthy he could win a Cy Young and easily lead this team to the title. Yovani Gallardo will also miss a couple of starts at the beginning but should pickup where he left off last year with a sub-4 ERA and close to a strikeout an inning. Jeff Suppan is as consistent as they can get and they need a solid vet in the rotation to keep things in line. Another good surprise was 25 year-old Carlos Villanueva. They haven't decided whether to start him or put him in the bullpen yet but I think he's good enough to make the rotation and will fight with Dave Bush and Chris Capuano for the 4 and 5 spots. No matter what combination they have it is a pretty good rotation as long as Gallardo and Sheets can stay reasonably healthy and start at least 28-30 games.
They will push to win 88-90 games and win the division. If the Cubs take off and break 90 then look for the Brew Crew to get the wildcard.
This article is part three of a six-part look at Major League Baseball's divisions, as prepared by Jack Forsayeth.