Posted by Blake Murphy on February 17, 2008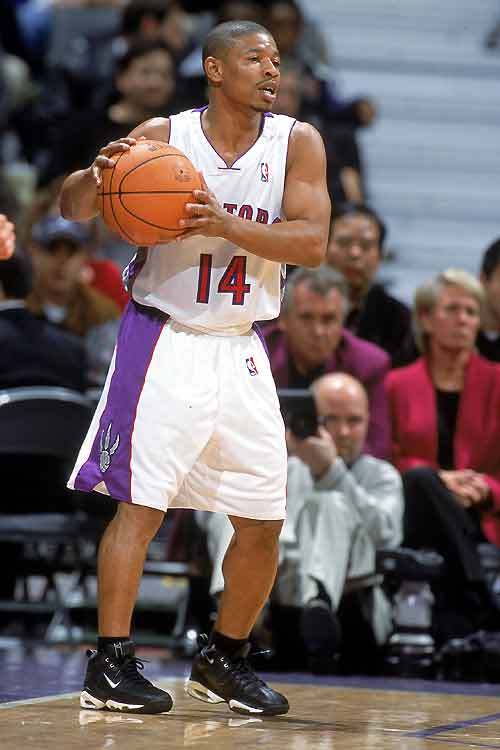 As a long time Raptor fan now, I've seen the highs and the lows. I've seen the Vince Carters, Antonio Davises, and Chris Boshs, and I've seen the Vince Carters, Aleksander Radojevices, and Rafael Araujos. The team started its NBA tenure as a joke and has only recently broke that mold and emerged as a legitimate franchise. Still though, Raptor fans remember the low times affectionately, an awkward twist in our otherwise normal fanhood. Looking back on lesser times, I fondly remember a lot of mediocre players (which some know as my forte anyways), so today I present to you the All-Time Raptors team, focusing on players who have been described as mediocre or as scrubs, and that's in complimentary terms. Here it is, the All Raptors Scrub Team, taking players for their superior mediocrity both as Raptors and at other stops in their basektball careers.

Point Guard
Starter: Muggsy Bogues. Ever the fan favorite for being the shortest player in NBA history, Tyrone Curtis Bogues lasted a lot longer than his production predicated. A career 7.5 point-7.5 assist man, Mugsy lasted 14 seasons in the league, playing 889 games. He joined the Raptors at age 35, ending his career with 83 games over two seasons in the bright purple era, posting 5 points and 4 assists on 40% shooting.
Back-Up: Roger Mason Jr. A personal favorite, Mason now gets decent run as a back-up PG on the Wizards. In 23 games as a Raptor in 03-04 mason averaged 4 points and less than 1 assist per game but shot 36.5% from 3-point range. With Gilbert Arenas injured, his mediocrity lives on.
Inactive List: Andre Barrett. Another personal favorite from the Bronx, the Seton Hall grad has played in parts of three different seasons with five different teams en route to career averages of 3.4-1.1-2.0. Barrett played 17 games for the Dinos in 05-06 and had his best run as a pro, averaging 5 points and 3. He is now a D-League All-Star.
Honorable Mention: Omar Cook, Jannero Pargo, Milt Palacio.
Shooting Guard
Starter: Chris Childs. Remembered more for his bone-head play in the playoffs in 2002, few stop to question why he was even on the floor late in an important game. A career 40% shooter, Childs spent 95 games as a Raptor, averaging 4 points and 5 dimes but shooting a disgusting 35%. He also punched Kobe in the face as a Knick.
Back-Up: Willie Anderson. A career 12 PPG player, Anderson was taken by the Raptors in the expansion draft after two mediocre seasons. He would play 49 games as a Raptor, his last good games, averaging 12-4-3 before being moved to the Knicks and slowly fading away. At age 30, Willie left the NBA for Europe to introduce another continent to the marvels of mediocre basketball.
Inactive List: Fred Jones. Signed by Bryan Colangelo when the John Salmons contract fell through, Jones is BC's only blemish so far in Toronto. Freddy forgot that he was the 2001 Slam Dunk champion, instead opting to hoist up 3 3-point attempts per game at a 31% clip. He now finds himself making mediocre money on a bad Knicks team, 6.5 points at a time.
Honorable Mention: Dion Glover, Haywoode Workman.
Small Forward
Starter: Popeye Jones. A mid-second round pick out of Murray State, Popeye was a success story catching on with the Mavericks and averaging a double double in both his sophomore and junior years in the NBA. The Raptors lured him to Toronto where he'd play 93 games over two seasons averaging 8 and 8, the last productive days of his career. He would play six more seasons in the league, never averaging 8points or 8 rebounds again.
Back-Up: Joey Graham. Drafted 16th overall because of his NBA-ready body and unbelievable athleticism, Golden Graham has spent three seasons in coach Sam Mitchell's dog house. A career 6-and-3 player, Graham shows flashes of potential at times but belongs on this list as much as anyone, at least for now.
Inactive List: Michael Curry. The moustached bald president of the NBA Players' Association, Curry was Darrick Martin before D-Mart was. Curry managed to play 667 games in the NBA over 11 seasons, never averaging more than 6.5 PPG. As a Raptor, Curry got decent run (18 minutes a night) but put up just 2.9-and-1.2 on 38% shooting, and would play 18 games as a Pacer afterwards before moving to the coaching ranks. He is best known for a four-game posterizing streak as a Raptor.
Honorable Mention: John Wallace
Power Forward
Starter: Keon Clark. A career 8.2-and-5.9 guy with 1.6 blocks before alcohol claimed his career, Keon enjoyed his most productive season and a half in a Raptor uniform. After being acquired from the Denver Nuggets in the most mediocre 3-for-3 swap in NBA history, the Raptors would cut Keon for off-the-court issues after 127 games averaging 10 points, 6.5 rebounds, and 2 blocks.
Back-Up: Jerome Williams. The Junk Yard Dog was a fan favorite that Glen Grunwald overpaid to keep in Toronto, enough so that the Knicks used the Allan Houston Exception on him rather than Allan Houston. JYD was an energy player and commercial actor (Sprite) who also dabbled in mediocrity, posting roughly 8 points and 5 rebounds a night in 180 games as a Dino.
Inactive List: John Salley. The Best Damn Sports Show panelist played the later part of a notoriously mediocre career with a mediocre stint in Toronto at age 31. In 25 games, Salley posted numebrs very close to his career averages, 6 points and 4 rebounds. Not surprisingly, he is mediocre as far as sports TV personalities go, as well.
Honorable Mention: Lonny Baxter, Jelani McCoy
Center
Starter: Rafael Araujo. Hoffa takes the starting role at the most hotly contested position not because he had the most laughable numbers but because we spent an 8th overall pick to get him. I don't have to tell current Raptor fans much more than that but career averages of 2.8 points and 2.8 rebounds with a career high single game points total of 14 should serve as a thankful reminder that we parlayed this former positive steroid test (2002) into Kris Humphries.
Back-Up: Zan Tabak. I'm giving special treatment here again because of his place in Raptor history. While Araujo is our worst draft pick ever, Zan scored the first ever Raptors basket back in 1995. He enjoyed his best season as a Raptor, 7.7-and-4.8, before finding a permanent place in the NBA dog house. Still just 38, I would imagine the Croatian Sensation is still doing his thing in Europe.
Inactive List: Oliver Miller. A true testament to what bad players can accomplish on bad teams, Miller posted a 12.9-7.4-2.9-1.4-1.9 season for us in 95-96. Those numbers are incredible! Three assists, two blocks, and a steal and a half from a fat, out-of-shape big man! He would never regain even close to that level of success, though he would get a second stint with the Raptors after some brief time in Dallas in 1997-98.
Honorable Mention: Acie Earl, Sean Marks.
So there you have it. I won't say it was easy because the Raptors have more mediocrity crammed into a twelve year existence than Saved by the Bell and 90210 put together. This team, while formidable, would likely be the most inconsistent one ever assembled, and I'm sure coach Lenny Wilkens (the winningest and losingest [and therefore most mediocre] coach of all time) would not feel comfortable looking to Chris "Clutch" Childs or Joey G in late-game situations.