Posted by Blake Murphy on April 4, 2008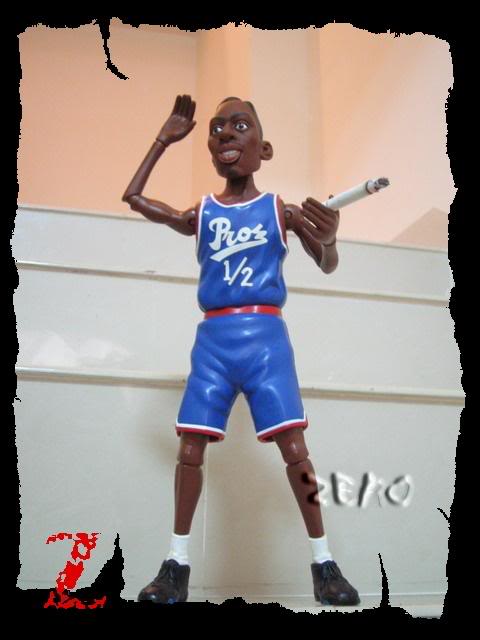 This article has been submitted by Alex Jackson.
"You know what your problem is? You're too modest. Hey, I give good quotes. You can print that on the front page." – Little Penny
When we last saw Little Penny in 1997, he was begging Anfernee Hardaway to say "what up" to his high school chum Kevin Garnett, pushing for his own Spike Lee joint, and chasing Tyra Banks. Little Penny was Turtle from Entourage long before Jerry Ferrera ever met Mark Wahlberg or Adrian Grenier. He was always playing an angle; whether talking himself up or singing the praises of Hardaway, Lil' Penny was, as Robert Goldman and Stephen Papson wrote in "Nike Culture: The Sign of the Swoosh," a transparent hustler.
Little Penny and Hardaway were a brilliant combination. Hardaway brought a fierce, all around game, between 1994 and 1998, he was a four time All-Star and two-time All-NBA First Teamer; unfortunately he was a gentle soul off the court. Enter the brash Lil' Penny, a man that oozed street cred; he could say what people thought without dealing with being called disingenuous or cocky and avoiding criticism for not being humble. It was a match made in heaven.

Unfortunately, during the 1997-98 season, Hardaway suffered a devastating left knee injury that changed his career forever. He missed all but 19 games that season and when he eventually returned for the lockout shortened '98-'99 season, his offense was in a freefall. He would be traded to Phoenix, where he would undergo the dreaded micro-fracture surgery on his left leg. He would not recover nearly as well as Amare Stoudemire or Jason Kidd, and would float between the Suns, Knicks, Magic and Heat before retiring this year.
During the "golden age" of Hardaway's career, Lil' Penny lived the life of his character; he was a bad boy, a loose cannon. But, as Hollywood has taught us, the law looks at celebrities differently. Despite two arrests for drunk driving, Lil' Penny remained in the spotlight as a new age Teflon don. Unfortunately, once Hardaway's career began to spiral out of control, so too did Lil' Penny's life. Without Hardaway's pull and influence, Lil' Penny couldn't wave loaded guns around night clubs; Lil' Penny agreed to serve six months on those charges in 2001 at a Florida facility.
During Lil' Penny's time in jail, Chris Webber called his second most famous time-out, breaking up the nearly 5 year relationship between Lil' Penny and supermodel Tyra Banks. When Lil' Penny was released in 2002, he had hit rock bottom. He had no money, no friends, and had picked up a nasty drug addiction while in the slammer. To top it all off, he was heart broken and still obsessed with Tyra.
Enraged, Lil' Penny began his pursuit to recapture the heart of Tyra by travelling across the country to Sacramento. It was in New Orleans that his long strange journey took a turn for the worst. While enjoying one of the Big Easy's many adult venues, he tried to "make it rain" by throwing his loose change at the dancers. Reports that the change was acquired through panhandling earlier in the day are unconfirmed.
Clearly, this gesture was not well received by the door staff. As he was being forcibly restrained, Lil' Penny could be heard saying, "The only time you guys say box out is when you're out of donuts. You guys remind me of my shoe closet, I have one Penny and a bunch of loafers." After an altercation ensued, Lil' Penny was arrested for the second time in six months; this time for assault.
Lil' Penny was released in 2003, and subsequently arrested for stalking Tyra Banks. Lil' Penny was arrested under section 646.9 of the California Penal Code, because he, "willfully and maliciously and repeatedly followed or harassed another person and made credible threats with the intent to place that person in reasonable fear for his or her safety or that of an immediate family member." Some speculate that the ongoing stalking was taking its toll on Chris Webber; some even go so far as to suggest it was such a distraction that it may have been the cause of Webber's near career-threatening injury during the 2003 Western Conference Semifinals, suffered while running down the lane untouched, that forced him to miss nearly a year of action. Lil' Penny was arrested once again, and served a suspended 3-year sentence.
Released in 2006 and apparently over Tyra, finally, Lil' Penny continued to abuse drugs and began to drink heavily. He reached out to former friends and acquaintances; asking Hardaway for cash, Garnett for bling, and Tyra for some lovin'. His friends didn't realize how bad things had gotten until, in a much publicized altercation, Lil' Penny happened across LeBron James' friend Miles Thirst of Sprite fame. Lil' Penny confronted Thirst after a Jay-Z concert, and could be heard saying, "Obey this thirst, mofo," before firing three shots through the window of Thirst's Escalade. Because of previous events surrounding the death of Tupac, conspiracy theories continue to mount regarding the status of Miles Thirst. The jury, however, would hear none of it.
When asked for comments, Anfernee Hardaway said, "I feel great, I can't wait for the season to start." When reminded that the season was in full swing, that he had announced his retirement, and that I was interested in his thoughts on his friend's imprisonment, Hardaway said, "It's like Ali, no one wanted to see him get beat up."
And so ends another sordid tale of squandered wealth; some times you can have too much, too soon.