Posted by Blake Murphy on April 11, 2008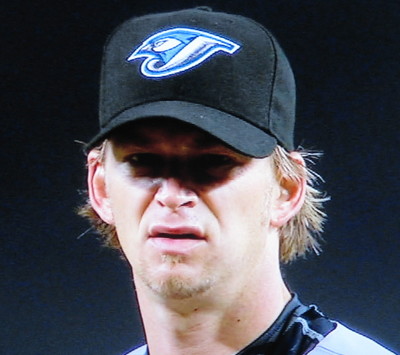 Have the last three days rang familiar? If you're a Jays fan, then yes, they have. All too familiar, in fact, since the Jays appear to be in true mid-season form, beating the good teams and being assaulted by the scrub teams.
Yes, the Jays swept the Red Sox and were then promptly swept by the Oakland Athletics who, if you looked at a box score in the last week, are a marginal Triple-A team. Before we look at the overarching theme from this abortion of a series (which is: don't panic), let's take a game by game look.

Tuesday April 8 – Oakland 9, Toronto 8
The bats were out in full force to beat up on ex-Jay scrub Chad Gaudin, posting 6 runs in the first 4 innings. Unfortunately, the Oakland bats were just as potent, and the Blue Jay faithful were reminded why A.J. Burnett is a frustrating guy to root for, surrendering 6 runs in the first 2 innings and failing to exit the 5th. The Jays battled back in the 8th on a 2-run homer by Frank Thomas, but Jeremy Accardo lost it in the 9th after a chincy Mitsubishi single and a Ryan Sweeney triple. Not a bad game overall, and the loss could be accepted because it was good to see the bats out in full force.
Wednesday April 9 – Oakland 6, Toronto 3
The Jays jumped on Oakland early again, getting to the debuting Greg Smith and touching him for 3 in the first. Smith settled down though, and the bats went cold the rest of the game, flailing at middling stuff en route to 8 strikeouts. The Jays ended up leaving 11 on base but seemed to be in luck after Dustin McGowan (twice) and Scott Downs (once) avoided bases loaded damage. However, Jeremy Accardo lived up to his new Heartbreak Kid nickname, blowing a hard fought victory in the ninth by surrendering 4 earned while retiring just one.
Thursday April 10 – Oakland 3, Toronto 2 in 12 innings
A real pitcher's duel here from one unlikely source (rookie Dana Eveland) and one source who is emerging as an everyday gem weaver, Shaun Marcum. Marcum looked fantastic for the second straight start, fanning 8 in 7 innings while surrendering just one run. On the other side, Eveland looked paranoid and shaky on the hill, engaging in some weird activities between pitches but striking out 6 while shutting the Jays out for 6 and a third. Shannon Stewart came up big in the 8th with a sacrfice fly to score the just-tripled Marco Scutaro, and the bullpens battled it out into the 12th. Brandon League looked shaky yet again in the 11th and 12th, walking 3 and giving up 2 runs over 1.2 innings. He then gave way to the debuting Jesse Carlson for the final out. The Jays managed one in the bottom half but fell short in the end for a third straight loss.
Overall Thoughts
Obviously, this was a bad series for the team. The bullpen looked a little shaky, Burnett struggled, and the team left 24 men on base over the last two games. Luckily, we're still just 9 games into the season and it is way too early to panic. The team is still settling in and key players haven't shaken off the spring training rust yet (Scutaro, Accardo, and sadly, Thomas, apparently). If you look at the season as a whole so far, a 4-5 record is unpleasant but there are positives, too.
Positives: Wells, Rios, and Hill are seriously stroking the ball; Thomas is going deep; the team is averaging over 4 walks per game (and Rios has 8); there has only been one bad outing from the staff and only two relievers are remotely struggling.
Negatives: Thomas is struggling to hit for average; ditto for Scutaro, Eckstein, Stewart, Zaun, and Stairs; League's control has been terrible; Overbay has looked very uncomfortable at the plate despite a .273 average, striking out 11 times already.
Quick Hits
• Scott Rolen had the pin removed from his FU finger and has resumed hitting and throwing drills. He is still pegged for an early May return. Same goes for B.J. Ryan, who could have returned this weekend to face Texas but will wait it out just a little longer to ensure he can pitch on back-to-back days.
• Hopefully the running game hasn't been abandoned already, with just 2 steal attempts this series after 10 in the first 6 games.
• Adam Lind is still stroking it at AAA, and if he keeps up a .300+ average there will be hoots and hollers to bring him to the show mid-season. I disagree, since he really does need 500 at bats to continue to develop and they can't guarantee him that on the big squad.
• Randy Wells was optioned, meaning the team could lose him to the Cubs or even waivers. Jesse Carlson was brought up because he can go long and is another left handed option, plus he had been lights out all spring and at AAA so far. Wells wasn't really given a shot, though, with 1 shutout inning thrown on his record.
• The Rogers Centre is banning the sale of alcohol in the 500 level for $2 games because of several fights that have broken out in the first few games. This is complete bull, of course, since it makes far more sense from a business and fan relations perspective to just give security more jurisdiction over how to handle fan behavior (read: toss out the idiots).
• Okay, I wanted Hill to hit 2nd all along, and I know 9 games is much too small a sample size, but can we agree that Hill is better suited for the job than the Stewart/Stairs platoon? Yes, I understand that having a lefty at the top breaks up a righty-heavy lineup and it would seem strange to have Overbay and Stairs 6-8 in the order, but this logic seems to be a case of filling a pothole with a puddle, creating a suboptimal situation at the top of the lineup. Hill is hitting at a .353 clip with a .395 OBP and was hot all spring compared to the Stairs/Stewart combination producing a .211/.295 with a lackluster spring, he doesn't lose you any speed, and he has extra base hit potential to move Eckstein over or put a runner in scoring position for Rios/Wells. More on this another time, I'm sure, but I'm going to continue to complain about this until Hill starts struggling or he gets put in the #2 hole (maybe when Rolen returns, splitting up Stairs-Overbay at the bottom).
Looking Forward
The Jays head to Arlington for a series against the Texas Rangers, a team much worse than their 5-4 record suggests. The Rangers play in a serious hitters park, so hopefully the Jays can do a better job cashing in runners and use the Walker Texas Rangers as a slumpbuster of sorts for their struggling bats. The pitching match-ups are favorable, too, with Litsch-Halladay-Burnett squaring off against Padilla-Mendoza-Jennings. You'll recognize Padilla as a strikeout machine with a penchant for allowing the long ball and Jennings as a career National Leaguer making money off of one strong season. Mendoza will be making his 4th major league start, 1st this season, so he'll throw a gem against the Blue Birds if the A's series is any indication. In all seriousness, this should be a good rebound series that allows the Jays to right the ship and get all of the hitters firing on all cylinders heading further into this 20 straight day stretch.