Posted by Blake Murphy on April 10, 2008
This article has been submitted by the debuting Matt Douglas. He even took the time to format everything in a pretty way, but this is WordPress, not MS Word 3027. Sorry Matt. To everyone else, yes this is very long but it's also some sick work, so check it out.
Eastern Conference
Canadiens (1st) vs Bruins (8th) – Season Series, Montreal 8-0
MONTREAL
Season Record 47-25-10 PTS 104 GF 262* GA222
Leading forwrad scorer: Alexi Kovalev 84PTS
Leading defense scorer: Mark Streit 62PTS
Leader +/-: Alexi Kovalev +18
Key Player: Alexi Kovalev and Carey Price – Kovalev is a decent performer in the playoffs and he has the ability to carry a team. He's having a great year and if he can keep this young group together when their backs are against the wall they could take the cup. Price has been nothing short of phenomenal in every pressure situation he's been in since the World Juniors. I strongly believe goaltending is the most important position in the playoffs and he showed he has the stuff.
Ugliest Player: Honestly it wasn't easy for me this year, perennial whipping boy Sheldon Souray is gone (thank Sweet Baby Jesus) so I have to go to Patrice Breeze-By, or is it -bois? Whatever,as I was growing up I watched him, He always scared the hell out of me when he was on the ice (and every other Habs fan). He's a serviceable D-man and he's in a limited role but I've been conditioned not to trust him.
Player most likely to shit the bed: Christopher Higgins – Don't get me wrong he's a great player, but I get the feeling if he gets shut down early in the playoffs he won't find his touch for the rest of it. It's hard to judge these guys since most are so young, but I think he's the least mentally tough of the core guys.

Secret Weapon: Michael Ryder – most people would put him as the ugliest player or the most likely to shit the bed, I know he's prone to slumps… really fucking prone, but he's been quietly putting up decent numbers and he can still score (14 goals in a very limited role). He gives them scoring depth on the third line that many teams just don't have and can be put on the first or second line in an emergency.
Strengths: Great puck moving team with lots of speed and legitimate scoring depth through the roster. The defense has seen a lot of different faces but it provides a wealth of serviceable talent.
Weaknesses: Their penalty kill hasn't been horrible but it's simply average. Their youth could really hurt them as so few have any playoff experience at all, Depending on how they deal with adversity, they could be looking at an early exit.
Boston
Season Record 41-29-12 PTS 94 GF212 GA222
Leading forwrad scorer: Marc Savard 78PTS
Leading defense scorer: Zdeno Chara 51PTS
Leader +/-: Zdeno Chara +14
Key Player: Zdeno Chara and the return of Marc Savard - Chara is facing the league's most potent offense. The Bruins are a good defensive team, but Chara in particular will have to do something miraculous to get the Bruins past the Habs. Marc Savard is set to practice this week but who knows what that means. They need him desperately as goals have been hard to come by this year in Bean-town.
Ugliest Player: Tim Thomas – Poor guy, someone buy him a new helmet and a time-machine so he can go to a goaltending school. He flops around and does whatever the hell he can to keep the puck out. When it works, it works well, but if he's off the flood gates are open. I couldn't tell you how many Boston games were blowouts because he couldn't even stop a shot coming from behind the goal line.
Player most likely to shit the bed: Tim Thomas for points mentioned above, but you can't really blame it all on him. He has a slow team that will probably hang him out to dry. I should probably just give this to all of the Bruins.
Secret Weapon: Tuuka Rask – you heard it hear first, he could be the man the Bruins ride to the finals. Well maybe not but fuck it who else am I supposed to put in here, Peter Schaefer? Seriously though, David Krejci is filling in for Marc Savard right now and he's done quite well for himself and next year he'll be a good late round fantasy player (ooh secrets).
Strengths: They play a solid defensive system under Claude Julien and have fought hard through the season to get into the playoffs.
Weaknesses: Scoring has been hard to come by and team speed has really hurt them. Too many times I've seen them losing one on one's and footraces to open pucks.
Prediction: Canadiens in 5 - The Bruins barely have a chance, the Habs are too much and key injuries to their two best forwards have pretty much sealed their fate. Those who say Price has no playoff experience and can't be counted on should look to the other end of the ice. Timmy hasn't been there either. The depth on Montreal hurts Boston as they don't have four lines that can play up to Montreal's tempo and are bound to take penalties.
Penguins (2nd*) vs Senators (7th) – Season Series, Ottawa 3-1
OTTAWA
Season Record 43-31-8 PTS94 GF261 GA247
Leading forward scorer: Jason Spezza 92PTS
Leading defense scorer: Wade Redden 38PTS
Leader +/-: Dany Heatley +33
Key Player: Jason Spezza – He needs to be a monster this playoffs, with no Alfie the Sens need him to step up in a big way.
Ugliest Player: Chris Neil – He is an ugly mother fucker. He does fight, which I like, but he's just so god damn annoying. Every time he scores you would think he just scored the GWG in game 7 of the Stanley Cup final… I guess he just pretends because he knows it will never happen.
Player most likely to shit the bed: Martin Gerber – He choked in the playoffs before and everyone knows once you break a goalie he never returns to old form. The history of goalies dying in Ottawa is long, the most infamous being Patrick Lalime (who gave them every chance to win that series), so look for Gerber to go down in flames.
Secret Weapon: Corey Stillman – If they can pull this series off I'm willing to bet Stillman rips it up. He's a fantastically underrated player and had a good season. He's one of the few Sens I actually like, but only because he used to play with Ray Whitney.
Strengths: Gifted offensively and if healthy they have probably the best first line in the league. Dany Heatley is faster than most Danny's since he dropped the unneeded "n".
Weaknesses:
They're the Sens in the playoffs, what more do you need? They can't understand half the shit that is coming out of the old man that is rambling behind them and oh, also, Gerber is their starting goalie… who even cheers for them?
PENGUINS
Season Record 47-27-8 PTS102 GF247 GA216
Leading forward scorer: Evgeni Malkin 106PTS
Leading defense scorer: Sergei Gonchar 65PTS
Leader +/-: Sidney Crosby +18
Key Player: Sidney Crosby – He's been keeping a low profile since the ankle sprain and I hope the Kid is playing at full strength. The Pens are going to need him lighting the lamp if they want to go far in the playoffs.
Ugliest Player: Hal Gill – Well he's really big and he's, um, really big? I've had many arguments about this guy, I just don't think a big D-man that can't really skate and has the agility of an elephant is all that useful. Whateva…
Player most likely to shit the bed: Marc-Andre Fluery – He's been pretty good, hasn't had the best defensive help. Still it just seems like he is forever doomed to fall short of expectations.
Secret Weapon: They have no secrets, TSN is in love with them.
Strengths: They have a dirty offense with young creative players and a few old timers that can still mix it up. There is no doubt they have a few players that play a physical game and have been hot lately.
Weaknesses: Their defense is suspect at best, Hal Gill is an overrated defenseman who people like because he is big, and he can't skate. He's a turnstile. Their goaltending is a definite question mark for me as well as Marian Hossa, who never has performed well in the playoffs.
Prediction: Pens in 6 - I have to have the Pens taking this one fairly easily. With a high powered offense and a depleted Ottawa squad the odds are in their favor, though the Sens will still put up a decent fight.
Capitals (3rd*) vs Flyers (6th) – Season Series, Tie, 2-2
WASHINGTON
Season Record 43-31-8 PTS94 GF242 GA231
Leading forwrad scorer: Alexander Ovechkin 112PTS
Leading defense scorer: Mike Green 56PTS
Leader +/-: Tie - Victor Kozlov, Alexander Ovechkin, +28
Key Player: Cristobal Huet and Olaf Kolzig – I know the name that springs to mind is Ovechkin, but we know he'll perform. The Capitals need to keep up the strong goaltending play which has really helped them sneak into the playoffs.
Ugliest Player: Donald Brashear – I wouldn't say it to his face, but this guy is there to fight, plain and simple. He's a role guy and it's unfair but I barely know anyone on the Caps enough to call them ugly.
Player most likely to shit the bed: Cristobal Huet – He's done it before and Montreal fans (and management) know he just might do it again. Despite having a stellar regular season campaign since the All-Star break he has his playoff skeptics.
Secret Weapon: Brooks Laich – Not exactly a household name, but he's put together a decent season with 21 goals and 37 points. He really started the season strong and has trailed off a bit. Still, I think if he can put together a good playoff it will take some pressure off of Ovechkin and give the Caps a shot to go deep in the playoffs.
Strengths: A quick young team with the best left winger in the game and arguably the most talented individual to strap on skates. They've been playing great of late and are coming into the playoffs with loads of confidence. Surprisingly their defense has been pretty good this year and could help them out.
Weaknesses: Youth blah blah blah. Goaltending is a bit of a question as no one knows how Huet will respond and Kolzig has lost a bit of his game. The depth on offense is in question, if they lose Ovechkin they better start picking out a golf course.
PHILADELPHIA
Season Record 43-31-8 PTS94 GF261 GA247
Leading forwrad scorer: Mike Richards 75PTS
Leading defense scorer: Kimmo Timonen 44PTS
Leader +/-: Braydon Coburn +17
Key Player: Mike Richards – He's looked good since coming back from a torn hamstring and the Flyers will be looking towards him even more since Daniel Briere has a question mark surrounding his health. He's had a breakout season and leads a Flyers team that has had no trouble putting the puck in the net.
Ugliest Player: Derian Hatcher – Jesus Christ, retire already! He is so god damn slow it's unreal. You think they'd get the picture after the brutal season they had last year but no, he's still on the roster. The only thing Philly fans can hope for is his injury lingers, keeping him to limited ice, in turn limiting the two on ones he creates.
Player most likely to shit the bed: Scott Hartnell – He's having a decent season, but he's not much in the playoffs traditionally. This billing for him is a little weak as we all know Hatcher is the true duster. I'm putting him in here to motivate him.
Secret Weapon: Randy Jones – He's had a great year if you ask me and he gives them a third option on a defense squad that hasn't had much of a problem putting up points. Plus, when the Capitals start running away with the series he can run Ovechkin from behind.
Strength: Offensively they're a gifted squad with a good mix of veterans and youth. They have a great PP and Biron has been playing good hockey lately, finishing the season strong despite the team around him.
Weakness: They're playing horrible hockey and their defensive game leaves a lot to be desired, with the second worst GA of playoff teams. I really question the heart of the Flyers after playing one of the worst games I've ever seen against the Penguins. They needed to win that game if you ask me, and the Pens did everything they could to give it to them, even then it was a struggle…
Prediction: Flyers in 7 - If I was a Flyers fan I'd be scared. The Caps are red hot after squeaking into the playoffs, with the Flyers playing the worst hockey of all playoff teams. That being said, neither team dominated the other in the regular season so it really could go either way. I'm going to give it to the Flyers based on the mix of vets and kids, plus Huet broke my heart two years ago… I can't forgive him.
Devils (4th) vs Rangers (5th) – Season Series, New York 7-1
NEW JERSEY
Season Record 46-29-7 PTS99 GF206 GA197
Leading forward scorer: Zack Parise 65PTS
Leading defense scorer: Paul Martin 32PTS
Leader +/-: John Oduya +27
Key Player: Zach Parise – Not a secret, but most fringe fans have no idea what he's done. This young gun is the most talented offensive player on the Devils and should put up decent numbers.
Ugliest Player: Jay Pandolfo – This is no insult, he's a hard working guy that flies under the radar. He finds a way to get shit done and even finds the net. Gotta love Jay.
Player most likely to shit the bed: Patrick Elias – Man no one has been more disappointing this year. He needs to pick it up, but he won't. No one likes him and an unconfirmed source says he tries to date teenagers.
Secret Weapon: John Oduya – He stepped up when the Devils lost bodies on the backend and now is logging over 20 minutes a game. He leads the team in plus/minus, has 26 points and has been a pleasant surprise.
Strengths: They play the trap and they play it well. It's tough for teams to get much going through the neutral zone and they have arguably the best goalie of all time.
Weaknesses: An anemic offense and streaky forwards led by Patrick Elias have hindered the Devils squad. If they can't get those guys going it's an early exit.
NEW YORK
Season Record 42-27-13 PTS97 GF213 GA199
Leading forward scorer: Jaromir Jagr 71PTS
Leading defense scorer: Michal Rozsival 38PTS
Leader +/-: Nigel Dawes +11
Key Player: Henrik Lundqvist – He's a great goaltender and with some experience this year he should do well. The Rangers need a strong outing from him and I would look for him to deliver.
Ugliest Player: Ryan Hollweg – He's a plug and not much of a looker for the ladies. With a minus-12 and a head filled with bricks, he won't see much time.
Player most likely to shit the bed: Jaromir Jagr – He's had a bad season by his standards and I see no reason why he'll suddenly play the inspired hockey we saw last year. He won't be terrible but he should be a hell of a lot better.
Secret Weapon: Scott Gomez – He put up 70 points this year and wants to prove to his old team they should have ponied up and paid him. He'll have a big series fo sho.
Strengths: Very strong defensive team that has a great goaltender on top of it. They match up very evenly with the Devils in defensive play.
Weaknesses: Their offense hasn't been what it should be and they've had trouble filling the net all year. Compound that with one of the best goalies of all time and they're in for trouble.
Prediction: Rangers in 7 – These two teams have a long history and you know this rivalary is going to produce one of the best series of the entire playoffs. The Rangers have had the Devils' number this year, but Marty is going to be up for this one and will force a game 7.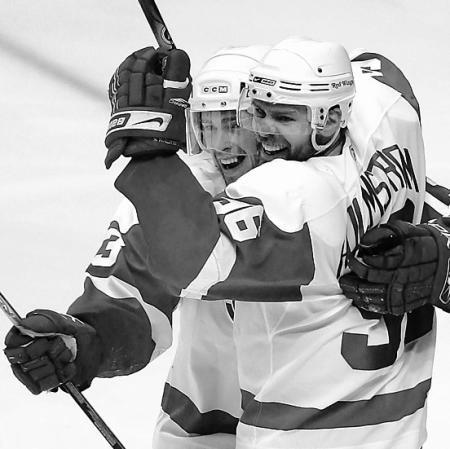 Western Conference
Red Wings (1st*) vs Predators (8th) – Season Series, Detroit 5-3
DETROIT
Season Record 54-21-7 PTS115 GF257 GA184
Leading forward scorer: Pavel Datsyuk 97PTS
Leading defense scorer: Nicklas Lidstrom 70PTS
Leader +/-: Pavel Datsyuk +41 *shocked face*
Key Player: Tomas Holmstrom – He's been struggling with injuries this year, but their PP specialist is needed to get them through this series. He provides grit to their team with a scoring touch, a real heart player that every team needs.
Ugliest Player: Kris Draper – Seriously Kris? Spell you name like a human. You must have had nude photos of Wayne Gretzky's wife in bondage wearing a Nazi uniform to get on Team Canada.
Player most likely to shit the bed: Dominik Hasek – I hate you.
Secret Weapon: Jiri Hudler!!!!!!! Damn straight, he's pimp-tight.
Strengths: They have great a great offense and their best two forwards, Datsyuk and Zetterberg, also play on the PK. They're balanced play gives the Wings confidence in all situations and makes them dangerous even with a man down. They also have Lidstrom AND Rafalski, drool.
Weaknesses: Their goalies are old and their play has slipped a bit. They rested them for the most part, but will they really split games in the playoffs? They might be enough to get them through the first round but Hasek might need a new hip at the end of the series.
NASHVILLE
Season Record 41-32-9 PTS91 GF230 GA229
Leading forwrad scorer: Jason Arnott 72PTS
Leading defense scorer: Marek Zidlicky 43PTS
Leader +/-: Jason Arnott +19
Key Player: Dan Ellis – He stood on his head for their late playoff push, losing over 10 pounds in the process. Goalies can change a team's fortunes and if he keeps this going who knows what could happen.
Ugliest Player: Jason Arnott – He can barely skate but somehow he is having a career year. All the power to him, but I'll show my kids videos of his skating technique.
Player most likely to shit the bed: Radek Bonk – He's been horrible defensively, which is odd considering he was in a defensive role for the Habs last year. He's minus-31 and could royally screw over the Preds hopes of an upset.
Secret Weapon: J.P Dumont – Not much of a secret, but in reality the Preds get so little press anyone could be. I like him, he takes care of business and is going to be a difference maker.
Strengths: Underrated team with a good offensive defense. Their goalie is lights out right now and they're going to ride him until he weighs 100 pounds.
Weaknesses: The depth on this team is severely lacking and will haunt them in the end. They don't have the offense to keep up with a healthy Red Wings squad.
Prediction: Detroit in 5 – Despite every attempt by the owners to make Nashville bad (and move them out of the state) they still made it into the playoffs. The team has tremendous heart and should steal a game. Detroit gets by, but the series will take its toll on the old men in net and they won't get much further.
Sharks (2rd*) vs Flames (7th) – Season Series, Flames 3-1 (2 in OT)
SAN JOSE
Season Record 49-23-10 PTS108 GF222 GA193
Leading forwrad scorer: Joe Thornton 92PTS
Leading defense scorer: Brian Campbell 62PTS
Leader +/-: Doug Murray +20
Key Player: Joe Thornton and Patrick Marleau – They desperately need both of these guys fired up and performing. From what we've seen lately it's a good possibility they will. Marleau had a horrible start but he's been great the last month and a half and Joe is looking for someone to kick the shit out of since Steve Ott ran away from him. Seriously Steve, if you play that game, back it up.
Ugliest Player: Sandis Ozolinsh – Yea he's still around and he's been racking up minus' on one of the stingiest defenses in hockey. I don't know if anyone has ever idolized this guy, I've never liked him, I don't know why, this is out of spite.
Player most likely to shit the bed: Joe Thornton or Patrick Marleau – Every time playoffs role around one of the two does a disappearing act. As I said before they both need to be on their games, but if history tells you anything, they won't.
Secret Weapon: Joe Pavelski – Maybe not a big secret, especially to those who follow the Sharks (believe me, Calgary knows about him). Still, he gets little press but is a big key to their secondary scoring.
Strengths: They have one of the hottest goalies in the league and their top lines are clicking at just the right time. They're a great defensive team that has added some grit this year with a meathead in Jody Shelly and J.R., plus Joe is ready to go this time around.
Weaknesses: They seem to balk in the playoffs when coming in strong. Mentally, they're not the greatest; Joe loves to disappear in the playoffs.
CALGARY
Season Record 42-30-10 PTS94 GF229 GA227
Leading forwrad scorer: Jarome Iginla 98PTS
Leading defense scorer: Dion Phaneuf 60PTS
Leader +/-: Jarome Iginla +27
Key Player: Miikka Kiprusoff – Who will show up this time in the playoffs? He's been bad as far as his standards go and if he doesn't get his act together the Sharks will take this series. He can play, so I'm hoping that my future hometown's goalie can pick it up and I might just catch a game.
Ugliest Player: Curtis Joseph – After his little "vacation" he's back and even older. He hasn't been horrible but no Flames fan is hoping Kipper goes down even for a period. Joseph hasn't played all that bad in his five games, but he still looks like a sexual predator. If I had kids I wouldn't let him sign an autograph if he paid me… and he might just try. I'm kidding, he was great but I hate to see a guy that had his skill hurting his reputation.
Player most likely to shit the bed: Mike Keenan – He broke one of their best young wingers, Kristian Huselius, who after starting the season on fire has been sub-par, with just 10 points through March and April. He's always been a turkey and could be the reason the Flames lose this series.
Secret Weapon: Adrian Aucoin – He's happy in Calgary, not much pressure on him to be the man. He's quietly put up 35 points and a plus-13. He gives Calgary great depth on the backend and could be a major difference shutting down the Sharks secondary scoring.
Strengths: Great depth on defense gives them a ton of options in match ups and will give Ron Wilson headaches. The defensive play hasn't been amazing this year, but their ability to grind out games will be a difference maker.
Weaknesses: An offense that struggles with consistency could be the deciding factor. Unless they're finding the net the next two weeks it will be an early exit. Tanguay needs to pick up his game to pre-All-Star break numbers and Keenan needs to lay off Huselius. Seriously Mike, he's a poor little Swedish boy that needs hugs not hate.
Prediction: Sharks in 7 – The Sharks are too good and Mike Keenan is intent of destroying Huselius for the second time in his career. Seriously, I blame Mike as the Flames had a great chance. Too bad they're facing the hottest goalie in the league with limited offense. Sorry Wetts and Foo, not this year.
Wild (3rd*) vs Avalanche (6th) – Season Series, Wild 5-3
MINNESOTA
Season Record 44-28-10 PTS98 GF223 GA218
Leading forward scorer: Marian Gaborik 83PTS
Leading defense scorer: Brent Burns 43PTS
Leader +/-: Marian Gaborik +17
Key Player: Todd Fedoruk, Eric Bougard and Chris Simon – Say whaaa? That's right, the Wild need to punish the Avs if they want to win this series. As long as they have them playing scared they will win this series.
Ugliest Player: Chris Simon – He's a meathead and not afraid to show it. He'll probably be trying to be on good behavior but if he is he'll get benched. The only reason he is around is to cross-check people in the face.
Secret Weapon: Pierre-Marc Bouchard – I've always liked the kid, he puts up decent points and can be counted on night in and night out.
Strengths:. They play a wicked trap system which greatly benefits their goalies. The emphasis on defense is balanced by talented forwards. Marian Gaborik leads the charge despite having a girl's name and a mushy groin. They've had the Avs number in the playoffs, winning 4 straight against them until last week's OT loss.
Weaknesses: Backstrom hasn't been all that great lately and I don't know if he's the man for the job. Even with great defensive support he hasn't come through. The team can't afford to lose Gaborik or Brian Rolston as their offense almost completely relies on them.
AVALANCHE
Season Record 44-31-7 PTS95 GF231 GA219
Leading forwrad scorer: Paul Statsny 71PTS
Leading defense scorer: John-Michael Liles 37PTS
Leader +/-: Paul Statsny +22
Key Player: Jose Theodore – This run rests on him, he has the skills and as an ex-Hab I'm rooting for him. However, he lost all confidence and it's rare for any goaltender to come back from that but then again, he was a special talent.
Ugliest Player: Adam Foote – He always got too much press for being an average player. He's an ok defenseman but seriously, he was never the missing piece.
Player most likely to shit the bed: Milan Hejduk – No one has been streakier than this guy and I can see him melting into the background in the playoffs is Forsberg goes down.
Secret Weapon: Marek Svatos.
Strengths: They have a blend of youth and veterans that few teams can match. The offense has been clicking with Forsberg back in the lineup and he helped find some of Hejduk's old magic. Plus Joe Sakic is the man.
Weaknesses: Their defense isn't the greatest and their offense has been hot and cold. Between the pipes, Theodore is having a resurgent season, but can anyone really trust a goalie that has been broken?
Prediction: Avs in 6 – This will be one of the best series of the first round. The Avs are just too much for the Wild and will take it in six.
Ducks (4th) vs Stars (5th) – Season Series, Dallas 5-3
ANAHEIM
Season Record 47-27-8 PTS102 GF205 GA191
Leading forwrad scorer: Ryan Getzlaf 82PTS
Leading defense scorer: Chris Pronger 43PTS
Leader +/-: Ryan Getzlaf +32
Key Player: Chris Pronger – The defense is stacked on this team and is going to make life hell for any team they play. Pronger and his tiny size six skates are going to be counted on to stomp the shit out of anyone that dares to enter their zone. Little Mikey R. doesn't stand a chance.
Ugliest Player: Marc-Andre Bergeron – I know he's offensively gifted, but maybe he should have tried forward. Honestly, the main role of the defenseman is keeping the other team from scoring. In an increasingly limited role he's minus-16 and should only ever be used on the PP.
Player most likely to shit the bed: Chris Pronger – Odds are Chris is going to lose his mind after watching Happy Gilmour the night before, take off his skate and try and stab Steve Ott. Luckily Ott is adept at avoiding any situation that might result in him fighting anyone bigger than Martin St. Louis.
Secret Weapon: Todd Bertuzzi – Love him or hate him he's having a decent year. The move has done wonders for Todd, resting in the sun and not even thinking about being sued for millions. He's put up 40 points this year and could be a big factor on the offensive end of the ice, getting great matchups against a depleted Dallas blueline.
Strength: Physical team with a defense that makes every other coach drool and cry. The team has great leadership and experience that can do wonders in the playoffs when hard times hit. Great goaltending rounds out this team.
Weakness: Putting the puck in the net has been a struggle. Other than Getzlaf, no one has really stepped up. With the team facing a solid goaltender in Marty Turco, that could be a serious problem.
DALLAS
Season Record 45-30-7 PTS97 GF242 GA207
Leading forwrad scorer: Mike Ribeiro 83PTS
Leading defense scorer: Sergei Zubov 35PTS (only 46 games!)
Leader +/-: Brenden Morrow +23
Key Player: Marty Turco – He is almost every year and always seems like he's right on the cusp of becoming one of the greats. Still, he falls short, it seems, in everything from the NHL playoffs to any appearance with Team Canada. If he can get it together this year, and he needs to fast, the Stars can make a push for the Cup.
Ugliest Player: Brad Richards – Maybe the money got to him, but the guy just hasn't been able to get his act together this year. Supposedly a gifted defensive center than can put the puck in the net, he's minus-27 and hasn't clicked with the other Dallas players.
Player most likely to shit the bed: Mike Ribeiro – seriously, as a Habs fan I can't watch him have a great season and not expect him to disappear in the playoffs. He's never lived up to his billing and this is all an act. He also can't get over the flu so what the hell is he going to do when Chris Pronger tries to curb stomp him?
Secret Weapon: Niklas Hagman – Despite his team generally sucking around him, Hagman has been putting up great numbers down the stretch. They need him to keep it going if they want a chance to get past the Ducks.
Strength: Good goaltending and a surprisingly talented offensive team could cause problems for those they face.
Weakness: Undersized to deal with a truly physical team, if they let the series drag on their little bodies won't be able to take it. They miss the defensive presence Zubov adds, and are a completely different team without him. Also, the common flu, which has sidelined their top scorer. Ribs needs to start taking his vitamin C pills…
Prediction: Ducks in 5 – Dallas has been downright horrible. Their big trade didn't work out and they're missing their best defenseman. The Ducks shouldn't have too much of a problem with them and I think you're in for a boring defensive series. Luckily it should be over quickly.
Prediction for the Final
Cup Final Prediction – Montreal Canadians over Anaheim Ducks in 5
I had to take them, but I think they have a great shot. The Habs have guys that can score on every line, a great group of defenders and puck movement that few teams can deal with. Carey Price is going to be outstanding and goalies can make all the difference in the world. Once they get in a shooter's head they can control the series. He's proven he can do it and I see no reason why he can't again. Rob Hanson knows this is going to happen, every true Habs fan can feel it.
This article has been submitted by the debuting Matt Douglas. He even took the time to format everything in a pretty way, but this is WordPress, not MS Word 3027. Sorry Matt.