Posted by Blake Murphy on April 25, 2008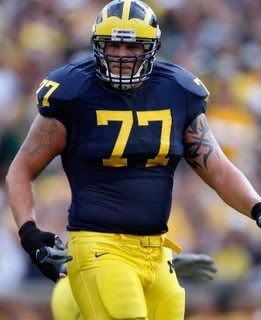 This article has been submitted by Alex Snyder. Matt Douglas should have a follow-up Mock later today.
A lot of changes from my earlier mock up shows how the combine can change a lot of things. The one thing that is certain is the Dolphins are drafting OT Jake Long with the first pick. After that, the top-10 is anyone's guess; here's mine:
1) Dolphins - OT Jake Long , Michigan
As stated, the Dolphins will take J-Long at #1 and have already made him the highest paid O-lineman in NFL (5 yr, 57.75M). Huge investment from the Fish, but I think it's a good one. He was the safest pick among the top-5 besides maybe Dorsey, but he's going to be a really solid T for a long time and there aint nothing wrong with that. Parcells loves to run off the right tackle and Long will likely be their RT. This team will again struggle massively, however, if they don't get a QB.

2) Rams - DE Chris Long, Virginia
It's going to be a D-lineman, I presume, with the Rams lack of a pass rush. It's between him and Gholston and I think they take the safer guy. Long, like the other Long, will be a really good player for a long time. Dorsey is also major possibility here too. The Rams need a lot of help in a lot of areas and pressuring the QB is priority #1.
3) Falcons - QB Matt Ryan, Boston College
This is definitely a situation where owner Arthur Blank is the telling the GM to draft the best QB, no ifs, ands, or buts. They want to get past the Vick situation as soon as possible and Ryan is going to be their man. I am not a huge fan of Ryan and I can never see him being a pro-bowl QB but the Falcons will take him here because God knows Redman just isn't going to get it done.
4) Raiders - DT Glenn Dorsey, LSU
I had this guy going #1 in my earlier mock. For some reason his stock has seemed to slip a tiny bit since then and I don't really understand why. The Raiders are going to make the right move for once in the draft and take Dorsey. Expect big things from this stud tackle right away.
5) Chiefs - OT Ryan Clady, Boise State
The Chiefs would love to trade this pick and move down a few spots because Clady would probably still be around. This is another situation where I think the need will outweigh the skill of the player. The Chiefs need an O-lineman very badly so they take the best one still available. The biggest fan of this will be Larry Johnson, who will try to bounce back from a sub-par year.
6) Jets - RB Darren McFadden, Arkansas
I am very unsure of this guy. I love his combination of size and speed but he can't break a tackle and he may not be big enough to withstand being a #1 back in the NFL. Still, the Jets could use a gamebreaking back so I think they select McFadden here.
7) Patriots (49ers) - DE Vernon Gholston, Ohio State
The Pats, as good as they are the offensive side of the ball, have major issues to address with pretty much their whole defense. Gholston should bring a pass rush that was non-existent in the playoffs. Richard Seymour had 0 sacks and 0 hurries in the playoffs…wowsers. The Pats will need to get a CB or two as well but I don't see Belichick taking a CB with a top-10 pick, he'll get one in the second and/or third round.
8) Ravens - CB Leodis McKelvin- South Florida
The Ravens would love for Ryan to slip to them with this pick and that could very well happen. With the best QB gone, the Ravens will take the best corner available because Rolle isn't getting any younger and a future shutdown corner is never a bad way to go. A big surprise here that I think could happen is the Ravens taking QB Brian Brohm, who most have slipping to late in the round.
9) Bengals - DT Sedrick Ellis DT, USC
The Bengals want this guy as bad as a crackhead wants some crack. They have had lots of talks with the Pats about getting their pick to ensure they can take this freak of nature. The Bengals have a lot of issues themselves going into next season and their run defense is at the top of that list.
10) Saints - CB Dominique Rodgers-Cromartie, Tennessee State
The Saints are going to try to move up a bit in the draft and try to get either Dorsey or Ellis. If that falls through, I see them taking the next best corner still on the board. Cromartie is cousins with Chargers CB Antonio Cromartie and his tutor is Neon Deion Sanders, my boy. This guy has amazing potential and will be a surprise at the time, but a good pick for the future.
This article has been submitted by Alex Snyder. Matt Douglas should have a follow-up Mock later today.