Posted by Blake Murphy on June 11, 2008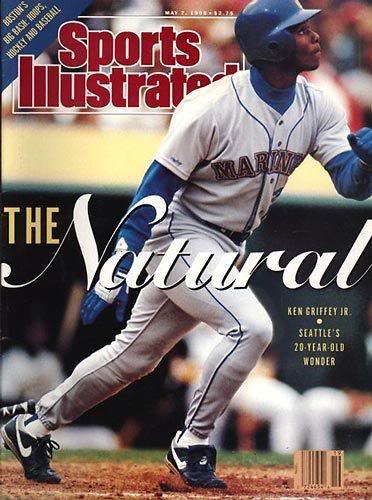 This article has been submitted by Stu Wilkinson.
Kids these days. They like their hair flopping all over their eyes, they're always using this newfangled Facebook gizmo, and they have no love for the most electrifying baseball player of all time, Ken Griffey Junior. When I was a youngster Junior Griffey was my favorite athlete that didn't play hockey or wrestle professionally, and being third to Theo Fleury and "The Heartbreak Kid" Shawn Michaels is nothing to sneeze at. Griffey's influence, along with the World Series coming to Canada in 1992 and 1993, pretty much made me a baseball fan. Nowadays his larger-than-life image from back in the day has been completely deflated because of his injury-plagued tenure in Cincinnati, but I'll never forget how much I revered him when he was tearing it up in the Kingdome.

As you've probably figured out by now, when Griffey's 600th career home run came and went a couple days ago with the requisite media coverage, I had to join the crowd and give him his very own Gary Roberts Wednesday piece. This is a guy that made Chris Berman yelling "back, back back, gone" a thoroughly enjoyable experience. The least I can do for him is throw some dap his way in the same feature that has detailed the exploits of sports superstars like Greg Paulus and Maxime Talbot.
Griffey's career started in 1989 with the Seattle Mariners, the same year the Berlin Wall toppled over thanks to the crooning of Mr. David Hasslehoff. Although this was almost definitely a coincidence, Seattle's rise to competitiveness thanks to his emergence probably wasn't. The Mariners also featured Edgar Martinez, Randy Johnson, Tino Martinez, and the immortal Jay Buhner, so that probably helped too. Even A-Rod made an appearance on those teams, back when people kind of liked him (don't worry Alex, I still have your back).
After a mediocre rookie year, Griffey rolled out five straight years of batting over .300 and hitting over 20 home runs. An injury shortened his 1994 and 1995 seasons, but he came out with a vengeance after getting healthy. From 1996 to 1999, he hit 209 home runs and picked up his one and only MVP award. The Mariners also made a run in the playoffs in 1995, beating the Yankees in the ALDS (Griffey was back from injury and hit five home runs in the series). Oh yeah, he also won a metric ton of Gold Glove awards while he was patrolling center field in Seattle.
Griffey's numbers only told half the story though. Everything from his batting stance to his name made him seem like a superstar. Highlight catches and his effortless home run swing made it seem like anything was possible when he was on the field. Even when he wasn't hitting balls out of the park with his bat or keeping them in play with his glov,e he was entertaining the unwashed masses. His patented pre-pitch bat waggling was just asking to be imitated by millions of little kids. He even put his hat on backwards during the Home Run Derby! How do you not idolize that?
I have no idea when I actually realized that athletes are incredibly wealthy individuals that may not be playing solely for the love of the game, but for the sake of this piece I'm going to say it was when Griffey went to Cincinnati. I died inside about eight times when that happened. Even if he had stayed healthy in Cincy, breaking Hank Aaron's record in the process, I still would have been disappointed in his move away from Seattle. Griffey's mystique was permanently damage when he moved out of his Mariners jersey. His Reds jersey is like one of those legendary jerseys that just seem awkward now, like Gretzky on the Blues, Jordan on the Wizards, or Wally Szczerbiak on the Western Conference All-Stars.
So when he hit home run number 600 the other day, I wasn't celebrating like I wanted to. I was happy for him, but I couldn't stop thinking about how disappointing the end of his career has been. Of course, that will change once he wins the World Series with 'my' Yankees.
Inside the Numbers
10 Gold Glove awards
600 career home runs
56 home runs twice in his career
3 Century 21 Home Run Derby championships
1 awesome move to the Yankees coming soon
This article has been submitted by Stu Wilkinson.