Posted by Blake Murphy on June 26, 2008
This article has been submitted by Trevor Smith.
Sports fans with international perspective know Europeans take ample shine to their version of football. The beautiful game is a religion and its players, saints. Thus calico stars receive extraordinary attention from the sporting media. For our part, Canada's fascination with major international soccer competitions suggests the majority of sports fans are pitch-literate insomuch as they understand the game (or perhaps just like putting flags on their cars). While the stereotypical fan appreciates the game, a strong majority has not been acquainted with its central personalities. Better Know a Footballer hopes to rectify this, by means of juxtaposing soccer's biggest names with North American sports notables we are more familiar with.
Cristiano Ronaldo is widely regarded as the best footballer in the world and is one of the most talented of his generation. No less an authority than Johan Cruijff (three time European Footballer of the Year) has said Ronaldo is better than George Best and Denis Law, two of the greatest players in Manchester United history. Yet the young winger is generally loathed. Fans in North America that are unfamiliar with Ronaldo should still have a grasp on the Portuguese star's narrative because it is nearly indistinguishable from that of the Yankee we all love to hate: Alexander Emmanuel Rodriguez. ARod is the best player in his sport and the odds-on player of his generation. His individual talents are without question…so is the public's general repugnance toward him. Analysis of the pair of megastars shows their similitude shining clearly; Canadian sports fans hate Ronaldo the same as Rodriquez, they just don't know it yet.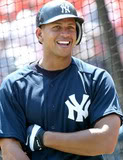 Gaudy Stats: Rodriquez has more HR, RBI, runs scored and base hits than the respective all-time leaders in each category did at his age. He is the youngest player ever to hit 500 home runs. He is projected to be the all-time leader in homers, runs scored, RBIs, and total bases (as well being in the top five in hits and walks). To call his statistics prodigious is detracting: he will almost surely retire with the best statistical career resume of all-time. Ronaldo has, himself, put up marvelous numbers. The pride of Funchal, Portugal scored 42 goals in 48 games (including 31 in 34 appearances in league play) last season with Manchester United and was the top scorer in Europe by eight goals. His performance left him only three shy of the Premiership record for a season, and he did so in eight fewer games. His 92 goals in 238 career games at Man U place him far behind Bobby Charlton career-record 249, but that mark was set in 758 games.
Hated Teams: As a Yankee, ARod is part of the most storied and valuable franchise in North America, a team that is also the most hated team in American sports. The Bronx Bombers' 26 World Series banners make them the antagonist of every small-market team and their superfluous payroll earns them their 'Evil Empire' epithet. Ronaldo calls Old Trafford home (for now at least) and is therefore part of a house that is even more despised than the Yankees. Manchester United is said to have over 330 million supporters worldwide…and about 6 billion others that hate them. The club is the most successful in the modern Premiership era, having won 20 major honors since 1986, and have taken the country's top division 17 times, one short of Liverpool's record. Man U is also the world's most valuable sports franchise, worth over $1.8 billion (by comparison, the Leafs are the NHL's most valuable team at $413 million).
Contract Controversy: Rodriquez famously abandoned Seattle for Texas, only to force the Rangers to trade him exclusively to New York or Boston. But the most damning wrangle for ARod was his opt-out last year, when he did not meet with Yankee management beforehand and then made his intentions known during the final game of the World Series. The subsequent beating he took from the media and public made him ultimately bypass his agent and agree to a 10-year deal with the Yankees himself. Not to be outdone, last week Ronaldo declared his desire to move to Real Madrid, this after Manchester United filed an official complaint with FIFA over Real Madrid's interest. It has been suggested that Madrid would be willing to pay up to 100 million euro (!) for the winger, though the transfer is in doubt after the Glazer family stated that it would not sell Ronaldo for any price and would rather sit him all season.
Unclutch: Rodriguez has long been criticized as being 'unclutch' (though in 2007 he hit .444 with the bases loaded). Much of this is associated with his inability to lead New York to another championship and his hitting a measly .200 in both the 2005 and 2006 postseasons. While Ronaldo's big game failings are not nearly as famous, there still exists the impression that he falters on the game's biggest stages. One need only reference his missed penalty in the Champions League final, his scoring a mere one goal in four games at Euro 2008, or the controversy that surrounded him after the 2006 World Cup for evidence of his shrinking in the moment.
Disconnect from Common Man: Both men are magnets for criticism in part at least because of the perception of the common fan that they were born with a 'silver spoon' and the world at their feet. There is clearly an envious and resentful feeling amongst fans towards both stars that relates more towards their considerable advantages (good looks, wealth, and fame) than their play on the field. ARod has acknowledged as much in saying, "People write [bad things] about me, I don't know if it's because I'm good-looking, I'm biracial, I make the most money, I play on the most popular team." Perhaps because he in the anti-Wayne Rooney, Ronaldo's pomp and prettiness has not won over English fans, who hold him as, well, a douche-bag.
Significant Other Issues: I am not even going to touch this one except to point those unaware in the direction of the media storms caused by Mrs. Rodriquez and Miss Nereida Gallardo's, um, tasteful, pictorials (search for yourself, NSFW).
In conclusion, one sees plainly that the world's greatest football and hitter have much in common, and with this knowledge you can feel even more justified in objecting to Ronaldo on the grounds that he is ARod-Euro Edition. So tune into a Manchester (or Real) game next fall and take comfort in knowing that their overpaid, obnoxious star is not so different from New York's.
This article has been submitted by Trevor Smith.