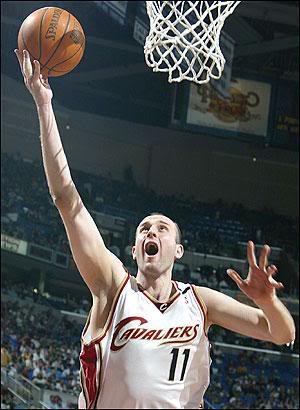 This article has been submitted by Stu Wilkinson.
A lot of people talk about how brutal LeBron's supporting cast is. For the most part, they wouldn't be wrong. Let's check out the three highest paid players on Cleveland this year: Ben Wallace, James, and Wally World Szczerbiak (you can officially forget that he was an All-Star in the 2001-02 season). Not exactly your prototypical group of "triplets." However, there is one giant of a man on the Cavs that is a valuable piece of what will almost definitely be a puzzle that gets back to the NBA Finals. You guessed it, this man is the often-overlooked Zydrunas Ilgauskas. They call him Big Z, and if he lived in a child's bedroom he would cause six nightmares per night, compared to only three for Sam Cassell and eighteen for Alex Ovechkin (or the guy from "Jaws" and "Happy Gilmore").

Big Z's path to being the second banana on the Beast of the East has been filled with more twists and turns than Yoshi Vallley. He was drafted twentieth overall by Cleveland in the 1996 NBA Draft, one pick behind Walter McCarty and four ahead of Jerome "The Junkyard Dog" Williams. You can't make that stuff up. Ilgauskas's debut in America was delayed for a year thanks to a foot injury, but his rookie season in the Mistake by the Mi-Lake was worth the wait. He went for 14 and 9 and played in all 82 games, a season that probably had Cavs fans foaming at the mouth about their 7'3" youngster.
He followed up that rookie campaign by signing a $70 million extension and playing in 29 games over the next three seasons thanks to more foot problems, which probably had those tantalized Cavs fans a little worried. Given his injury problems, it comes as no surprise that Z's first few years in Cleveland fall under the heading of "A Long Struggle" on the team's Wikipedia page. As the Cavs entered the next portion of their Wikipedia history, called "The LeBron James Era" for some reason, the big Lithuanian got healthy and complemented the King, playing in over 70 games every year after LeBron was drafted. Is it any coincidence that LeBron's high school offers a world famous foot health course that I just made up? In a word, no.
That somehow brings us to this year's playoffs, where LeBron and Big Z are teaming up to defend their Eastern Conference crown. Ilgauskas has submitted another rock solid regular season, averaging 14 and 9 thanks to his silky mid-range shot and his massive frame. He also shoots technicals for his team and can provide clutch free throw shooting down the stretch if the Cavs need it. Last year, Z was solid in the playoffs, doing his typical near-double double thing until the Cavs ran into Tim Duncan and the Spurs in the Finals.
So sure, the Cavs are pretty much a one man show. They'll go as far as LeBron takes them. But don't be under the impression that Cleveland has no help for the NBA's real MVP. Next time one of your basketball aficionado acquaintances says, "Man, LeBron has no help!" after a missed three from Damon Jones, remind him or her that he does have some help. Yup, that underappreciated big guy who might just be paler than this author is a former All-Star who can still rebound, shoot, and even defend down low a little.
Inside the Numbers
2 All-Star appearances
3 top five finishes in offensive rebounds
2nd tallest player in the NBA
$91 million career earnings
1 Rookie Challenge MVP
This article has been submitted by Stu Wilkinson.