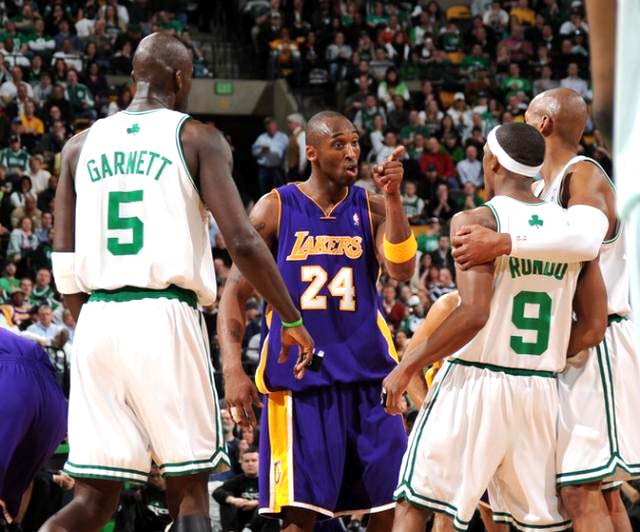 "But I'll be damned if I don't take a stand/We ain't goin' out like that" – Cypress Hill
Don't act shook about this performance, True Believer. This game is exactly what we should have expected out of the Lakers following their let-down in Game 5. This series is not at all about momentum. It is about the moment. This LA team has been two-faced and erratic all season – its part of their identity. But that doesn't mean they will roll over.
Consistently inconsistent? Sure. But punks that fold up when facing just a bit of adversity? Doesn't seem like it.
This Laker team is not the same team from 2008 we hear so much about. That team was not yet ready to fight in the trenches for an NBA title. They were just as talented, and maybe had fresher legs than this current squad. But they didn't have the reps. They hadn't been punched in the mouth. The 2008 Celtics did that, and then some. They left the Lakers bruised and bleeding on the curb, but LA learned how to respond to big moments because of it.
This team was never going to pack up their toys and go home after getting sand kicked in their eyes in Game 5. They were outplayed, and more importantly, outworked. It has never been about the talent, or even the will to win with this Laker team.
It is just about consistent focus. That is the difference, and it's no small surprise that that is also what defense is about – steadfast commitment to and focus on stopping your opponent. That's all it is: concentration. The team is full of personalities who may lack a consistent attention to detail, but when they turn their full consideration to the defensive end, things like Tuesday night's performance happen.
Now we get treated to a Game 7 between the two best franchises in NBA History, and NBA Present. I rock with Obama but Lakers-Celtics is 'Consistency I Can Believe In.'
Can. Not. Wait.

Top 5 Takeways:
Gasol's Homecooking: Maybe Pau just doesn't like the weather in Boston. The most skilled (notice that doesn't mean 'best') big man in the league played like it in Game 6, missing a triple-double by a mere one assist.
Kobe's Start: Between putting the vice grips on Rondo and Pierce, and a soul-crushing start offensively, there was little else Bryant could do in the game's opening eight minutes or so. He didn't have the gas in his tank to keep that level of energy up, of course (I doubt even a 25-year-old Kobe would have) but the tone was now established and the Lakers rolled.
Let Shannon Dunk: Fact: Either of Brown's dunks last night would have won the Dunk Contest. And Jordan Farmar put down something nice just for kicks.
He Still Got Game: Ray Allen was the only Celtic to play truly solid basketball in Game 6 (19 points on 7-14 shooting, 2-5 from three, three assists, two rebounds) and I would bet my life on him repeating that "very good, not great" performance on Thursday night.
Obligatory Duke Bashing: Oh, Shelden. On the plus side, you actually had the highest plus/minus ratio of any Celtics for the entire game. On the downside, you're wife could easily have thrown down that dunk you missed. Your pathetic play is almost enough to make me feel better about Duke winning a title this year…almost…
Low 5 Takeaways:
Disney Debates: Via @KollinCurrie - Big Baby and Nasty Nate: Shrek and Donkey or Timon and Pumba?
Rasheed's Veteran Savvy: When Big Perk went down, the Celtics needed Wallace to step up and rise to the challenge of the moment. Apparently Sheed thought that meant shoot 0-7, including 0-6 from three (all wide open) and pick up three early and stupid fouls on Lamar. In the words of Mike Honcho, "I am confused by your tactics…"
Punch Drunk Pundits: A lot of post-game recaps this morning focused on how smooth and effective the Laker offense was. No doubt, it was better than in Game 5, but they still shot a mere 41.8% from the floor and scored less than 90 points again. This game was ONLY about their defense.
Boston's Ghost of Game 7's Past: The C's have a lifetime 4-0 record when facing the Lakers in a Finals Game 7. I hate everything about that stat existence.
TSN – Where NBA Failure Happens: This was the first game I tuned in early enough to see TSN's studio crew break down their" analysis" prior to the toss over to ABC. Put it this way, if you make Stuart Scott seem likeable and informed by comparison, you are doing a bad job. Oh, and Mr. Magloire, I know this is difficult for you, but Bryan Colangelo is not the G-D COACH OF THE RAPTORS! STOP SAYING "COACH COLANGELO" six times without correcting yourself or anyone on set acknowledging your error. YOU SOUND LIKE A DAMN FOOL. Sorry, that was festering. I feel better now.