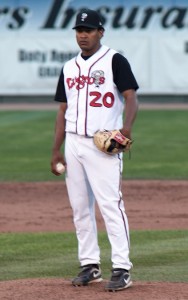 Search "Nestor Molina" on ESPN.com and it returns 0 results. That's how under the radar Blue Jays pitching prospect Nestor Molina is/was. But this is absolutely a name to make note of and file away for 2013, because Nestor Molina has been an absolute beast in the minors so far this season.
Signed out of Venezuela as a 17-year old in 2006, Molina spent 2007 and 2008 playing for the Jays' Dominican Winter League squad, where numbers are hardly projectable. In 2009, Molina spent time at the low levels of the minors, accumulating less than 40 innings. Three years after signing, he had pitched just 81.1 innings, only half in the actual minor leagues. Either Molina was looking like a bust, or the Jays were really nursing him along, right?
Not quite. Molina was originally signed as an infielder and didn't transition to the mound until the end of 2007. 80 innings over two years for a converted position player is reasonable.
Still, in 2010 Molina managed to remain off the radar. Splitting time between low-A and high-A ball, Molina threw 81 innings, primarily out of the bullpen. His ratios were strong, and the Jays began transitioning him to be a starter, where his four-pitch repertoire and excellent control could be put further under the microscope.
Good decision.

In 2011, Molina has posted the following ludicrous stats:
High-A: 21 games, 18 starts, 108.1 IP, 10-3, 2.58 ERA, 115 K, 14 BB, 2.45 FIP
Double-A: 3 games, 3 starts, 16 IP, 2-0, 0.56 ERA, 24 K, 1 BB, 0.39 FIP
Total: 24 games, 21 starts, 124.1 IP, 12-3, 2.32 ERA, 139 K, 15 BB
Now obviously his Double-A numbers aren't from a large enough sample to extrapolate that kind of ridiculous success, but look closely and they're thoroughly impressive. His strikeout rate is 10.1K/9, and his walk rate is 1.09BB/9 for an obscene 9.3:1 K:BB ratio. To put that in perspective, Roy Halladay's league-best K:BB ratio is 7.91:1. Obviously, these are the mid-level minor leagues, and at 22 years old Molina was due for a jump to New Hampshire. But again, look at how filthy those numbers are!
It took a lot of digging to get some scouting notes on Molina, as he's been so far below the radar until this season.
Baseball America: Jim Callis: "It's all solid: fastball, slider, changeup, occasional curveball. Not sure you'd call any of his offerings a plus pitch, but he mixes them well and moves the ball around the strike zone. Not the sexiest scouting report, but that's the type of guy who winds up in the big leagues."
Jays Prospects: "Alex Anthopolous has publicly stated that teams have put in phone calls on the 22-year-old Venezuelan prior to the trade deadline. But the Jays were reluctant to move him. " (Couldn't find the source on this one, but worth noting.)
Per Bluebird Banter, here is some video, so judge for yourself.
Baseball Prospectus had some notes as well, but they are subscription only, and Keith Law's only Twitter comments I could find were a smart-ass response to a question that didn't actually provide info. Kevin Goldstein of BP tweeted, "Not a ton of stuff, finesse type without much upside."So,this may be a case of me jumping the gun on a prospect who is too far away from the Majors to be excited about, but sue me - Henderson Alvarez and Brett Lawrie have arrived, so it's time to start looking wayyy forward. Then again, maybe the hype is real, as I found an unsourced quote from New Hampshire pitching coach Pete Walker stating, "Stuff has been as good as I've seen at this level. Devastating split."
Molina will probably be on an innings limit for the rest of the season, as he's already surpassed his season high by about 40 innings. However, if the team pushses him into the 130 range, it could bode well for his chances of making the club by 2013, as he could conceivably pitch 170 next year and be ready for a full workload by 2013.
He'll have to turn one or two of those four pitches into a more dominating out pitch if he wants to end up as more than a #4 or #5 starter, but there's always room in the majors for guys who don't walk anybody (unless you're Josh Towers).
Programming note: In the next few weeks I'll review some of the final season numbers for Jays prospects across the Minors to get our meat-sticks nice and hard for the vaguely defined "future."