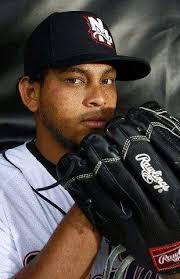 The Toronto Blue Jays have made another roster move with a look towards the future, sending left-handed reliever Wil Ledezma to Triple-A and giving rising-star prospect Henderson Alvarez the call up to the Majors. Alvarez will make his debut Wednesday night at home against Oakland, although his role the rest of the way remains unclear.
It's a pretty favorable situation to be called up into. With Carlos Villaneuva on the DL with a forearm strain, the team had an open rotation spot, and rather than give it to converted bullpen arms like Jesse Litsch or Luis Perez, they chose to roll the dice and let Alvarez get his feet wet prior to September. Alvarez gets to face a relatively punch-less Oakland lineup that ranks 25th in the Majors in scoring, and is second to last in the American League.

Initially it was thought the spot start would be for Saturday's game against the Angels, but it could have been pushed to Wednesday for several reasons. Foremost, it allows Alvarez to pitch on his normal rest, a point that shouldn't be understated when considering the youth and relative inexperience of the player. Additionally, it affords the rest of the rotation (save for Brett Cecil) an extra day of rest, although the team has indicated nobody has a set innings cap to be careful of (except for maybe the DL'd Villaneuva). One odd note about the rotation shuffle is that Alvarez and Mills now pitch on back-to-back days, so if they struggle it could tax the bullpen over a short span, but this is a relatively small concern coming off an off day Monday.
As for Alvarez himself, it might be a case of rushing a prospect to the Majors, as he's just 21, but I think the context in which he's been called up should be conducive to success. For one, the team wants to have a longer look at him than a Setpember call-up would afford. While this could be to judge his viability for the 2012 rotation, it could also be to spot areas for him to work on in the offseason, and give him a taste of how his stuff holds up against Major League hitters. Alvarez has more or less dominated at Double-A New Hampshire this year, and the team has been weary in recent years of having young prospects pitch at the band-box in Triple-A Las Vegas, one of the most notorious hitter-friendly parks in all of baseball. In that case, the logic is sound that an audition in the Majors may be more beneficial to Alvarez's development than continued work at Double-A or a short stint at Triple-A.
And while we can question the theory behind bringing up a 21-year old pitcher who only came onto the near-term radar this season, in terms of performance Alvarez has certainly earned it. The Career Stats table shows his career performance in the Minors, per Fangraphs (unable to post because I'm at work and can't upload photos, ugh).
Alvarez performed adequately prior to this season, but was not really spectacular enough to warrant excitement, although the scouting reports were positive. This season though, since his Double-A call-up, Alvarez has been lights out, registering a 2.86 ERA, a 3.45 FIP, and a 3.88:1 K:BB ratio, while occasionally hitting triple-digits on the radar gun. You could note that his K rate is a bit below average at 6.7K/9 (especially since velocity tends to correlate to K/9 to a degree), but there are a few mitigating factors in this regard. First, Alvarez faces fewer batters than average over nine innings (his WHIP is just 1.11), which gives him fewer opportunities for strikeouts. Along the same lines, his K% is actually 18.7%, which corresponds to an expected K/9 of roughly 7.3, and is above average. And finally, he can get away with a few less strikeouts, as his miniscule 1.74 BB/9 rate would be around the 95th percentile in the Majors (assuming he could maintain it, which is probably a stretch). It's possible he should actually try to work out of the zone a bit more and risk a few walks, to keep hitters from making as much contact, but the results seem to indicate he's doing just fine.
On top of his performance for the year, take a look at his Game Log from the same Fangraphs page.
He hasn't allowed more than two earned runs in five straight starts (and a relief appearance), and over that 34.2 inning span he has a K:BB ratio of 29:4, which is just obscene. You can also note that his K/9 rate over that span is 7.5.
So yes, it may be too early for Alvarez, and there may not be any pressing need to call him up, but why not? If the team wants to get a longer look and let him see how his stuff holds up against Major League talent (before the talent pool is contaminated by September call-ups), I can't really argue. He's only at 96.1 innings on the year, and in the past two seasons he's thrown 112.1 and 124.1. You would think the team would want to push him into the 140-150 range (to have him ready for a near full-season workload in 2012), which would mean he could stick with the team through the end of the season (42 innings at six innings per start would be seven starts, or 48 innings would be eight starts, which fits nicely with the team's 48 remaining games).
To add some further analysis, I took a look around the internet and found some interesting quotes, as shown below. Check back later in the week for a look at other potential August/September call-ups for the Jays.
-
From Keith Law at ESPN.com
On the Future's Game:
Henderson Alvarez (Toronto) was 93-97 mph with a fringy curveball that had good two-plane break but lacked tight rotation; he didn't show the plus changeup but located the fastball well. There's some effort there, but he loads his hips to the point where the hitter can see the Z in "Alvarez" and he also generates tremendous torque to get his arm accelerated. I don't know why he doesn't miss more bats, but plus fastball/plus changeup/fringy curveball is still a mid-rotation or better starter in the long term.
In his updated Top-50 Prospects:
#39 - Analysis: Alvarez has No. 1 starter stuff, but as with Casey Kelly, the results don't quite line up with the scouting report. He's hit 100 mph as a starter and already has a plus changeup, but there's effort in that delivery, and he has to show he can miss more bats.Preseason Ranking: NR
From a recent chat:
Randy (Brown)
Wow… Farrel saying today that after skipping Villanueva's next start that either Perez or Henderson Alvarez will get the call up for the start, way to soon right?
Klaw
I'm not getting the drive to promote Alvarez. Like him a lot as a prospect but he's not missing a ton of bats.
Via Baseball America, from New Hampshire Pitching Coach Pete Walker
"He has a 98 mph fastball with depth," Walker said. "It's pretty fun to watch. Standing behind him in the bullpen watching his stuff, you know it's special."
The biggest thing Walker is working with Alvarez on is his breaking ball. Alvarez throws both a curveball and a slider, but neither is an especially good pitch for him yet.
"They're both works in progress," Walker said. "Once he really refines his breaking ball he'll be ready to pitch in the majors and have a lot of success."
From BlueBird Banter:
I know Alvarez has been lighting up the radar gun this year in the minors, but I am honestly unsure of the massive rush all of a sudden to get this guy to the big leagues. Keith Law in his recent chat indicated that while he liked Alvarez as a prospect but that he isn't missing a lot of bats at the moment. To me it seems like when the reports came out that this guy hit 100 on the gun that all of sudden everyone wanted him to move up. While I am excited as the next guy to see another prospect I have to wonder if this the right step in his development (Then again who the heck am I to judge).
Hat tip to DJF for the Baseball America and Keith Law chat links. And for the term 'hat tip,' I think.