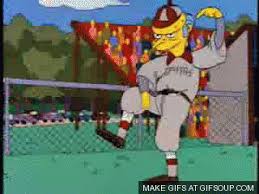 Update: At Tao of Stieb, Tao and Chris Jones have a great discussion on the topic worth giving a read.
So, according to this ridiculous "investigative" article from ESPN, the Jays are well-known sign stealers, and use it to an unfair advantage, and everyone knows it.
Well then. 28-27 at home. Ouch.
The article focuses mainly on the 2010 season (the only year that their data supports their theory, completely ignoring that said stats were normal in 2009 [same coaching staff as 2010] and 2011 [if it was working, why stop?]), and blends anecdotes from anonymous sources with manipulatively described statistics to make it seem an obvious conclusion. Because, uhh…they were so good in 2010. Seriously…their home record was better in 2009 with normalized home run rates, and they've apparently stopped using the system successfully. Get real.

More or less the only reaction you need to read can be found via Drunk Jays Fans, as Stoeten does his usual good job of ripping a hack writer to shreds. The article also contains some great Twitter quotes from J.P. Arencibia, and some really good comments from readers, some of which I'll post below, but seriously, go check out their entire piece.
J.P. Arencibia :"Just read the dumbest article on ESPN about us getting signs? I'm hitting 200 and we get signs at home, that makes sense? #clowns"  and "That's y I love hockey… Say or do something stupid #dropgloves #pro"
DJF Commenter NorthYorkJays: "This is f*****g bullshit. The spot above the pitcher's head is occupied by 2 f*****g closed off black tarp sections. It's not possible for the batter to receive these so-called signs without having to 'even alter his gaze'."
Seriously, this is ridiculous, and it's kind of embarrassing that it's up on ESPN's main page…or even Bleacher Report. I may follow up on this more later and dig around for some stats, but for now DJF is your source, and I would love to read everyone's thoughts on this.
Updated Links
Steal of Home uses some game video to determine the quotes in the ESPN article are from the Chicago White Sox, which Jose Bautista has confirmed.
Getting Blanked breaks down the Anthopoulos press conference as it goes down. A few highlights below, but they're all worth reading…
Dustin Parkes: "After hearing him speak with genuine exasperation over the fact that he's even addressing the media at all, I feel quite differently. His words and attitude toward delivering those words drained whatever legitimacy that the article clinged to, defended the organization well, and made me think that the press conference was more about honour than optics."
AA notes:
No general manager has ever suggested anything to Alex Anthopoulos.
Every game is broadcast. Go through the broadcasts and look for a man in a white shirt.
I've been in this organization for years, never a phone call, e-mail, text, nothing. We have GM meetings. This would have come up.
And finally, here is Parkes' take, which he knocks out of the park (because he received signals from a man in the outfield, obviously).