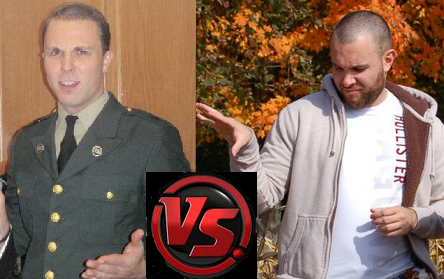 As is becoming semi-regular of late, Trev Smith and I went back and forth on some NBA items via email, and I've tidied it up to pass off as an actual piece of writing! We touch on the Raptors in the face of the Andrea Bargnani injury, how to build the team from here through the draft, the potential future of the D-League, a potential break-up of The Big Three in Boston, and, of course, Kobe and Trev's Lakers.

Blake: So we've committed to another back-and-forth e-mail exchange on all things NBA and laid out a few talking points ahead of time, so hopefully we keep this one in the realm of 7500 words instead of another 15,000-word Masterpiece. I suppose given our status as season ticket holders, we should kick it off with some Raptors talk, as depressing as that may be. (Post-production note: We landed at about 6100. Still too long?)
I'll first open it up for you to expand on your Bargnani Focus Theorem (The Boom-Dizzle Effect, as it were) we discussed at the T-Wolves game, which I liked. When he's on the floor, this is clearly his team now, and it's nice to see him appear to take that ownership seriously. He's been a stud and the team clearly missed him, going 0-6 during his last absence (and losing the game he exited as well). They surprised everyone with back-to-back road victories over the Suns and Jazz in his return this week, including that incredible Double-OT win last night, but alas, he has re-injured his calf. He claimed it is "much worse than last time," which makes me want to trade you all of my remaining Raptors tickets for a 1st round pick in fantasy football next year (Oh wait…got it already. Thanks, CJ1K!).
Trev: Shots Fired…not even one paragraph in and I am taking heat for fantasy missteps. For the sake of this dialogue I will choose to overlook such attacks, but trust that like Kobe and Mike before me I have a long memory when it comes to slights, both real and imagined…
In regards to Mr. Primo Pasta himself, I admit to being at somewhat of a loss. Obviously, as a fan and season-seat holder, his latest injury set-back last night is frustrating, given the impact it will have on the team's ability to score. That said (and I don't like admitting this) it might actually be the means-to-an-end that I would look for in order to take the steps necessary to improve the franchise. With Andrea in the line-up and playing his regular minutes, the Raps are now 6-5. At first glance, that not only seems inaccurate, but it also seems like a positive thing. And it is positive, to the extent that it reinforces everything Coach Casey is preaching; however, it is also dangerous. Even if that winning percentage is discounted slightly to a shade below .500, it might still represent the record of a playoff team across the 66-game schedule. And this team has no business or right to be in the playoffs.
Which brings me to my dilemma as a Raps fan: I don't actually want them to win. No, that does not mean I enjoy 8-game losing streaks either, but in an ideal scenario what we'd see is a team that competes hard, fights on defense every night, believes in its coach, and ultimately loses 80 per cent of it's games due to a 'talent' deficit and not a 'will/heart' one. A win here and there (like the other night against the Suns) would provide positive reinforcement, and convince the younger guys to stay with the "Pound the Rock" mantra, but winning too much is very dangerous right now. This squad needs more assets (and some blind luck) to be anything resemebling a real threat in the East, which means it needs to lose to secure Draft position. If this year results in a Top-3 pick, a decision about whether Demar and/or Ed Davis are really worth being two of your cornerstones, and the ability to bring Jonas over to start next season, I consider it a success. They would then also have cap space to throw around (ideally at Eric Gordon, or more realistically at a better-than-average point guard for once) and could enter next year with a real identity.
Simply put, a healthy Bargs makes us too much of a threat on some nights to finish 10-thru-8 in the East, which has been the trademark of what is wrong with this franchise. In this league, you need to blow things up completely to compete, or you finish 7th every year, never reload, never find a Franchise guy through the draft, and never play a meaningful game in the spring. The Raps have done this their entire history (as did the Leafs, pre-lockout, but that is another story) and I am sick of it. Commit to being awful, get moral victories, and start over, because patch-work roster repair - also known as The Colangelo Special - is not how to win in this league.
And yes, I did see a milk carton the other day with Ed Davis' picture on it. It hurt my heart a little.
Blake: I agree completely with you, and it sucks. It's something that, in theory, the draft lottery is meant to protect against and doesn't, but I do have a solution to propose (gimme a second). For the time being, the Raptors are essentially stuck in NBA purgatory with Andrea playing at an All-Star level, and would be looking at yet another draft pick in the range that got them DeMar and Ed…nice players with potential, absolutely, but left wanting as franchise cornerstones. It's no coincidence that their two biggest assets, Andrea and Jonas, were acquired with top-5 picks. Even with Andrea's warts, or Jonas' uncertainty, these two are far beyond DeMar and Ed in terms of being viable building blocks. The picks you get in the late lottery are generally 6th-man types, players to round out teams on the path to competing (think Tyler Hansbrough and Paul George in Indiana, Jeff Teague in Atlanta, etc).
So what's a team to do if they're trying to install a completely new system, philsophy, and culture, but risk players tuning out the message if there isn't the postitive reinforcement of victory? Dwane Casey is doing a fine job holding players accountable with the dangling carrot of playing time (see: Ed Davis and Amir Johnson of late), but the team also needs those same players playing to develop. This is especially true in a condensed season with less time for practice. I commend the job Casey is doing, but unfortunately have to agree with you that a multi-week injury to Andrea certainly helps the long-term plan here in TO.
So what's the league to do? They may not care, as teams like Toronto float aimlessly in the mid-to-late lottery, unable to acquire high-end talent outside the draft due to (perceived?) market conditions, tend to be of the mid-market variety. But they should, and here's a solution to help the problem just a bit - a structured minor league system. I'm not talking an AHL equivalent or a Triple-A affiliate, but the D-League has succeeded to some degree now, and needs a push to become a legitimate NBA-talent breeding ground. It currently makes far more economic sense to travel to Europe if you don't make an NBA roster, and it's only now that players are genuinely trying to use the D-League as a legitimate jump-off point to guaranteed NBA deals. As it stands currently, the D-League can be your path to a 10-day contract or an end-of-bench role, but what if ALL NBA teams owned and operated a D-League affiliate? I know this is the goal, and can't really be achieved without changes to the draft, player rights ownership, and D-League compensation, but it's a goal that is a win for all parties involved: the Association has another viable basketball property to reach smaller markets, the teams get to develop talent in a system and culture they create and manage, and players have a more clear career path to the NBA without being destitute. Yes, this requires extra rounds in the draft (is anyone arguing?) and more expenditures to deduct from the BRI (uh oh!), but does anyone lose out here? It certainly gives teams a chance to gain a competitive advantage somewhere other than through free-agency or tanking, by competing on development and long-term player scouting/analysis. Thoughts? (Way off topic now, my bad.)
Trev: I like the spirit of your proposal here sir, but would raise an eyebrow at the logistics and structuring of such an arrangement. The primary problem would seem to be that in order for each team to own their own D-League affiliate, you would have to effectively double the size of the league. This would be a rather aggressive move all at once, and I prefer the route that Hornets GM Stern has taken - slowly adding new markets and aligning individual franchises, while pairing some teams together with one affiliate. I think you and the league have the same vision for what the D-League will be in 10 years, but it will not happen overnight, and probably not even without the next CBA (or two) realistically. The major reasons for that are the economics involved. Follow me down that rabbit hole if you will…
As television and broadband make the NBA's product more accessible in more locations, with ever-improving presentation and production values, the incentive to attend games live drops off dramatically. Now, if that is true for NBA franchises, which at least in theory have the best product in the world in their chosen category (that is, Live Basketball), how are you going to successfully sell and structure franchises in small-to-beyond-small teritary markets across the US? While operating costs may not need to be extremely high for these operations, they still exist, and if NBA owners feel they are already being pinched by the pro game, they will be extremely frugal about taking on an operating budget for a minor league team simply in order to get one or two bench players a year to develop. The NBA owners have long wanted to be like their counterparts in the NFL, and the NFL does not have a minor league system. Instead, it relies entirely on the hypocrisy that is NCAA Football as its farm system, where the NFL owners do not need to spend a cent developing players and players' brands into ready-made-stars (i.e. the Colts owe Stanford some kind of gift basket for developing Andrew Luck's star power and gift wrapping the millions in merchandising and ticket sales they are about the inherit without any sunk costs). If the NBA owners want the same model - and all signs say they do, whether it be the age restrictions that are set up to develop the brands of one-and-done freshman stars or the hype March Madness generates for the Draft - then they will be slow to set up a competing development system. That of course makes no mention of the need to redesign NBA arenas to elimate 30% of the seating and improve sightlines for the remaining audience, as well as create added value for in-stadium fans via improved WiFi in the arena, in-seat personal consoles that allow fans to check stats and replays on-demand and at their own control, and other improvements that are needed to make sure fans do not skip the live experience in favor of their massive HD screens at home and League Pass Broadband on their iPads…etc etc etc…I have the feeling this is an entirely different discussion from the one we want to have today though, and should be saved for another time, so ALL THAT SAID, I think you are on the right track, and think the model will resemble what you are saying, but not for another decade or two.
Now, back to the action on the court…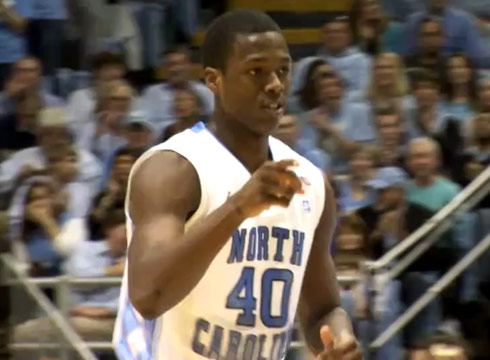 Blake: Fair enough, and I'm sure you're right about the reality of the situation. Maybe I've just read too much Jonah Keri of late and want to grasp at straws for how the Raptors, unable to attract marquee free agents, could possibly win a bit now and a lot later, via some market inefficiency or imagined competitive advantage. The answer, of course, is that they can not, so we'll spend the next three months cheering but letting out a sigh of relief after any narrow defeat.
Last Raptors question - assume a top-5 pick in the draft this year, assume Jonas is coming over, and assume Andrea is still around (not traded or amnestied)…the team lacks a future PG but the draft is bereft of top-tier guard talent, the team has PF depth for days but the draft has a few potential studs, and there's a clear need on the wing…do you draft the best talent available (arguably Anthony Davis), draft for need (a Harrison Barnes, perhaps), or trade down to secure an asset and a glaring need, a PG, and roll the dice with a mid-tier pedigree (possibly even Canadian Mych Kabongo)?
Personally, while I'm generally in favor of taking the best talent available, I think Barnes is the white light for us here. He plays the wing, he has motor, IQ, scoring ability, a feel for the clutch, and some other Bilas-isms. I think his stock is hurt a bit by slow starts in back-to-back seasons, and a deep Tar Heels team that requires him to be a soldier more than a general. I'd love your thoughts on this, just five short months in advance of the draft.
Trev: My ideal scenario would see the team do the following:
1. Before the draft, you aggressively try to trade a package built around the key pieces of Demar and Ed, and include anyone else on the roster you need to besides Jonas, this year's pick, and probaly Andrea. What you are looking for is a legimate starting point guard - obviously you will not get someone on the level of Deron, but if you can find a true point guard for a package of your talent, you do it. That is your new Starting 1, with Jose in the last year of his deal playing the role of backup and still giving you 20 minutes a night.
2. Use the pick on the a wing - Barnes, Michael Kidd-Gilchrist…even Rivers, thought I would absolutely hate having to cheer for him - or a bigger athlete (in Draft terms: "Long and with a motor") who you can convert to a 3 (Perry Jones).
3. Throw the entire Bell/Rogers bank at Eric Gordon as a restricted free-agent. If you miss and can't get him, offer above-market price to OJ Mayo as a consolation prize.
4. Bring Jonas over and insert him in the rotation as your 6th man initially, with Andrea and Amir as your starters. Amir will undoubtedly get into early foul trouble most nights, so even as a 6th man Jonas should get a crack at 28-32 minutes a game as a rookie in that kind of three-big rotation.
5. Look to round out the roster with another big who fits into Casey's mold (Louis Amundson maybe?) and is happy to hit the glass and take only playing 12 minutes a night, and if possible a three-point specialist to replace Barbosa.
That strategy leaves you with rotation of: (New Legitimate Starting PG)/ Stud Free Agent SG / Lottery Pick SF / Andrea / Amir, with Jonas / Jose / Kleiza / Backup FA Shooter
Admittedly, that lineup is really difficult to evaluate with the holes in there right now, so for sake of argument, as a placeholder say it looks like this: Ty Lawson / OJ Mayo / Harrison Barnes / Andrea / Amir ; Jonas / Jose / Kleiza / Jodie Meeks
That team, on paper anyway, is now extremely well positioned, not just to make the Playoffs next year, but to have long-term success given how young much of that roster is. Tell me I'm on to something here…
Blake: You're certainly onto something, but there are a few flaws I can see, so allow me to play Devil's Advocate just a bit.
1) I don't see many PGs like this on the market, unless they're in a Bayless-type situation where they've worn out their welcome somewhere. Lawson and Collison may be the only options of this type, and both come from teams that probably wouldn't be enticed by packages involving depth (more the opposite). I'd cautiously list Devin Harris as a reclamation project possibility (believe he's a UFA) on a short deal, or possibly just try to find a complement to Jose while the search continues in earnest (I've always been a huge Ramon Sessions [UFA] fan). I obviously agree with the need, but am not sure said targets would be available.
2) Absolutely agree. I want Barnes, but MKG is no slouch as a consollation prize.
3) Assuming either would sign an RFA deal with Toronto with the intention of playing here (rather than just driving their price up), I like it. Mayo would follow the cash and a starting role, and I'm a huge fan even if it means overpaying with a 10% Canada Tax. I'd say another option is to wait to see where Gordon goes, as he's rumored to like his hometown Pacers, which could make a George Hill/Danny Granger/Paul George expendable there. There's also the option to keep DeMar and cross our fingers he's better than he's looked so far here.
4) Check.
5) Check, and no shortage of options out there. Amundson, Robin Lopez (buried in Phoenix somehow), Turiaf (UFA I believe), etc, etc…defensive minded combo big-man to round things out.
Even my scenario may be a little rose-colored, but I don't think it's out of the question to have substantial improvement at three positions next year - one of the wing spots through the draft, a PG through trade or free agency (Felton is a UFA, too, yuck), and center via Jonas. Of course, this requires a top-5 pick and un-Colangelo like manuevers, but we can hope.
And hey, who knows what the Atlantic will look like next year, because the Celtics will look 75% different by then, or earlier, or so we're hearing…
Trev: Master of the segue, this guy. Yes, let's address the end of the Second Big Three era in Boston.
At present, the Cs are 7-9, which actually has them still 2nd in the Titanic - er, Atlantic Division, but a lowly 7th overall in the East, which is a far cry from what most of us expected of them, even with the impact the schedule would have on their aging legs. More concerning than just their Win-Loss record though is how they have gone about it: they're at 25th in points per game, 29th in rebounding, and nightly they seem to have more players on the injury report than in uniform. In the first four seasons since the KG trade, Boston has ranked first, second, fifth and second, respectively, in defensive efficiency - right now they still rank highly here, but that is thanks largely to the data being so ridiculously skewed by their last game against Orlando. In the NBA, there is the "Title-window slowly closing" version of getting old, and then there is the "Dorian Gray's portrait" version of aging, and it seems (much to the delight of the Laker lover in me) that Boston is closer to the latter of those two.
Whoever now wears #5 for the Celtics is not KG - at best he is a KG impersonator, who's lack of skills, speed, or hops draw even more unflattering attention to his cartoon-like chirping and woofing. Ray takes such good care of himself that I would be very surprised if his injuries presisted, but then again he is 36, and to expect him to bounce back as he might have five years ago is a false hope. Pierce has been improving of late, but through 13 games he is still having the worst statsical year of his Hall-of-Fame career. If the idea for this year is to win a title, obviously you say there is no way you can do it with this roster and you look to retool. But if you step back and assess the value of the assets the Celtics actually have, you quickly find that to break up this team mid-season instead of just letting them slowly diminish and waste away before us as a 8th seed would be a foolish and short-sighted decision.
For instance, look at the market for Garnett. That's right, there is none. AT ALL. Even if Ainge wanted to move him (and even knowing how impatient Danny can be I doubt he'd be so unloyal given what KG did to reinvent the entire franchise) there are no takers for his $21 million salary. That means you are stuck with him until season's end. If you wanted to move Allen, that might be possible if the right contender became interested, but if the reaction to trading a role player like Perk last spring is any indication, trading one of the Big Three without shipping them all out together would almost definitely result in a mutiny and a several homicides at the hands of Garnett. Given the lack of buyers out there, it would seem much more likely that Ainge will wait until season's end, quietly let KG and Ray walk (PLEASE let Ray end up in Chicago) and at that point assess whether or not he can get value for Pierce while using the cap space created from Garnett's departure to try and bring in pieces to put around Rondo (and no, I don't think that means Dwight).
I have trust that Ainge is smart enough to retool and avoid the dark ages the franchise saw after the end of the Bird era, but without buyers interested in any of your core components, it is impossible to rebuild your roster on the fly. Better to gain the cap space this summer and move forward with Rondo, and maybe Pierce, and allow this season to play out as a Last Call for this era; if nothing else, watching the team struggle to make the playoffs at all will wash away any false notions of future or current title hopes for this roster that its fans might still harbour.
Blake: Agree with most of what you said, and really C's fans have no right to complain since they won a title. Even if this team fell off a cliff after this year, you take a title surrounded by mediocrity over years of also-ran status every time. As it is, the C's probably won one less title than should have been expected, and the Big Three maybe just came together a year too late to really capitilize. But a title's a title, and flags fly forever.
I think more than outrage or mutiny, the biggest concern for an in-season re-tooling for the Celtics is that, as you said, there's no market for Garnett. On top of which, if Ainge were to shop KG, Ray, and Pierce, they'd ostensibly be looking for young controllable assets with upside in return, a class of player that contending teams don't generally have in spades. That is, the teams interested in the services of the Big Three are not the teams with the assets to appease the Celtics; in that sense, they're better off hitting the reset button with a nearly clean cap in the offseason and rebuilding around Rondo/Pierce (or dealing Rondo too and creating a completely new identity).
One other note is that even in their current incarnation, the Celtics are a troublesome team in a playoff series. Yes, they're old and thin, but veteran defensive-minded teams are tough outs in the playoffs, and they certainly wouldn't be a first round push-over. They're not a title contender, but it's possible the cap space, showing loyalty, and two rounds of playoff revenue are enough incentive to keep the core together through June.
And Ray Allen may have some say here as Danny Ainge's future successor.
We're already getting a bit long in the tooth, so let me give you the option here for our last talking point: you're free to vent about your Lakers, Kobe's shot selection, Pau's complaining, and Jay Caspian Kang's disappointing Kobe piece, or we can scratch our heads at how Mike D'Antoni has somehow put together a team that plays a brand of basketball right around the level of Sacramento and Washington (trainwreck viewing value aside) in terms of excitement.
Trev: …is there even a question which of these I want to dedicate my attention to? In the spirit of fairness - knowing I will probably go on about 8-9 paragraphs too long as soon as I start talking Lakers - I will let you address the issues in Hollywoodland first.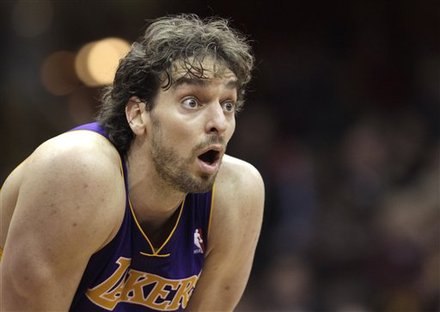 Blake: Perhaps I thought maybe you had vented to someone else in some forum and would opt for the Empire State theme. My mistake, I should have known better. Alright well allow me mostly to play Chris Paul to your Blake Griffin and send a few lobs out there…
1) Kobe Bryant's current usage rate is a career high 35.9% (meaning 36% of Laker possessions end in a Bryant shot or turnover). Is this the cause of the Lakers relative offensive inefficiency (14th in the NBA), or a symptom of the rest of the team just being devoid of offense? Gasol is, of course, a valuable offensive talent, and Bynum has looked in career-best form, but outside of the Big One and Medium Two, there have been negligible contributions from the Barneses and World Peaces, let alone the Goudelocks and Ebankses.
2) Pau is crying about the location of his touches, requesting more offense run through him in the low post rather than at the pinch point or the elbow. Is this a fair request, or is it on Pau to initiate more offense for himself? He's always been relatively passive in demanding his, but his usage rate is down to a career low 18.7%.
3) For all the criticisms of Mike Brown in Cleveland, he got sterling defensive results out of a pretty rag-tag crew. He has the Lakers at 7th in defensive efficiency, but they were 6th in each of the past two years. Is this stagnation a clue that Brown was overrated as a defensive coach, a further sign of the Lakers' eroding athleticism, or merely too small a sample to determine (keeping in mind that 19 games is 29% of the Lakers' 2011-12 schedule)?
Trev: My hestitation in addressing any Knick related questions is based on two factors - factor the first, that I deeply want this team to succeed and want to root for them in the playoffs, therefore my ability to accept their mediocrity and address it rationally is weighed down by my own self-denial about their struggles (i.e. I would say something like "Yes, they are 4 or 5 games under .500 overall dating back to last season since the Melo trade, but that is still a very small sample size of games in the overall picture of things!"); factor the second, which is probably shaded by the point I just addressed, is that I really do believe that Baron is going to make a huge difference for them on offense when he comes back and that he is heading towards one of the great reclamation seasons on record. So let's come back to them in March when they are still flawed and failing and address it then, yes?
As for your Laker points:
1) I am the world biggest Kobe apologist, so I am obviously not going to pick Option 1, but I will admit that it has some merit, but I think it's overstated. My truthful opinion is that the loss of the Triangle is to blame for that, seconded by the overall lack of offensive talent for most of the roster, which is even further driven by the lack of offensive schemes from the coaching staff (think back to 1-4 High with LeBron and the Cavs…), and then finally you arrive at the idea that Bean is shooting too much and screwing up their offensive flow. My real problem with saying it is all on Kobe and his high usage rate is based on a few things: that his assist total is still above his career average; that his PER is still the highest it has ever been in his career, such that even if he is forcing things he is mostly doing so successfully (PER historically has loved players like LeBron, CP3, and Manu who 'move the ball around' and are unselfish, and not Kobe, who is a ball-stopper); and finally, because of the reality that almost no one else on the roster is used to or able to create their own shot outside of Pau. The Triangle covered that last fact up for the better part of a decade - it's motion and movement created shots for Fish and a whole host of others who do not have the ability to create their own shot. Now, without it, you are seeing that they have two bigs who need to be fed the ball in the mid-to-low block to be effective at all, meaning they are almost never responsible for creating their own shot. They then have a Point who has never been able to create his own offense, and that was even when he was young and effective (there is a reason he went to Sloan in Utah when he left LA years back - he is a great defender but he is only a system guy on offense). And then they have a bunch of guys who have no idea what to do outside of trusting the Triangle, so they just stand around and there is very little movement, leaving Kobe to do the heavy lifting, which he is more than happy to obilge with since he is a born scorer and probably wishes he could shoot even more than he does and get away with it. In a sick way it's not unlike the Raps situation: you have Bargs, who commands a double team, and then maybe one or two other guys that can create for themselves, so when that star is out, you often times have three of your five guys on the floor who the defense doesn't even need to check. In case you aren't sure, that is a very bad/sad/dangerous thing.
2) You want the ball? You address Kobe and Coach Brown directly, not through the media. Pau admitted at the end of the interview where he was whining about his touches that he has never brought this up to Kobe or the coaching staff. I am not a genius, but something tells me you are probably better served asking those people directly than passive aggressively going to the media first. That said, does he have a point? Maybe. But Pau hasn't been "Pau" for some time now - it is not a new thing, but instead dates back to about the All-Star break last year. I am sure the trade-that-never-was this December did not help that relationship, and he has been a professional up to the point you can't compare him to Lamar and say he is an emotional child, but I would say that if Pau wants to eat he needs to go get his own food - meaning, STOP shooting threes (he has taken more already this year than all of last season), STOP letting yourself get pushed out to 19 feet on your initial post-ups, and STOP being willing to disappear for entire quarters (as he did against Lob City in the third after a brilliant first half). Pau is a very special talent, and there are two banners in STAPLES that are there because of him…but he is also a bit of a coward, and wishes that his brilliance and intellect and complexity was appreciated more by everyone. I would much rather be friends with Pau Gasol than Kobe Bryant based on their personalities and interests, but I would rather follow Kobe into battle - Pau I would follow to the opera, or a museum maybe.
3) I think Brown's defensive schemes are going to prove themselves in the spring, and that he was a good hire for what was available and what ailed the Lakers in general last season (heart and defense), but he is still deeply flawed in many ways. The good news is that it makes him no different than every coach not named Popovich, so it doesn't hurt the Lakers as much as you might think. I believe that getting this group to play defense the same way as they did last season is a success in itself given that they are another year older and only have Bynum as an elite athlete on that side of the ball, and even then his awkwardness still scares me. The test is not going to be the regular season, but in the spring when the game slows down even further - will they improve then. We will see…
Finally, last night it struck me that there is a great passage from Julius Casear that describes Kobe's worldview right now in this, his "Man on Fire" season. He is cold, calculated, and wants his throne back - first the title of "Best Player Alive" (as opposed to the title "Seventh Best According to ESPN") then of Champion, but I do think it goes in that order sadly. Anyways, I wanted to share it because it will make me sound literate and well-read, and is as close to an admission that he is working too hard as you will ever get from me: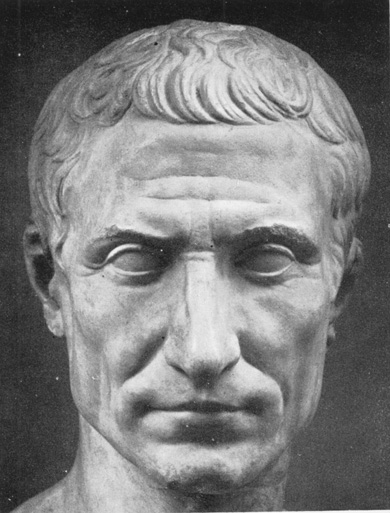 CAESAR Let me have men about me that are fat;
Sleek-headed men and such as sleep o' nights:
Yond Cassius has a lean and hungry look;
He thinks too much: such men are dangerous.
ANTONY Fear him not, Caesar; he's not dangerous;
He is a noble Roman and well given.
CAESAR Would he were fatter! But I fear him not:
Yet if my name were liable to fear,
I do not know the man I should avoid
So soon as that spare Cassius. He reads much;
He is a great observer and he looks
Quite through the deeds of men: he loves no plays,
As thou dost, Antony; he hears no music;
Seldom he smiles, and smiles in such a sort
As if he mock'd himself and scorn'd his spirit
That could be moved to smile at any thing.
Such men as he be never at heart's ease
Whiles they behold a greater than themselves,
And therefore are they very dangerous.
Blake: Wow, Caesar, eh? I'm absolutely stunned that the State of the Mamba quote came from Shakespeare instead of Hova or Bruce Wayne, but I guess we've all got to grow. Uhh, except Kobe, although I suppose you could suggest his reversion to his pre-Pau ways is still growth, given the efficiency gains you mentioned, his experience, etc. And again, I asked those questions earlier mostly as a volley for you (Kevin Love, what up), and my actual feelings fall somewhere between your points and the Kobe vitriol on point 1. I agree completely with the Pau analysis, and I kind of suggested you'd head that way when I referenced his usage numbers, and we all know his self-imposed limitations as an aggressor. As for Mike Brown, I think I'm mostly just still shocked Brian Shaw wasn't given a shot, although he must be in Kobe's bad books somehow to get skipped over.
As an aside, I just finished Shaq Uncut, which was awful. I'm not sure the point of biographies if they're not going to be written from a sincere and honest point of view, and it's why I think biographies tend to read better when players further from retirement write them, as they can gain some post-career perspective. Regardless of Shaq's shortcomings as a "writer" and as someone coming to terms with the realities of his past, he did detail at length how valuable B-Shaw was to the team's chemistry in the Kobe/Shaq days. Taking Shaq's word certainly didn't make my opinion of Shaw any higher, but it did reinforce that he seemed a legitimate candidate from people with inside knowledge, and not just to the armchair-GMs and analysts.
Anyway, moving on from the Lakeshow, I guess we should start to wrap this up so let me fire you three quick-answer questions, I'll respond in parentheses, and we'll call it a day. Fair?
1) Let's just wade into it a bit - Amare and Melo: offensively incompatible, or just figuring it out still? (I say incompatible - between Melo's inability to compromise his Iso touches and Amare's deteriorating athleticism, they're upside is their current form +10-15%.)
2) Blake for Dwight: Chris Broussard wet-dream only, or legitimate option for both sides? (Sure, the Magic would love it, but I can't see how the Clippers could justify moving the man who single-handedly brought them back to relevance. His name should forever be a non-starter in trade talks.)
3) Ricky Rubio is shooting 37.3% from the floor even with a hot start, and as expected this is his biggest weakness: kiss of death on the road to superstardom, or merely leaving himself an area to improve upon his 17.36 PER for future seasons? (Obviously an eventual stud, and my hope is that an offseason with NBA shooting coaches can help him re-create his stroke, which his awkward. Still, a 17.36 PER when you're shooting sub-40 is ridiculous.)
Trev: 1) Figuring it out and waiting for a creator (I am looking at you Baron, otherwise Steve is heading over this summer) that can get them both looks in position to be effective.
2) Broussard blowing smoke - I doubt they would move Blake given what he has meant to their rebranding; I see their commitment to Jordan this summer - who happens to be Blake's best friend in the league - as a sign that their love for Dunkbot 5000 knows no bounds.
3) He will improve. He will never be the natural shooter Nash is, but he is every bit the playmaker it seems, and is a better rebounder. I expect him to turn into something very special in about two years.
And as a postscript, I would remind you that my mother saw to it that I was reading Shakespeare at almost the same age as I was Batman, so a quote from the Bard shouldn't throw you too much. When I start dropping quotes from Voltaire, then you should be concerned. But I figured since you did ask that it was worth ending on my absolutely favorite "quote" from Bruce Wayne (can a fictional character actually be sourced for a quote?) that happens to perfectly sum up Kobe's mindset this year:
Wayne: They told me there was nothing out there, nothing to fear. But the night my parents were murdered I caught a glimpse of something. I've looked for it ever since. I went around the world, searched in all the shadows. And there is something out there in the darkness, something terrifying, something that will not stop until it gets revenge… Me.