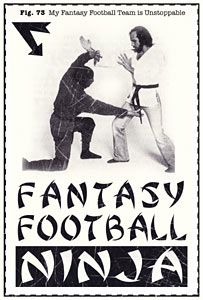 What follows is not much of an article so much as it is a post for the purpose of public record. At the risk of posting my position rankings for my opponents to see, I want my pre-season (as well as, later, my weekly) ranks on the record. My hope by the end of the season is to have caught on with a Fantasy Football site to supplement my Full Spectrum and Raptors Republic writing homes, and it's my hope that a strong track record here could lend a hand. Eventually, I'm hoping Fantasy Pros come out with a way for civilians to compare their own rankings to those of 'experts,' or that I catch on with an affiliated site so I can see how my rankings stack up.
With that long-winded introduction out of the way, the ranks by position are after the jump. Since I'm posting this on September 7th, which is a bit of a cheat given that most people have drafted by now, I also listed my original ranking when I first prepared for my drafts back in late July. In some cases, injuries, trades, or changing roles have effected the rankings, while in other cases it was preseason performances or just a general change in opinion. I always find that pre-draft rankings are not necessarily indicative of my actual opinion, as when it comes time to click the "Draft" button, you really find out who you prefer.
Finally, I'll note that because these are positional rankings, the scoring of the league doesn't matter too much, except for PPR formats. I assume PPR for my rankings, because I'm staunchly against non-PPR leagues.
Anyway, without any more ado…enjoy, and please, be nice. I would love to hear where my opinions differ from others, and I can hopefully try to back up the 'why' behind the rankings in question. You can click each chart to enlarge them.