This article has been submitted by Trevor Smith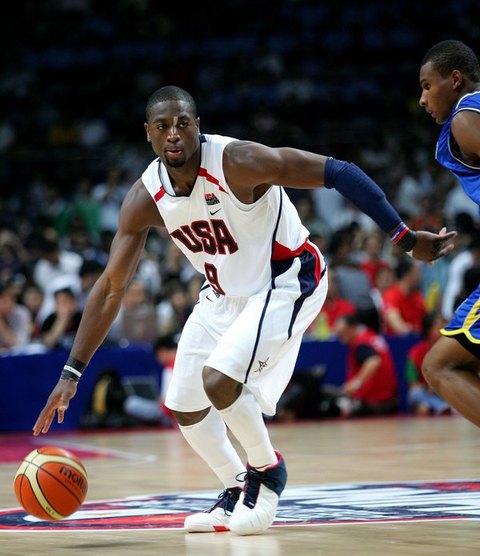 TSmith here, way too early to mention, with live coverage of USA-Greece. This will be the first true test for the Redeem Team. So far, the Americans look terrific, but not unbeatable. They have gone 13-0 in international play since they lost to these same Greeks in the World Championship Semis back in 2006. In that game, Greece ran nearly 800 pick-and-roll plays and Team USA has had its sights focused on this game this the Olympic schedule was first announced.
It's the first test for Dream Team II. Can they exact revenge? Can they stay perfect? Will anyone else be awake to read this? Follow along with the ODC's live coverage to find out.
8:04am
1:25 into the game and JKidd has 3 fouls. Surely he is done for the first half…and my coffee hasn't even finished brewing.
8:05am
Kobe is called for perhaps the strangest intentional foul I've seen all tournament. Mamba/The Doberman cannot be happy
8:06am
Great movement for Greece without the ball, leading to a nice find and an easy dunk. 6-4 for the fathers of civilization
8:08am
Chris Paul drains a wide-open three after some fantastic ball rotation. TSN informs me that the shot is "All Wet!!!" Sure, that is a real slang basketball expression. But somehow that seems amazingly dirty. Just because kids at the Y say it doesn't mean you should.
8:10am
Our first CB4 sighting, coming in at 5:04 to go in the first. Canadian Content laws are pleased.
8:11am
"Hey guys, this isn't China. This is real basketball team," Jay tells us. Ouch. Jay Triano ladies and gentleman: stern, stern but fair.
8:12am
GOOD LORD! Greece just checked in someone named Sofoklis Schortsanitis that weighs 400 pounds. "He might break someone. That's a whole lotta love," Triano says. Indeed sir. This dude looks like Shaq…if he ate Charles Barkley.
8:13am
We are told that Greece sent this mountain of a human being to a Swiss Fat Farm before the Games to get into better shape. Apparently they could not afford a very effective one.
8:15am
USA locks in defensively, leading to a deflection and an easy dunk for Kobe on the fast-break. 15-13, USA.
8:16am
Chris Bosh just drew a charge from The Abomination, er, Schortsanitis. Good lord Chris, take it easy. He almost put you through the damn wall bud.
8:19am
Fall down seven times (stand up eight?) for DWade as Melo rifles a pass out of bounds underneath.
8:20am
CP3's outside jumper justtt misses long at the buzzer, leaving us with a score of 20-16 USA at the quarter break.
8:22am
Unbelievable play from Wade to get the interception, diving save, then alley-op to Bryant. Perhaps the play of the tournament for the USA. Paul tells us that was a "dunkadilic segment for the USA!!! HAHAHA (maniacal laughter for several seconds)…and Triano is walking away." This is why Canadian basketball broadcast are so truly awful.
8:25am
Nikolaos Zisis shows great concentration to hit a long jumper after being fouled by Chris Paul. He converts the foul shot to cut the US lead to 5. Meanwhile, because of FIBA basketball moving so quickly and there being zero commercials, I still haven't been able to get up to get my coffee. If there isn't a break soon, we might have an issue
8:28am
LeBron reminds everyone that he a freight-train on the break, knifing his way into the lane through three Greek defenders to draw the foul. He subsequently misses both free-throws.
8:30am
Kobe returns the favour from earlier with a gorgeous no-look pass to Wade as he cuts through to the basket.
8:31am
Theodoros Papaloukas makes a "nifty lay-in" we are told. Nothing in this game should ever be called nifty, Paul. Nothing.
8:32am
DWade comes right back and drains a spot-up three. It kills me to admit it, but Flash has been USA's best player by far to this point in the tournament. I might just cry.
8:34am
The Americans turn the ball over for the eighth time, but no matter: King James just crushed a put-back off of a Carmelo miss on the fast break, putting the Americans up 38-28 as Greece calls time.
8:37am
Bosh draws contact but still gets it up and off the board for the three-point way. As a Raps fan, that was mighty encouraging.
8:38am
LeBron is not amused by you mere mortals, you bore him. Bring him your finest meat and cheeses or leave his chamber! (Translation: Incredible reverse on the fast-break)
8:40am
During the timeout, Paul calls LeBron a specimen three separate times. Easy there big fella, settle down. Meanwhile the States are up 46-30.
8:41am
Bosh with yet-another and-one. Great focus, great finish. Now if he would just cut that damn hair it would be perfect (that and stop looking like the Raps' mascot, but now I'm nitpicking)
8:42am
"This is for 3…but it doesn't splash". Ugh.
8:43am
With 38 seconds to go in the half, I am reminded that JKidd played just over a minute before he hit the bench…and all for the better it seems. Worth noting.
8:44am
Bosh blocks Spanoulis' jumper at the buzzer. At half, its 51-32 for the Redeem Team, and I'm now finally going to get my breakfast. I leave you in the capable (?) hands of the TSN crew for a moment.
8:59am
We are back for the second half, and Triano leads in with a whale of a fact: Kidd has played 39 minutes so far in this tournament and has not scored or even taken a shot. Just the kind of play you want from your starting Point and Captain.
9:02am
Kobe gets some extra style points on a driving and-one. Mamba, there aren't judges in this Olympic event, you can just stick to the basics pal.
9:03am
Greece has two early threes in the third. "They've got to hot up from three," Paul says. Really? Hot up? 
9:05am
Paul has already said "All Wet!" twice in the third quarter alone. That sort of nonsense shall not pass sir.
9:06am
Papaloukas schools Kidd on the baseline but it leads to a shot-clock violation. It is not Greece's day, to be sure.
9:07am
Airball from Spanoulis, leading to Kidd trying to go off the board on the fast break to King James, which sadly did not work. "He was coming down like a gazelle, a great big gazelle". Kill me now.
9:11am
LeBron looks like an older brother right now, swatting every Greek shot in sight. He is a man amongst boys…you know, just like he is in the NBA.
9:12am
Schortsanitis hits the deck and "I'm not sure how much punishment the floor can take". Apparently 400 pounds worth. Good to know.
9:14am
Bourousis undresses Bosh and Carmelo on the way to the hoop. Well done.
9:15am
I just realized I haven't put a "More after the Jump!" link in yet, so the front-page of the ODC currently is showing nothing but this Live Blog. I would like to pretend I did this on purpose for exposure, but in reality I am just an idiot. But you all already knew that much.
9:20am
As the fourth begins, Team USA has a 76-54 lead. So much for this being an early challenge for the Redeem Team. Maybe Spain will provide a tougher challenge. Probably not though.
9:24am
Triano points out how the US players are getting the international game and adapting to the FIBA rules (including being able to take the ball off the rim without goaltending). An excellent point here; the Americans are truly embracing the international play (as opposed to in Athens)
9:28am
"Kudos to the coaching staff, and yourself" Paul says. I had almost forgotten Triano's involvement with the USA Select team. That's Triano…a Canadian. The guy that isn't coaching Team Canada because he got replaced by a broadcaster with zero coaching experience. Basketball Canada: FEEL THE EXCITEMENT! FEEL THE CRAPPINESS!
9:32am
Hey Kids! I just found the "More…" tag. You are all welcome! Thank you, thank you. By the way, the fact that I am more concerned with writing about that is not a good sign for Greece. This game got out of hand in a hurry. Greece may still get out of the pool if they can take down China this weekend, though. 
9:35am
22 point lead for the US, but a great take by Bourousis. Me thinks they needed King Leonidas to take down the invading Americans. Though even the bold 300 weren't as jacked as D12.
9:37am
Does Melo know that this sort of over-dribbling and one-on-three play will cost them the game against Spain? Or should I stop snitchin'?
9:39am
My mother tells me that 'Mad Men' is influencing fashion now. I suppose this is more relevant than Michael Redd's appearance. 
9:41am
"And it is over". 92-69. Yikes. 
9:42am
That Accuvue commercial where the guy is freaking out about touch football just came on. I have to say, if you are wearing personalized Chargers jerseys to a touch football league in the public park on Sunday mornings, and you are flipping out on your four-eyed buddy for dropping a pass, you have issues.
Then again, if you let a commercial like that bother you enough to write about it, you too have issues. Dammit.
9:42am
More GENO!!! YES!!!
9:43am
Okay kids, you've been great. Tip your waitresses and try the veal. As Russ Amber pushes me off the stage, allow me to go out on a limb and say that NO ONE is touching the Americans in basketball. The Redeem Team? Check. The Real Dream Team II? Yep. Gold Medal? That too.
Take care of yourselves…and each other. Good night and good luck.
8 Responses to "Live-Blogging USA-Greece"
Leave a Reply