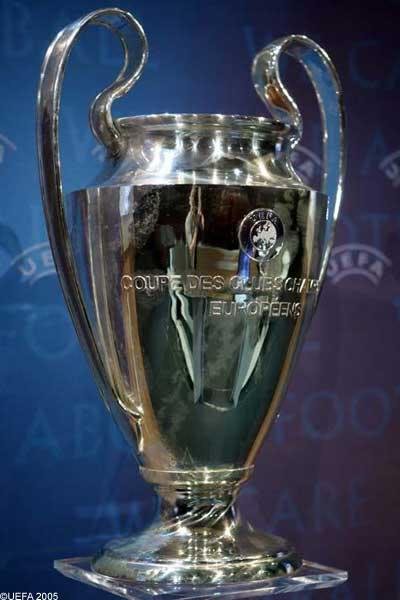 This articled has been submitted by the debuting Mostafa "Mo Cash" El Beheiry.
It's been awhile since the ODC was graced with an update on Europe's premier club competition, the UEFA Champions League, which is now in its semi-final stages. Four teams have emerged from the last two knockout rounds, some gracefully and some with a bit of luck as they try to prove their claim as Europe's best soccer club. In the quarter-finals, the English Premier League's Liverpool FC dispatched league rival Arsenal FC (with a little help from the officials) and meet fellow English club Chelsea FC in the semis, who shakily eliminated Turkish underdogs Fenerbaçhe SK. England has one more semi-final representative in Manchester United who breezed past Italy's injury plagued AS Roma and go on to face the Catalan giants of FC Barcelona, who were shown too much respect from zee Germans, FC Schalke 04 (founded in 1904 by German school boyz). The first legs of these semi-final matches were played out earlier this week, and here's what happened.

Liverpool FC (Kuyt 43') v. Chelsea FC (Riise o.g. 94'), 1-1
Yes, you read that right, the Blues tied it up in the 4th minute of 4 minutes of injury time (it was more like 4 minutes and 30 seconds, to the outrage of Liverpool and its fans) off a horrible own goal by substitute John Arne Riise, who chose to use his head to clear a cross that was at his feet (his and Chelsea midfielder Frank Lampard's reactions are shown in the photo). Unfortunately for soccer fans, that was probably the only exciting moment of the entire game between these two top-4 Premier League clubs as the tactical battle (read: snoozefest) between two defensive minded managers was played out at Anfield, Liverpool's home turf. The 4-5-1 formations favored by both Liverpool's Rafael Benitez and Chelsea's Avram Grant was proof enough that the majority of the action would be occurring at the center third of the pitch with five midfielders a side.
The Reds were more assertive in midfield for most of the game and were rewarded with the opening goal from Dirk Kuyt as he capitalized on a Michael Ballack miscue. The go ahead goal signaled a huge slow down in play as Liverpool became determined to hold onto their one goal lead. Liverpool's Fernando Torres, "El Nino," was quiet by his standards, but still tested the scrum-cap wearing keeper, Petr Cech, with two quality shots on goal. However his counter-part, Chelsea striker Didier Drogba, seemed more interested in making the Ivory Coast's Olympic diving team with no shots on a goal in 94 minutes of play. Seriously, for a guy that's 6'2" and 200lbs his reputation as a diver just boggles the mind because he can easily out muscle any defender and probably loses more scoring chances than he creates with his theatrics.
Looking ahead to next week's 2nd leg at Stamford Bridge (home of Chelsea FC), Chelsea go in as the favorites (in a draw on aggregate, away goals decides who advances) coupled with their disgustingly dutty 81 game home unbeaten streak. Chelsea will likely be looking to hold Liverpool scoreless, so a defense first approach will dictate their play and with John Terry, Ricardo Carvalho and Ashley Cole making up three of the back four and one of the world's best holding midfielders in Claude Makele, they are experts in defensive soccer.
Liverpool will of course be looking to score, and the only way they will is if Steven Gerrard, whose form has been mediocre lately, steps up his game and delivers quality balls to Torres, who is a proven finisher (if you find that statement homoerotic, you're probably really, really gay). With the speed of Ryan Babel and the workhorse effort of Dirk Kuyt, who both play on either side of Gerrard and were successful in attacking the Blues' defense in the 1st leg, Liverpool should be able to crack the defensive wall that Chelsea will present to them. There is also the possibility that Liverpool could play the tall, lanky, awkward looking Peter Crouch up front with Torres in an attempt to find that important away goal. Despite his extended use as a bench warmer this season, Crouch did score a beauty goal against Arsenal recently and his height will definitely be an advantage for heading home crosses coming into the box.
That being said, the Reds won't be the team to break Chelsea's unbeaten streak at Stamford Bridge because a goal for the Blues will come, likely from Drogba who, despite his lack of useful production in the first leg, still caused problems for Liverpool's center back Jamie Carragher. Chelsea will also need their midfielders to show up, especially Frank Lampard, whose mother recently passed away, something which he will no doubt use as inspiration should he choose to play (he's sitting out of an all important league clash against Man U this weekend that could decide the Premier League title). I'm calling a 1-1 draw in regulation with a snoozer in extra-time followed by Chelsea advancing on penalties thanks in large part to their home crowd.
FC Barcelona v. Manchester United, 0-0
Christiano Ronaldo (leading scorer in EPL with 28 goals in 31 appearances, leading scorer in Champions League with 7 goals in 8 games), Wayne Rooney (52 goals in 127 games for Man United), Carlos Tevez (4 goals in 9 Champions League appearances), Samuel Eto'o (14 goals in 15 league games this season), Thierry Henry (181 goals in 279 appearances since 1999), Lionel Messi (6 goals in 7 Champions League games this season, #2 leading scorer); these are the names of some of the most dangerous established and rising soccer stars in Europe and the first three play for Man United and the others are fielded by Barça. The last two meetings of these two giants saw 12 goals between them, yet in this game the only real legitimate opportunity for a goal came from a penalty shot given in the 2nd minute of the game on a hand ball from Barcelona defender Gabriel Milito. Christiano Ronaldo, with 38 goals in all competitions this season, stepped up to take the spot kick and as announcer Tim White said "You'd bet your mortgage" that he'd drain the shot. He didn't, and so begun Barça's domination of ball possession (65%) with no end product off of an unheard of 16 total shots.
The match stats tell you that Barcelona ran show on Man United, but really, it was only because the Red Devils let them. I know that sounds whack, but Man United manager, Sir Alex Ferguson, knows how to tactically approach away games in European competitions. It's hotly debated whether Ferguson intended to do this or if his players just didn't show up, but I'm willing to give him the benefit of the doubt. Any idiot and his blind grandmother know that Barcelona are an offensive team that like to play a passing game, so Ferguson and his players were happy to let them play kick around in the attacking third while they clinically shut down the passing lanes into their 18 yard box. Barça entered the penalty box through some neat give and goes only a few times during the game but when they did, Man U's stellar (though makeshift) back four of Owen Hargreaves, Wes Brown, Rio Ferdinand and Patrice Evra were there to eliminate any attacking options. Furthermore and more tellingly of his tactics, Ferguson played one of his most dangerous offensive weapons in Wayne Rooney in a defensive role, playing ahead of right-back and Canadian deserter Owen Hargreaves (who was himself playing out of position due to an injury to United center-back Nemanja Vidic) as well as putting the same onus on the Daisy Mart's favorite son, Park Ji-Sung on the left side of the field. With these buffers, Man U presented a wall that Barça could not get through.
Looking ahead to next week's 2nd leg and deciding match, Man United are slim favorites and, to use a suiting cliché, in control of their own destiny. Barça will only need a score draw to advance on away goals, so they'll be confident in knowing that they don't need to come out of Old Trafford (Man U's home pitch) with a win to advance. Man U's monstrous central defender, Serbian Nemanja Vidic, had a tummy ache this week and so his physical presence was missed, which may have influenced Ferguson's defensive approach at the Camp Nou (Barcelona's field). He should be back next week to bolster Man U's defense which will, like this week, be under a lot of pressure from the attacking force that is Henry, Eto'o, Messi and Deco (Note: The ugly one, Ronaldinho, is out for the season, apparently for partying too hard and not showing up for practice. "We talkin bout practice, not a game, practice!" he was quoted as saying). Messi returned to the starting XI this week after being out with a hamstring injury and looked very threatening so expect him to have a big game next week as he returns to match fitness. Barça will also see the return of their defensive inspiration in center-back Carles Puyol who will attempt to counter Man U's attacking combo of Tevez, Ronaldo and Rooney, who will no doubt up their game at Old Trafford. Additionally, I'd expect Ferguson to start the Brazilian youngster Anderson ahead of veteran Paul Scholes to try and generate more offense.
All that being said, if you're going to watch any semi-final game next week, watch this one because there will be goals. More will come from Man United as I don't see Barça's defense being able to contain Man U's top three. 3-1 Manchester United, chalk it up.
This articled has been submitted by the debuting Mostafa "Mo Cash" El Beheiry.
6 Responses to "The Champions League Semi-Finals, 1st Leg Recap"
Leave a Reply