This article has been submitted by Alex Jackson.
I will keep this nice and short. The other day I got an email from an organization affiliated with the Phoenix Suns, Downtown Live. As a "favored member," this organization alerts me about Suns ticket deals, wishes me happy birthday, gives me access to playoff presales and other perks that I would be all over if, A) I lived in Phoenix and B) I had a job. I've been a member for about 10 years now, as I like keeping my pulse on what's happening in Maricopa County.
The other day, an email from Downtown Live appeared in my inbox. The subject line? "Hey Alex, Wanna Win a Championship Ring?"
With the NBA playoffs on the horizon, I assumed it was a rallying cry for Suns fans, something to get us pumped up. Yes! I want the Suns to win the 'ship! Damn straight!
I open it up, what do I see?
BLING! BLING! WIN A CHAMPIONSHIP RING!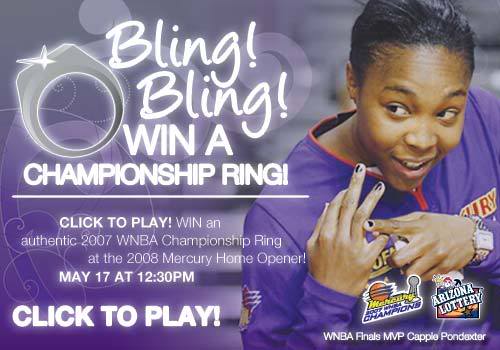 Yes, the Phoenix Mercury are giving away a WNBA Championship Ring at their home opener. I'm not a great evaluator of "success," but too me, this seems like an act of desperation. Just thought I'd share…
This article has been submitted by Alex Jackson.
2 Responses to "What an Email…"
Ian Says:
April 29th, 2008 at 3:05 pm

That's Rojo Caliente

SouthIndian.net Says:
November 27th, 2008 at 7:56 pm

Nice post. This is my first time I'm visiting your blog and I've seen some of your earlier posts too. Interesting!
Leave a Reply