So one tournament is in the books already and the Jet League season starts this week. What the heck am I talking about? Well, to quote Lil' Wayne and Mannie Fresh:
"Hoes. Let's just talk about Hoes. Can we talk about Hoes? These Hoes? I love 'em."
The Slo Pitch team I play for is called Slammin' Hoes. Charming, I know. It's the best team name you can find and has stuck with the team for four seasons now, despite wholesale roster changes in the team's first three years. Now a relatively steady beast, Slammin' Hoes play in a Cambridge, Ontario weekday league at a pretty competitive level (henceforth known as Jet League) and in Slo Pitch Ontario's Super Series C on weekends. This means that not only are we pretty good, we also play a tonne and take it fairly seriously (as far as Slo Pitch is concerned, I mean).
Sure, the real point of playing is to have fun with the boys and get weekends away that are really excuses to drink, but beneath that there is baseball. Like I said, the guys take it seriously…seriously enough that I actually coach the Super Series weekend team when we're not short guys. Yes, a coach for Slo Pitch. Coach Scissors, to be precise.
So why do you care? Well, besides us being a good looking squad and an entertaining one to follow, you'll probably hear a good deal about the team throughout the summer, either on purpose or inadvertently. To prime you for this season and to give you a buffer before I unleash the Slammin' Hoes page on The ODC, I give you a player-by-player season preview, after the jump. As for the team as a whole? Well, ye aint know a better Hoe (or group of Hoes), so expect big things.

Name: Deven Hiscock
Position: 2B
Nicknames: Hisser
Coach Scissors Says: His bat has looked really good so far this year, making him a valuable piece in combination with his consistently stellar fielding at the 2-bag. Hisser brings the added dimensions of being an ODC writer and heavily accessorizing his uniform.
MLB Comparison: Ronnie Belliard
Name: Mike Poll
Position: 1B and 3B
Nicknames: Pollzy
Coach Scissors Says: Poll is the most dangerous hitter on the team, ready to go yard at any time. He mixes in a nice level swing that leads to a lot of line drive hits and may possess the best first-base glove you can find in Slo Pitch. As a former #1 prospect in the universe, we expect the usual big things from him this season.
MLB Comparison: Mark Teixeira
Name: Al Snyder
Position: SS
Nicknames: Lazy Al, Allergy, Lays Stacks, Snydes
Coach Scissors Says: His great range at short gives the Hoes a potent double play duo. Al mixes in good home run power and good speed (when healthy) that makes up for his above average fly-ball rate. Snydes is also an ODC writer and looks adorable in his way-too-big uniform.
MLB Comparison: Jhonny Peralta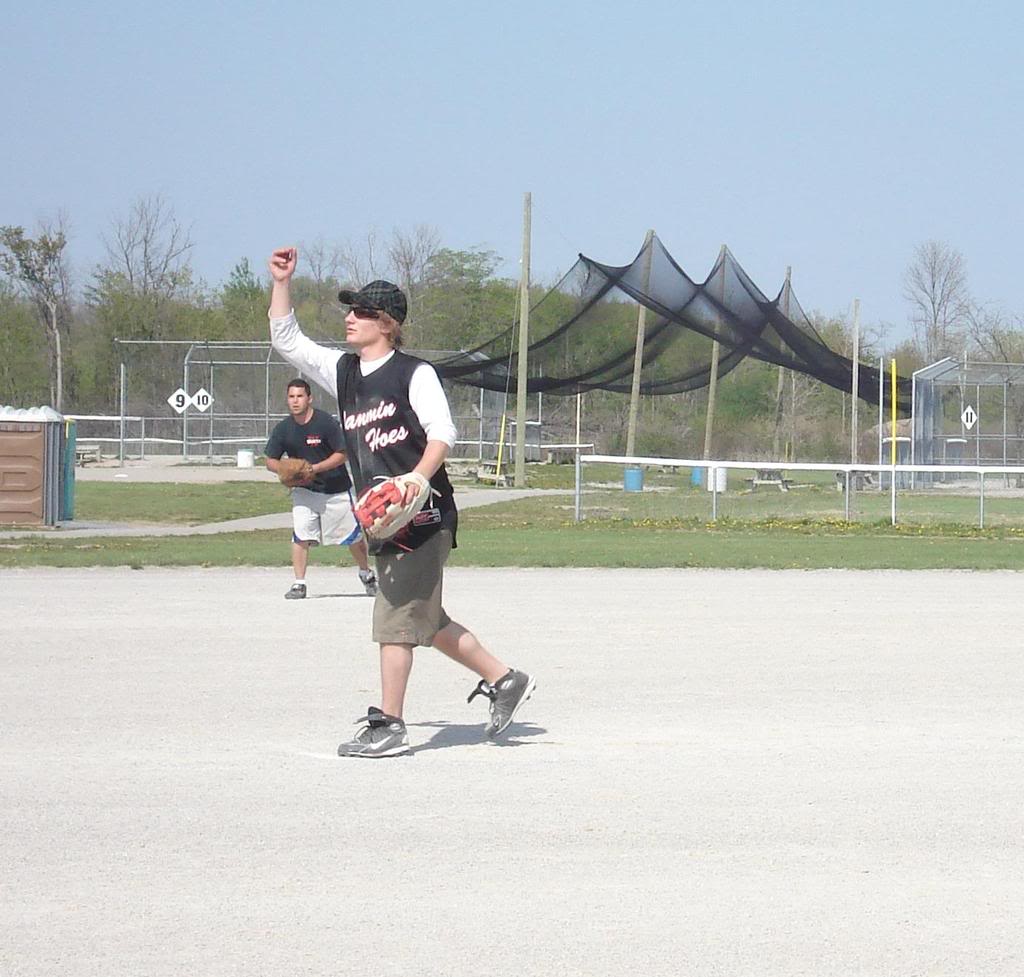 Name: Dave Power
Position: 3B, P, and LF
Nicknames: DP, D-Pow, Pow-Pow, This is Dave Power, TIDP, Officer Dave Power, Tip
Coach Scissors Says: An ideal lead-off man, DP's on base percentage is usually very high. He also has great speed and positional flexibility, making him a coach's dream when making the line-up. While prior commitments may keep him out of some games, Officer Dave Power will make up for it with the TIDP Stare when present.
MLB Comparison: David Eckstein/Eric Byrnes
Name: John Heymans
Position: C, 1B, DH, LF
Nicknames: Horatio, 'H', Big Daddy H, Papa H, Papa H.E.O., R&B H.E.O., Horatio Francisco, Psycho Horatio
Coach Scissors Says: Expected to be a first base coach heading into the season, H.E.O.'s swing has been so impressive that he's earned himself the starting catcher's role on the Super Series team. Even though he is the only Hoe to strikeout so far this year (on a foul tip), his swing has been very impressive and we expect big things from this rookie. He is also promising to do the topless Nick Swisher pose later in the year and has openly offered to take HGH to help the team.
MLB Comparison: Gabe Kapler
Name: B.J. O'Brien
Position: L-CF
Nicknames: Beegman, Bossman Junior, Ocho Beegie, T-Rex Pennebeegie
Coach Scissors Says: Don't Call Me Brian returns this year with a renewed attitude and adjusted approach at the plate. He promises to be a better teammate this year but the kind heart hasn't taken the mean streak out of his bat. Bossman has a great deal of power, a great arm in left centre, and may have the best faux-hawk in Super Series.
MLB Comparison: Jacoby Ellsbury, but gayer
Name: Sean McDonald
Position: R-CF
Nicknames: Macker
Coach Scissors Says: Another great glove and arm in the outfield, Macker also has good power. While his pump up music choices are suspect at best, his skills aren't, allowing me to use bad cliched writing like that when talking about him. He's our three hitter, and based on the glowing reviews of everyone else in this lineup, that should be all you need to know.
MLB Comparison: Do baseball players listen to emo music? Bronson Arroyo?
Name: Adam Millen
Position: P, RF
Nicknames: Millsy, Mill Dog, Uncle Millen, Millsap, Shitty Mill
Coach Scissors Says: Probably the most easy going and care-free hoe, Millen provides a good glove in right or on the mound. He also has good power and a consistent swing, making him a threat in the 5-spot. Luckily, SPO doesn't drug test.
MLB Comparison: Manny Ramirez
Name: Greg Crane
Position: OF
Nicknames: None (yet)
Coach Scissors Says: I don't really know much about Crane. While he played well this weekend and Macker swears he's the man, I like to judge my teammates on personality first and results second. I'll update you on Greg the Person later, but for now rest assured that Greg the Ballplayer is legit.
MLB Comparison: Pending
Name: Danny Matijiw
Position: 3B
Nicknames: Teeto, Running Water, Little Bear, The Chief, T-Pain
Coach Scissors Says: The Artist Formerly Known as Teeto had a great debut tournament on and off the field. First, he flashed some good leather and a great line drive swing on the field. Later, he built a fire and performed a dance to fend off the rain. At the end of the weekend, he gave us all our first feather for our headdresses. Expect Danny to make his Chief proud all year.
MLB Comparison: Johnny Damon (for heritage, obviously)
Name: Matt Rego
Position: C and OF
Nicknames: Reg-eezie, Prince of the O-Town, Johnny Rego, Ricky Rego, Raigu, Reg-riguez, Reggie Jackson, Rego Rego, Big Black, Cousin Rego, Rego-B-I
Coach Scissors Says: Although Prince Rego only plays in league games, he mixes a good bat and great back catching instincts to be a valuable player. He may also be the funniest guy on the team and provides a steady stream of free coffee from Regoville Cafe for yours truly.
MLB Comparison: Nick Swisher/Youpie
Name: Brent Spurgeon
Position: OF
Nicknames: Spuds, Spurgo
Coach Scissors Says: Spuds plays on the weekday team mostly but is a phone call away from the weekend team. (Said phone call is one telling him his cottage burnt down…who turns down a cottage, right?) Spuds is a great outfielder with an impressive contact swing and brings the Hoes sound hardball experience and does a great job chalking the lines (no, seriously).
MLB Comparison: Shane Victorino
Name: Shawn McGeachy
Position: P
Nicknames: Flounder, Geach
Coach Scissors Says: Floundeezie only plays on the weekday team but is possibly the team's most valuable player with a pool and a hot tub. The host of many pool basketball games, McGeachy mixes good control and warning track power to provide value on the field, too.
MLB Comparison: C.C. Sabathia
Name: Blake Murphy
Position: C, Manager/Coach
Nicknames: Coach Scissors, Consigliere, Scissors, Edward, Big Edward
Coach Scissors Says: After the worst rookie season in Slo Pitch history, I'm back to try and do big things this year. It seems a little unlikely, but my swing has been much better so far this year, even showing warning track power. I also bring loads of hustle to the table, running out fly balls in exhibition games and trying to break up double plays. Will I end up being valuable on the field? Probably not, but there's nothing wrong with being the best coach in Slo Pitch Ontario.
MLB Comparison: Eric Hinske
3 Responses to "Meet the Slammin' Hoes Roster"
Anonymous Says:
May 13th, 2008 at 10:34 am

Sadly I am not playing Slo-Pitch this year which made me cry while reading this.

I did however enjoy it.

Ps- Nice Snatch is probably the best slo-pitch name ever.
Slammin Hoe's is a close second.

Sean McDonald Says:
May 14th, 2008 at 12:25 pm

This team is dead sexy. When does the 2009 Calendar go on sale?

This is Dave Power Says:
May 21st, 2008 at 8:21 pm

I agree, this team is dead sexy, where can I pick one up.. windsor this weekend.. gonna tear it up.. slammin hoes 4 life
Leave a Reply