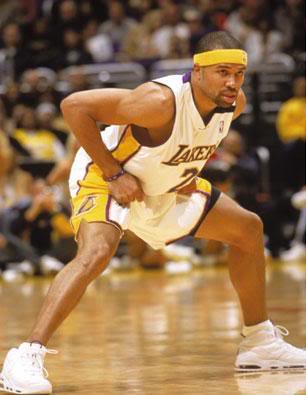 This article has been submitted by Stu Wilkinson.
I don't like the Lakers, mostly because I just flat-out don't like Kobe Bryant's game. My attitude towards him has flip-flopped more than a Democrat trying to appeal to NASCAR dads, but right now I'm not a big fan of all the whining and wincing that comes along with his 35 points per game every night. Despite my disdain for Kobe, however, I've become a big fan of a couple of his teammates (or saboteurs, if you believe Phil Jackson). Ronny Turiaf and D.J. Mbenga are both awesome, and Pau will be in my good graces forever thanks to his nasty YouTube moment against Kevin Garnett, but my favorite member of the Lakers is Derek Fisher.
Fisher, given the moniker D-Fish by the NBA's army of uncreative fans, is a perfect role player. He doesn't have the game of a quick, slashing point guard – I rarely see him creating shots for other players off of a "draw and kick" type of play. In fact, he only averaged 2.9 assists per game this year and has never averaged more than 4.4 in his whole career. Don't let those numbers fool you though. D-Fish is a great point guard for a team like the Lakers to start.

The Lakers don't need a point guard to come in and create shots for them – gentlemen such as Pau Gasol, Lamar Odom (my pleasant surprise of the playoffs), and Kobe can take care of that. The Lakeshow needs a point guard to knock down open shots, run the plays Phil Jackson calls, and not mess anything up lest Kobe gets a little irked and demands a trade to Milwaukee. Well, Fisher is rock solid with the ball and a good shooter, averaging just over one turnover per game and knocking down more than 40% of his three-point attempts. He also doesn't miss shots in the playoffs, a point that was obvious when the Lakers forced overtime against the Jazz in Game Four of their Western Conference Semi-Final series.
That last point is crucial – a team's role players need to be able to step up in the playoffs for that team to be successful. Think Steve Kerr in the 1997 Finals, or Robert Horry in ever playoff series ever. Derek Fisher is that guy for this Lakers team, the guy that will take a huge shot late in the game and cash it. He's done it a couple times already: he hit a huge three last year for the Jazz against the Warriors in the second round, and he hit an absurd buzzer beater for Shaq's Lakers against the Spurs back in 2004.
In between those two clutch (and arguably season saving) shots, Fisher spent two years with Golden State thanks to a $37 million contract offer. At the time, I thought that was one of the worst contracts ever, but now I realize what the Warriors were overpaying for: a battle-tested leader not afraid to take and make big shots for his team. As it turned out, though, the Warriors weren't good enough to make Fisher into the dynamic complementary player that he is, and the team struggled during his tenure. He got out of Golden State to play with the Jazz, hit that three-point shot against Golden State, dealt with his daughter's health problems and eventually moved to the Lakers for her before the start of this season.
So while you cheer against the loathsome Kobe Bryant, remember that there are some quality guys on the Lakers, including my boy D-Fish. Never mind him and his daughter, who suffers from a rare eye disease called retinoblastoma that couldn't be cared for properly in Utah. We all know that story and admire him for how he dealt with it (unless we live by the Great Salt Lake), but you should also admire him for his spot-up shooting, his ability to hit clutch shots, and his calming influence on a team whose superstar can only be described as "dickish." Also admire the GM of the Lakers, Mitch Kupchak, for drafting a prototypical replacement for Fisher in Jordan Farmar. Kudos to you Mitch, kudos.
Inside the Numbers
9.0 points per game over his career
1 term as leader of the National Basketball Player's Association
43.6% three-point shooting in his playoff career
61.7% three-point shooting in the 2003 playoffs
1 dunk over Shawn Bradley
This article has been submitted by Stu Wilkinson.
Leave a Reply