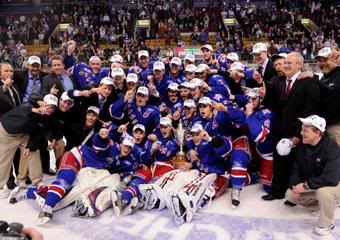 This article has been submitted by Chris Pope.
This May 2-4 when most older teenagers are sippin' on gin and juice, drinking long necks down and enjoying everything else that comes along with the wonderful life of camping, four major junior teams will be playing some of the most important hockey of their lives – thus far – in the Memorial Cup tournament.
As the four-team round robin kicked off Friday night, each team brings something different to the table and each team will have a few certain players to watch. Sportsnet plans on broadcasting each game and with the average hockey fan not knowing much about some of the teams from outside of Ontario, I thought I would dip into the four teams and what each has to offer.

OHL – Belleville Bulls
Memorial Cup Appearances – 1999 (Lost in semi-final to Ottawa)
Regular season record – 48-14-4-2 = 102 pts
Playoff record – 15-6
Graduating players – F Adam Perry, F Andrew Self, D Geoff Killing
Players to watch – G Mike Murray, F Shawn Matthias, F Matt Beleskey
The Bulls are the only team not to win a league championship playing in the tournament. If you think that is going to work against them, you've obviously never seen these kids play. It is only going to motivate them even more, they love being the underdog. Belleville is rightfully named the Bulls; like a bull the more you kick these guys the more they seem to get bitter and battle back. The Bulls are led by their outstanding goaltender Mike Murray. Murray was a main reason that each OHL championship game didn't end up being a landslide. In this tournament if your goalie gets hot you can easily run the table. Keep your eyes on Matthias as well, a Bulls commentator once called him, "…the most for sure thing [to play in the NHL] in the OHL".
QMJHL – Gatineau Olympiques
Memorial Cup Appearances – 2004 (Lost in final to Kelowna)
Regular season record – 43-19-6-2 = 93 pts
Playoff record – 16-3
Graduating players – G Ryan Mior, F Darryl Smith, D Joey Ryan
Players to watch – G Ryan Mior, F Claude Giroux, D Julien Machabee
Definitely the hottest team coming into the Memorial Cup with the hottest player in the playoffs (Claude Giroux – 17G-34A-51P), le Olympiques aren't even supposed to be here. Gatineau was ranked 9th in the final CHL rankings and not many people – if any- predicted them making it to the Memorial tournament. However, they seem almost unstoppable right now after only losing three games in four rounds. Their most amazing feat came when it mattered most in the QMJHL finals where they ran up against regular season champions, Rouyn-Noranda Huskies. The Huskies swept their way threw the first three rounds not losing a single game until the Olympiques sent them packing in five games en route to a QMJHL Championship.
Host – Kitchener Rangers (OHL)
Memorial Cup Appearances – 1981 (Lost in the final to Cornwall)
1982 (Memorial Cup Champions)
1984 (Lost in the final to Ottawa)
1990 (Lost in the final to Ottawa)
2003 (Memorial Cup Champions)
Regular season record – 53-11-1-3 = 110 pts
Playoff record – 16-4
Graduating players – D Matt Pepe, F Mike Duco, F/D Scott Tregunna
Players to watch – F Justin Azevedo, F Nick Spaling, F Matt Halischuk, G Steve Mason/Josh Unice
Many people consider this tournament the Rangers' to lose. They have been the CHL's number one ranked team for 15 of the last 16 weeks and had the best regular season record in the CHL. The Rangers set out this season not just for an OHL Championship but their goal has been to win the Memorial Cup for a third time. Anytime you can have the crowd behind you in a big tournament like this is just going to be an added boost to an already dangerous team. The Rangers are also led by perhaps the best coach in the OHL right now (with all due respect to Brian Kilrea) in Peter DeBoer. DeBoer has been rumoured to be the next coach of the Toronto Maple Leafs if the Rangers win a Memorial Cup.
WHL – Spokane Chiefs
Memorial Cup Appearances – 1991 (Memorial Cup Champions)
1998 (Lost in the semi final to Guelph)
Regular season record – 50-15-1-6 = 107 pts
Playoff record – 16-5
Graduating players – F Chris Bruton, F David Rutherford, F Judd Blackwater
Players to watch – F Drayson Bowman, G Dustin Tokarski, F Tyler Johnson
Each and every year, no matter which team it is, the WHL's team is always a threat. The representative from "the dub" has won the tournament four out of the past seven years. You can always count on the western representation to be defense oriented and this year's Chiefs are no different. They finished the regular season with the WHL's second-best defense and only built on it during the playoffs, allowing just 32 goals against in 21 games. Goaltender Dustin Tokarski is currently holding an outstanding 1.38 goals against average and a .944 save percentage. Spokane's plan will be to shut down their opponent but don't count their offense out just yet; they have a front line full of depth. They can hurt you from their first line all the way down to their fourth checking line.
My predictions are that Kitchener will finish first and get a bye into the final. Spokane will drop to the fourth spot leaving Belleville and Gatineau to play in the semi-final with Gatineau coming out on top. This will set up a Kitchener versus Gatineau final with Kitchener coming out on top in overtime, or at least by one goal.
Regardless of what happens, this tournament is a great way to show memory to the fallen soldiers and the military in general. It is also a fantastic showcase of young talent and players that will soon be lacing them up in the NHL. So this May 2-4 when you're crackin open your 2-4, throw on Sportsnet and take a look at some good hockey not many people seem to know, or care about this weekend.
This article has been submitted by Chris Pope.
3 Responses to "Memorial Cup Preview (Oops)"
Devlin Says:
May 20th, 2008 at 9:56 pm

Great article as usual. A little bit late, but I take it there is a good reason for it. Anyways, keep it up Pope!

Blake Murphy Says:
May 21st, 2008 at 8:34 pm

Good reason = I was on a road trip. My bad.

Pope Says:
May 27th, 2008 at 11:47 pm

IM WAY OVER IT BLAKE! AHAH
Leave a Reply