This article has been submitted by Alex Jackson.
The "intro" for these things is always the hardest part. I pretty much know what the content is going to be and I even have a catchy little ending already picked out, but how do I ease you, the reader, into this little diddy? How do I rationalize what I'm about to present?
Do I use a cheesy anecdote that may or may not be true? Maybe a joke of sorts? Or maybe that "Youtube" that the kids are always talking about…let's go with that last one.
[youtube=http://www.youtube.com/v/Ge-654jlYoM&hl=en]
Hmmm, nice video, but what's the sports connection?
You see, celebrities-like Jessica Alba and Cameron Diaz- like to spend time doing things outside. Some times these things are sports – the above video also features champion surfer Kelly Slater, albeit briefly. These celebrities also occasionally appear in movies that loosely feature sports in their plotlines – a bit like this piece, I guess. Without further ado, attractive female celebrities and movies that have at least one sports related connection. Maybe the title needs some work, oh well…on with the show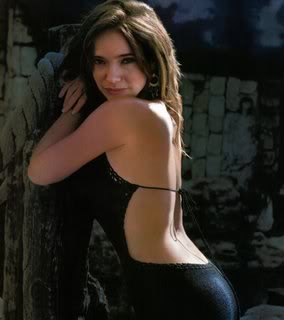 This nice young woman is Marguerite Moreau. "Who?" you ask. You might not recognize her, but in her younger years she donned No. 18 for District 5, Team USA at the Junior Goodwill Games, and even at Eden Hall Prep. Yea, that's right, Marguerite played Connie Moreau in all three of the Mighty Ducks movies. Keep in mind, she's not a lady, she's a duck!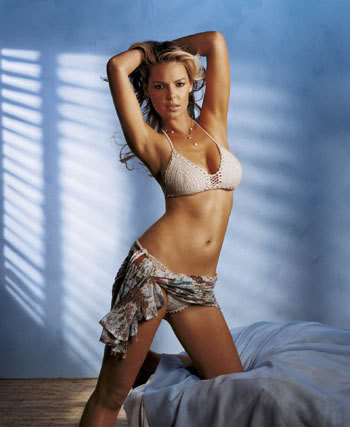 Unless you've been locked in an Austrian cellar for the last few years (too soon?), you've become all too familiar with Katherine Heigl. In The Ringer, Heigl plays Lynn Sheridan, a Special Olympics volunteer. In the film, Johhny Knoxville - playing "Jeffy" – falls for Heigl. Though I haven't seen it, I imagine hilarity ensues.

In 2002, Lacy Chabert played Rachel Sawyer in Hometown Legend. I think IMDB describes it best, when it says, "A teenage drifter finds an opportunity to turn his life around when he joins a high-school football program with a hard-nosed coach." The rebellious young drifter - played by Nick Cornish – is deeply in love with Chabert's character, and the two try to discover the power of faith and gain redemption. According to one review "This movie wins. There is no sexual activity, nudity, or perversion of any kind to worry about." An interesting definition of "win."

Ah yes, Ms. Lindsay Lohan. Before all of the tabloid headlines and arrests for drugs and booze, she was an aspiring G-movie star. In 2005, in Herbie Fully Loaded, she starred as Maggie Peyton, the driver of the No. 53 car, a '63 Volkswagon named Herbie! Clearly the car has a mind of its own and there's some connection to NASCAR or something along those lines. Cute, family fun I'm sure.

As you probably know, Hayden Panetierre is one of those new "it" girls. You know the type, actress AND singer, spokesperson for Neutrogena, Got Milk and Candies. She's everywhere you turn, which isn't a bad thing. Anyway, one of her first big roles was in Remember the Titans, but now she's all grown up and dating a dude who's 12 years her senior.

It seems like Cameron Diaz has been around forever. And it's great! A short time after starring in There's Something About Mary, Diaz took the role of Christina Pagniacci in Any Given Sunday. Pagniacci is the new owner of the Miami Sharks who inherited the team from her father. She takes an active role in the management of the team, inserting a new offensive coordinator and pitting the league commissioner against the mayor of Miami.

Earlyish(?) in her career, while taking a break from 7th Heaven, Jessica Biel filmed Summer Catch, a love story featuring a little bit of baseball. Apparently Freddie Prinze Jr. is a baseball player in the Cape Cod Baseball League who falls for Tenley Parish (played by Biel) whose family is vacationing in Cape Cod. Obviously, Prinze has to juggle his blossoming love with his promising baseball career.

This next one really shouldn't be in here, but you'll understand at the end. Rachel McAdams, hot off her role in the Notebook, appeared in the hit comedy Wedding Crashers. At one point in the movie, Claire Cleary - played by McAdams - is in a touch football game against Vince Vaughn and Owen Wilson. A paper thin connection? Sure. Live with it.

Elisha Cuthbert, she of 24 and hockey player dating fame. Back in 2001, shortly after her stint on Popular Mechanics for Kids ended, she starred in a TV movie called Lucky Girl(Canadian title)/My Daughter's Secret Life(American title). Cuthbert stars as Katlin Palmerston, a 17-year-old with a dangerous addiction to gambling. It starts with an innocent poker game, followed by a high school sports pool, then Internet roulette. The downward spiral is in full effect! As one synopsis says, "she quickly loses thousands of dollars, and before she knows it, Katlin is forced to repay her debt to a loan shark — by whatever means she can." Imagination time?

Scarlett Johansson, a favorite here at ODC, stars in Woody Allen's 2005 film Match Point. Jonathan Rhys Meyers plays a failed professional tennis player, Chris Wilton, who falls for Johansson's character, Nola. In time, Wilton marries a rich socialite and ascends the professional ladder in his wife's father's company. Eventually Meyers crosses paths with Nola again, and she becomes his mistress. Both know that their relationship is wrong, but the passion leaves Chris in danger of losing the wealth and position he has now come to enjoy. "The only solution to the dilemma seems unthinkable."

The last "featured actress" today is the always wonderful Jessica Alba. Though both Camp Nowhere and Into the Blue have sports angles, I'll go with the recent "flop" The Love Guru. Like most of these films, I haven't seen this one- but judging by the box office returns, very few people have, HEY OH! Anyway, I gather Alba plays the owner of the Toronto Maple Leafs and enlists the help of Mike Myers' Guru to help create harmony and bring the Stanly Cup to Toronto. Obviously, it's not based on a true story.
Well, so ends another picture journey here at ODC. Hmmm, wait a minute…Lohan, McAdams, and Chabert…oh no, Amanda Seyfried (Karen from Mean Girls) wasn't included! I guess I'll just have to toss this clip in to make everything ok with the world.
[youtube=http://www.youtube.com/v/zvuVDicJ2m4&hl=en]
This article has been submitted by Alex Jackson.
22 Responses to "Attractive Female Celebrities and Movies that Have at Least One Sports Related Connection"
Leave a Reply