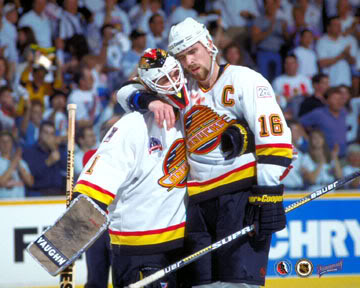 This article has been submitted by Stu Wilkinson.
For the last couple of weeks the retirement status of a certain Green Bay Packers quarterback has been deemed by the sports media to be incredibly important news. This quarterback has probably gotten more face time on PTI than Wilbon and Kornheiser combined, while the retirement of one of the greatest Canadian kids of all time has received minimal attention. The only coverage I remember from Trevor Linden's retirement was seeing it on The Score's bottom line. Pretty pathetic effort, media.
Trevor Linden deserves more than the tidbit that I saw while watching Cam Stewart and Gabe Morency talk about finding value in the day's baseball games. No, Trevor Linden deserves his very own Gary Roberts Wednesday. This man played in the NHL for 20 years and scored thirty or more goals in six different seasons. His nickname is Captain Canuck! Nuts to GRW, Trevor Linden deserves a statue and a life's supply of Pabst Blue Ribbon.

Linden started his NHL career by being drafted second overall by the Canucks in the famous 1988 NHL Entry Draft, behind the great American hero Mikey Modano, but ahead of Curtis Leschyshyn. He played his junior hockey with the Medicine Hat Tigers (Ryan Hollweg's alma mater!), winning two Memorial Cups and a World Junior Championships Gold Medal. Those titles would be the last of Linden's career – he collected nothing but silver in international hockey and tons of money in the NHL.
Although he never won a Cup in the NHL, a gold medal with the Canadian Olympic Team, or even a measly World Cup of Hockey, Linden was still good enough to be called Captain Canuck by the Vancouver faithful. Sadly he was never able to duel Ryan "Captain Canada" Smyth to the death for Canadian captaincy supremacy, but this is beside the point. Linden became captain of the Canucks when he was 21, putting him in the Young Captain Hall of Fame with players like Stevie Y, Vinny Lecavalier, Eric Lindros, and the best hockey player of all time, Sidney Crosby.
He didn't lead his team to the Stanley Cup Finals immediately after being named captain like the aforementioned Sidney Crosby, but Linden did bring the Canucks to the big stage in his third season as the team's leader. The Canucks somehow lost that series (way back in 1994) to the Rangers but I think the Linden experience can be summed up in a clip from the end of Game 6 in Vancouver. Watch it, live it, dislike Mark Messier because of it.
[youtube=http://www.youtube.com/watch?v=Ybk_V_c6LBw&feature=related]
Linden spent the rest of his career trying to get back to the Cup Finals, playing for the Islanders, Canadiens, and Capitals before returning to Vancouver to finish out his career. When he was traded to the Islanders, the guys that went over to the Canucks from Long Island were none other than Todd Bertuzzi, Bryan McCabe, and a draft pick that became Jarkko Ruutu. Even when he was leaving the Canucks he was actually helping them get stronger. A pretty rock solid multimedia experience of Linden's entire career can be found at Orlando Kurtneblog. Check out the jersey he got drafted in, it makes old school Houston Astros jerseys look gorgeous.
So if you're worrying where a certain Green Bay Packer will end up in about two months, take a break for a second. Think about how Trevor Linden, a prototypical NHL leader, won't be suiting up next hockey season. Well, right now it looks like he won't be suiting up. I hear Cliff Fletcher's going to sign him for three years and fifteen million if the Canucks end up getting Sundin. That's even more than Jeff Finger money!
Inside the Numbers
16 seasons with the Canucks
124 career playoff games played
99 career playoff points
375 career goals scored
1 of the sweetest hits of all time
This article has been submitted by Stu Wilkinson.
One Response to "Gary Roberts Wednesday - Trevor Linden"
Pope Says:
July 23rd, 2008 at 3:23 pm

Love Trevor Linden!!!
Way too under-rated!
Just proves it that his retirement hasn't been publicized at all!
Leave a Reply